iStick – World's First USB Flash Drive with Integrated Apple MFi Certified Lightning Connector for iPhone, iPad and iPod touch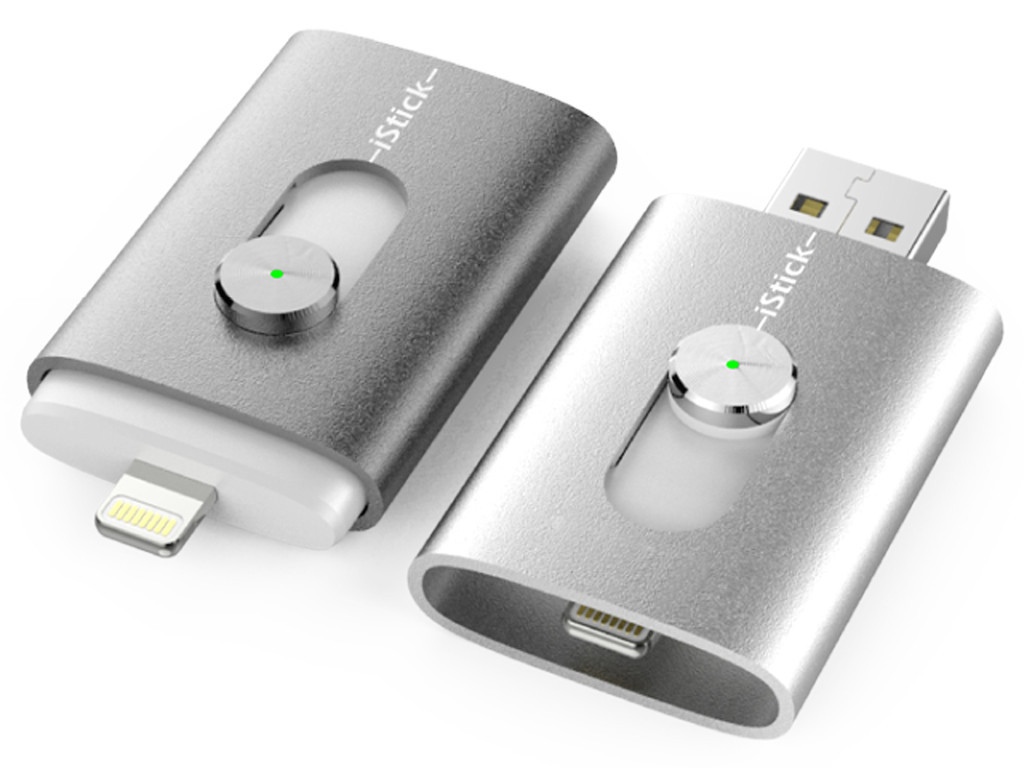 Kickstarter project now raised more than $750,000 in 2 weeks since launch with just under 3 weeks to go in the campaign
Wednesday, May 28, 2014 SAN FRANCISCO, CALIFORNIA: Sanho Corporation – manufacturer of the HYPER line of mobile accessories – announces the successful launch of its Kickstarter campaign for iStick. iStick is a USB flash drive with both a USB connector as well as an Apple MFi Certified Lightning Connector that connects directly to recent iPhone, iPad and iPod touch models. iStick allows users to easily, quickly and safely transfer data between computers, iPhones, iPads and iPod touches without the need for synchronization, Internet, wireless networks or the Cloud where hackers and others (like 3rd party server providers) may gain access.
HYPER was seeking $100,000 via Kickstarter to fund the iStick product. Funding began on May 12, 2014 and will end on June 17, 2014. The funding goal of $100,000 was met within 3 hours of launch. Now currently more than $750,000 is raised in 2 weeks since launch, with just under 3 weeks left in the funding period. New features were announced by HYPER as part of reaching funding stretch goals of $500,000 and $750,000. HYPER aims to ship the iStick in August, 2014. This is HYPER's 2nd Kickstarter project after the successful CloudFTP which was the 3rd highest funded Kickstarter Technology project when it ended.
Daniel Chin, Founder and CEO of HYPER by Sanho Corporation says "We only reserve Kickstarter launches for our very best products just like what we did with CloudFTP 2 years ago. In addition to crowdsourcing funds, we also want to crowdsource ideas and suggestions to make the product even better and to give it the biggest launch possible."
Notables:
World's first USB flash drive with integrated Apple MFi Certified Lightning connector
Features both a standard USB connector as well as an Apple Lightning connecter
Works as a normal USB flash drive when connected to Mac and PC computers
Connects directly to iPhone, iPad and iPod touch models that use the Lightning connector
Allow users to quickly and safely transfer data between computers and various iOS devices
Available in 8GB, 16GB, 32GB, 64GB and 128GB
Works in conjunction with a free universal iPhone/iPad/iPod touch iOS app
Using the app, users can transfer photos, videos and other files between iStick and iDevice
Users can also stream movies (even non-iOS native video formats), music and open files directly from the iStick without first copying to the iOS device.
Passcode/password functionality (part of $500,000 funding stretch goal)
Dropbox, OneDrive, Google Drive integration (part of $750,000 funding stretch goal)
Airplay/subtitle/multi-codec support in iStick movie player (part of new $1,000,000 funding stretch goal)
API for 3rd party apps (part of new $1,000,000 funding stretch goal)
Product Specifications
Capacity: 8/16/32/64GB/128GB
Connectors: Standard USB 2.0 and Apple MFi-Certified Lightning Connector
iStick-to-USB Speed: 12MB/s (Read), 7.5MB/s (Write)
iStick-to-iDevice Speed: 2.5MB/s (Read), 1.9MB/s (Write)
Construction: ABS Plastic and/or Aluminum
Dimensions: 51.6 x 28.6 x 9.1mm
Weight: 10g
Supported File Formats:
Video .mp4, .m4v, .mpv, .mov, .mpg, .mkv, .avi, .wmv, .rmvb, .flv, .3gp, .gif
Audio .wav, .aac, .aif, .aiff, .caf, .m4a, .mp3
Images .jpg, .tiff, .gif
Documents .doc and .docx (Microsoft Word); .htm and .html (web pages); .key (Keynote); .numbers (Numbers); .pages (Pages); .pdf (Preview and Adobe Acrobat); .ppt and .pptx (Microsoft PowerPoint); .txt (text); .rtf (rich text format); .vcf (contact information); .xls and .xlsx (Microsoft Excel); .zip; .ics
Pricing and Availability
MSRP of iStick are $129 (8GB), $169 (16GB), $199 (32GB), $299 (64GB) and $399 (128GB)
Kickstarter Early Bird Backers will get the iStick for 50% off MSRP, which works out to be $65 (8GB), $85 (16GB), $99 (32GB), $149 (64GB) and $199 (128GB)
iStick is expected to ship in August, 2014
About Sanho Corporation
Sanho Corporation designs, manufactures and markets IT accessories with a focus on Apple accessories, portable power and wireless storage. Sanho is committed to developing cutting edge products with a dedicated focus on performance, quality, value and service, with a sales and marketing office in the U.S. in Silicon Valley, California, a production facility near Shanghai, China, and R&D teams in both countries.
HYPER is a fashionable line of mobile accessories – manufactured by Sanho Corporation – designed to increase functionality in every day life. Hyper products include:
HyperJuice – Portable power products for Apple MacBook, iOS, Android and other mobile devices
HyperDrive – Portable digital data storage products for Apple devices, digital cameras, and memory cards
HyperShield – Cases and stylus pens for Apple devices
HyperThin – World's thinnest HDMI cables
For more information, please visit www.HyperShop.com
Company Contact:
Video: http://youtu.be/d_lB3SZTyHQ
Press Quality Images: http://www.smugmug.com/gallery/n-Zr4Pb/
Kickstarter Project Page: https://www.kickstarter.com/projects/hypershop/isticktm-usb-flash-drive-with-lightning-for-iphone