The PENTAX XG-1 features a powerful 52x optical zoom lens for a wide range of photographic applications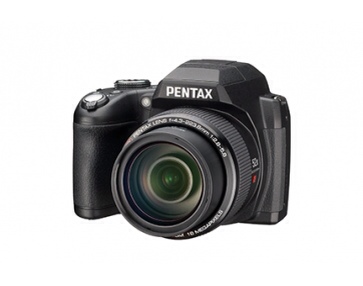 Denver, Co. July 14, 2014 Building on itsfoundation of unique DSLR cameras, RICOH IMAGING is pleased to introduce the PENTAX XG-1 digital camera. This versatile, all-in-one camerashowcases an impressive 52x optical zoom lens, 16 megapixel sensor, and Pentax technology;bridging the gap between DSLR flexibility and point and shoot convenience.
The PENTAX XG-1 is a versatile cameraideally suited for those seeking the many lens options of a DSLR but requiring the convenience and flexibility of a point and shoot camera. Whenphotographing a wide variety of subjects, including fast-action sports, The XG-1 is compact, lightweight, and easy-to-carry with an array of outstanding features, including a powerful 52-times optical zoom lens, approximately 16.0 effective megapixels for high-resolution images, and a large, easy-to-view 3.0-inch LCD monitor.Boasting a stylish, high-grade design that resembles PENTAX-branded SLR cameras, the XG-1 comes equipped with a sensor-shift-type SR (Shake Reduction) system, that is effective even under demanding, shake-prone conditions, such as when using the zoom lens's telephoto range, shooting with incident light, or photographing sunset scenes.
This camera provides the photographer with a greater range of creative options byfeaturing innovative tools such as: 1cm Macro mode for the capture of dramatic close-up images from just one centimeter away; high-speedcontinuous shooting of up to 60 images per second; and HDR (High Dynamic Range) mode to synthesize an ultra-wide-gradation image from three images taken at varying exposure levels.
"We are excited to bring Ricoh Imaging's technology and manufacturing experience with DSLR cameras to the XG-1. This exciting new camera demonstrates advanced imaging technology and quality workmanship, but also the versatility of a long zoom lens and the easy operation expected of a compact camera," said Brian McIntosh, Director of Marketing, Ricoh Imaging America Corp.
Pricing and Availability
The XG-1 will be available at retailers nationwideand at www.us.ricoh-imaging.com in August 2014 for a suggested retail price of $399.95
To learn more about the comprehensive lineup of Pentax products as well as other Ricoh Imaging products, please visit www.us.ricoh-imaging.com.