Cotton Carrier® StrapShot EV1™: New Design For Compact, Mirrorless and DSLR Cameras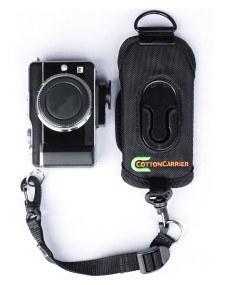 NORTH VANCOUVER, Canada – Since the first Cotton Carrier® products were introduced five years ago, outdoor and studio photographers have relied on them to comfortably carry large-body cameras and large lenses. Cotton Carrier's new StrapShot EV1 offers all those benefits and more.
"The StrapShot EV1 is the evolution of our highly successful StrapShot product," said Brook Parker, chief operating officer of Cotton Carrier. "The EV1 is a revolutionary and innovative way to carry compact, mirrorless, four-thirds and full-sized DSLR cameras."
StrapShot EV1 will be thinner than the original Strap shot, and will include a redesigned tether and wrist strap that will act as a safety leash against accidental drops.
"The StrapShot EV1 offers several superior benefits," Parker said. "It holds your camera comfortably and securely. You can attach StrapShot to almost any camera bag or pants belt. No neck pain or strain that traditional neck straps create. Your hands are free. And StrapShot keeps your camera instantly available – not packed away in your pocket or backpack – so you never miss that perfect shot."
Cotton Carrier is financing the re-engineering of StrapShot EV1 through a Kickstarter campaign that runs through August 13, 2014. They recently added new levels of investment in their StrapShot EV1™ Kickstarter campaign. Investors can now pledge from $2 to $269 or more.
"Cotton Carrier is family owned and operated, and the majority of our parts are manufactured in North America, which allows us to achieve and maintain high standards of quality products and customer service," Parker said. "And it gives us the confidence to offer photographers a lifetime warranty on all of our gear."
For more information on Cotton Carrier's StrapShot EV1 Kickstarter campaign, go to http://kck.st/1mBVI9B. Go to www.cottoncarrier.com for information on all Cotton Carrier products.