POMPIDOO LAUNCHES NEW LIMA, STYLISH CAMERA BAG FOR COMPACT CAMERAS – GOOD THINGS COME IN SMALL PACKAGES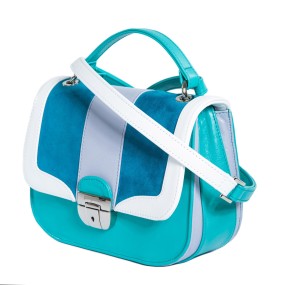 Sometimes, less is more. Which is why new Lima from POMPIDOO ir ready to make her big debut.
It is a flirty, pretty and simply a perfect mid-sized camera bag for a modern woman-photographer or a keen amateur. 3 vibrant colors – Aqua Dreams, Fiesta Dreams and Nougat Dreams – will make its owner look gorgeous and undeniably stand out from the crowd.
LIMA's retro design may speak to style, but she is plenty smart too. She can hold up to 1.8kg of weight and one of the following gear sets: a compact camera; an interchangeable-lens camera like Olympus PEN; Nikon 1; mid-sized DSLR like Nikon D3100 or Canon 1100D with lens attached; and one additional lens. LIMA is as stylish as functional. She has: 2 padded removable dividers, inside zipper pocket including credit card slots for a built-in wallet, and, finally, equipped with XRD© Extreme Impact Protection, all to ensure camera equipment is well protected.
POMPIDOO provides a perfect option that doesn't require modern women to compromise their personal style or sacrifice convenience. POMPIDOO bags are stylish and reliable—they can easily transition from day bag to photo bag with no effort at all.
Small yet spacious, this handbag is small in size and big on style!
We make functional things stylish
————————————————————————————————————
Read more: www.pompidoo.com or like our Facebook page www.facebook.com/pompidoo.camera.bags
About POMPIDOO
Offering stylish bags that are a seductive blend of fashion and function, each POMPIDOO product offers the room and protection necessary for expensive cameras and equipment without compromising on look.
Each product is carefully assembled (partly by hand), from high-quality supplies buyers expect of a top-of-the-line handbag—genuine leather and accessories are all sourced from the heart of Europe.