ISTABILIZER ANNOUNCES THE PERFECT SELFIE CREATOR – MONOPOD & SHUTTER REMOTE BUNDLE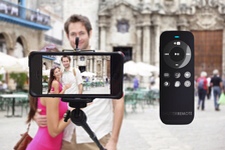 Patent-Pending Lightweight 1 Foot Monopod Extends Over 3 Feet with Bluetooth Shutter Remote to Take Selfie Photos & Videos without Reaching
No More Unflattering Selfies, No Extreme Close-ups, Cut off Heads,
Facial Distortions, & Awkward Positions – Fit Everyone in for Group Shots
Never Leave Yourself out of the Photo!
Great Holiday Gift for Selfie-Possessed Teens & Adults for Instagram, Twitter & Facebook Photos — Works with Smartphones, GoPro, POV Action Cameras,
iPod touch, Digital Cameras & Camcorders

August 12, 2014, Park City, UT – iStabilizer™ www.istabilizer.com, the leader in universal lightweight compact tripods, steady cams, dollies, mounts, and remotes for smartphones, tablets, and digital and action cameras, announced today the iStabilizer Monopod and Shutter Remote Bundle — the perfect selfie creator. The patent-pending iStabilizer Monopod and Bluetooth Shutter Remote captures photo and video selfies and group shots that fit everyone in without cutting off heads, extreme close-ups, facial distortions/warping, awkward positions or missing photographer — never leave yourself out of a family photo again! Priced at only $59.95 (20% off as compared to buying each product separately at $74.90), the iStabilizer Monopod and Shutter Remote Bundle makes a great holiday gift for selfie-possessed teens and adults and creates the easiest, most flattering Instagram, Facebook, and Twitter selfies you've ever taken.
Lightweight Monopod Collapses to 1 Foot for Portability — Extends Over 3 Feet for Easy Reach & Unique Angles
The Monopod works with virtually all smartphones, Point-of-View (POV) action cameras, and other digital cameras and camcorders, including the GoPro, Countour, Drift, light camcorders, iPhones, Androids, Blackberrys, and iPods. At only about 1 foot when collapsed weighing ½ lb. for easy portability when traveling, outdoors, and at events, the Monopod extends to over 3 feet for amazing selfies and unique angles, such as feet-level video, overhead, around corners and more. The included adjustableuniversal iStabilizer Mount™ http://www.istabilizer.com/products/istabilizer-mount can also be used on any tripod with a standard ¼ x 20″ camera.
Bluetooth Shutter Remote
The iStabilizer Shutter Remote completes the bundle as the ultimate companion for the Monopod. The remote lets you snap steady photos and videos up to 35 feet away through Bluetooth 3.0 without reaching for the shutter. It also can pause or play movies, activate Siri, start GPS navigation, change songs and adjust music volume. Tiny at only 1.38″ x 3.56″ x 0.38″ and weighing 1 oz, the Shutter Remote works with the device's included camera app or with any other app that uses the volume button to trigger the shutter. Compatible with all iPhone, iPad, and iPod Touch (Android coming soon), the Shutter Remote also works with all other Bluetooth Apple products (Macbook, iMac, Mac Mini).
iStabilizer Monopod and Shutter Remote Bundle Features:
Creates perfect photo and video selfies without cutting people off.

More flattering selfies: no distortion or extreme close-ups.

Creates action shots with unique angles.

Perfect for mobile journalism and travel photography.

Makes great Instagram, Twitter, and Facebook self-portraits.

Monopod is compatible with iPhone, iPod touch, Android, Blackberry, GoPro and most digital cameras. Shutter Remote is compatible with most Bluetooth devices: iPhone, iPad, iPod Touch, and all other Bluetooth Apple products (Macbook, iMac, Mac Mini) – Android coming soon.

Compact and light-weight, Monopod collapses to 1 foot and weighs just ½ lb.

Monopod extends over 3 feet for extreme high and low angles.

Remote controls shutter without reaching for steady photos.

Remote controls music, videos, and other media.

Remote activates Siri for hands-free driving for calls, music, navigation, and more.

Remote controls slideshows using Keynote on Bluetooth-enabled Mac computers (does not work with Keynote on iOS).

Included universal mount works with any device case.

Mount also attaches to standard tripods equipped with a ¼ x 20″ camera mount.
Selfies Taken from a Distance Can Make You Look More Attractive & Trustworthy
In addition to taking great selfies, the iStabilizer Bundle can help you take photos further away from your face, which can make you look more attractive, trustworthy and intelligent. According to researchers at the California Institute of Technology (Caltech), close-up photo subjects taken too closely are judged to look less trustworthy, less competent, and less attractive. "Until now, one factor has never been investigated: the distance between the photographer and the subject. According to a new study, this turns out to make a difference." See Science Daily article at: http://www.sciencedaily.com/releases/2012/09/120926153030.htm?utm_source=feedburner&utm_medium=feed&utm_campaign=Feed%3A+sciencedaily+%28ScienceDaily%3A+Latest+Science+News%29

"The iStabilizer Monopod and Shutter Remote Bundle is a great tool for the amateur or professional photographer using their smartphone for video and photo selfies. No more close up, in your face, half-head missing self-portraits. The bundle provides the reach to get to that perfect angle to capture the moment in its entirety," said Noah Rasheta, Founder & CEO, iStabilizer.
Pricing & Availability
Available immediately from http://www.istabilizer.com/products/istabilizer-monopod, the iStabilizer Monopod and Shutter Remote Bundle is priced at: $59.95 (normally $74.90 when purchased separately.) For more information, see www.istabilizer.com, Monopod:http://www.istabilizer.com/products/istabilizer-monopod,
Shutter Remote: http://www.istabilizer.com/products/shutter-remote-for-ios,
Facebook: https://www.facebook.com/istabilizer, and Twitter: https://twitter.com/istabilizer.
About iStabilizer
The leader in universal lightweight compact tripods, steady cams, dollies, mounts, and shutter remotes for smartphones, tablets, and digital cameras, iStabilizer helps amateurs and professionals alike turn ordinary camera work into extraordinary works of art. iStabilizer creates professional, high quality photos, videos, and selfies. Based in Park City, Utah, iStabilizer's products include professional quality lightweight and compact tripods, dollies, steady cams mounts, and shutter remotes at consumer prices. iStabilizer's team of highly motivated creative individuals provide the highest level of product performance and service.

Press Release: http://www.thomas-pr.com/istabilizer/istabilizermonopodrelease.html

Videos:
iStabilizer Monopod: http://youtu.be/FuNTV3FTaNY
All products: http://youtu.be/ax5_XXIxRI0

Product Brochures:
iStabilizer Monopod: http://www.istabilizer.com/products/istabilizer-monopod
iStabilizer Shutter Remote: http://www.istabilizer.com/products/shutter-remote-for-ios

Connect with Thomas PR Online:
Facebook Karen Thomas, Thomas PR: https://www.facebook.com/karenthomaspr
Facebook Thomas PR: https://www.facebook.com/Thomaspublicrelations
Twitter Thomas PR @thomaspr: https://twitter.com/thomaspr
Google+ Thomas PR: www.google.com/+KarenThomasThomasPR
Website: www.thomas-pr.com www.thomaspr.com