Red Mechanic improves on Apple's Photos app with Photosane for iOS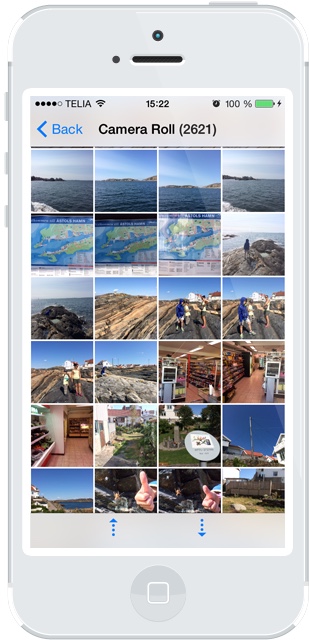 Red Mechanic AB today announces Photosane 1.0.1, its photo library manager for iOS devices. Designed to be the simplest and fastest photo library manager possible, Photosane works just like the old iOS7 Photos app with some extra features and is much faster. Version 1.0.1 adds incredibly simple photo-based GPS navigation to Photosane. Also HD-Zoom, four times more zoom pixels than the Photos app was added, as well as stickers, text and emoticons improvements to the photo editor.
Stockholm, Sweden – In iOS 8.0, Red Mechanic created Photosane to give you the missing Camera roll back, which Apple strangely had removed from their Photos app. Super-fast photo browsing was added as well as advanced photo editing with nice effects to make editing photos even more fun.
Now that iOS 8.1 is here and Apple put the Camera roll back, Red Mechanic continues to improve upon the Photos app by adding useful photo GPS navigation to Photosane. They also put in HD-Zoom, four times more zoom pixels than the Photos app and added stickers, text and emoticons to the photo editor.
Photosane features:
* GPS navigation to any photo, including iMessage photos.
* Privacy feature for hiding photo location data from others
* HD-Zoom (4x the normal zoom pixels)
* Super-fast photo browsing
* Non-destructive photo editing
* Easy album management
* 100% Photo Library compatible
In the Photos app, you can only display a map where a photo was taken. In Photosane, you can even navigate to the photo location, using any navigation app from the app store, including Uber, Transit, TomTom and the built in Maps app. If someone sends you a photo, Photosane will let you find the way to the exact spot where this photo was taken. But, don't be alarmed, Photosane also has a privacy feature letting you strip out the GPS data from a photo before you share it with someone who also uses the Photosane app.
Now you can use the standard Camera app as your basic navigation tool! Just take lots of photos and you will always find your way back, even if you don't have an internet connection. Photosane uses the GPS position stored inside all your photos to find where it was taken.
The app has the same look & feel of the standard Photos app so you'll immediatelly feel right at home. Photosane manages the same photo library as the Photos app. Everything you do in Photosane is mirrored in the Photos app and vice versa. Photosane does not have it's own photo database, making it very memory efficient.
Photosane requires that you have Location services turned on in your Privacy setting. Note that Instagram, Twitter and Facebook removes the location data when you upload photos (for privacy reasons), so you can't navigate using these photos. iMessage, Mail and other apps works fine, but photos in an old school MMS message doesn't.
Device Requirements:
* iPhone, iPad, and iPod touch
* Requires iOS 8.0 or later
* Optimized for iPhone 5, iPhone 6 and iPhone 6 Plus
* 11.2 MB
Pricing and Availability:
Starting Tuesday, Oct 21, 2014, Photosane 1.0.1 is Free and available worldwide exclusively through the App Store in the Photo & Video category.
Red Mechanic: http://redmechanic.com
Photosane 1.0.1: http://redmechanic.com/photosane
Download from iTunes: https://itunes.apple.com/app/photosane-classic-camera-roll/id922009504
Screenshot: http://static.squarespace.com/static/52f76465e4b08200b4dfa44f/542d1b35e4b026bc174ad10a/542d1b5ae4b05fb46f0228ef/1412242267045/intro2@2x.png
Red Mechanic AB is a Swedish company based in Stockholm, Sweden. Red Mechanic is focused on product development, both hardware and software. Red Mechanic specialises in IoT (Internet of Things) as well as indoor location technologies. The company was founded in 2014 by Tommy Westerberg. All Material and Software (C) Copyright 2014 Red Mechanic AB. All Rights Reserved. Apple, the Apple logo, iPhone, iPod and iPad are registered trademarks of Apple Inc. in the U.S. and/or other countries. Other trademarks and registered trademarks may be the property of their respective owners.