olloclip Introduces the all-new 4-IN-1 Photo Lens for iPhone 6 and iPhone 6 Plus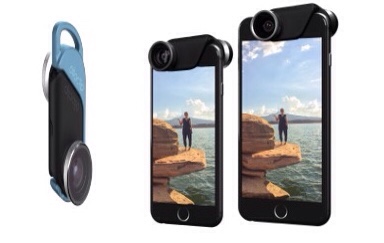 N
ew
patented design fits both iPhone 6 and iPhone 6 Plus models and works with both the
front and rear-facing cameras, making it ideal for snapping a selfie or photographing your world
HUNTINGTON BEACH, CALIF – October 22, 2014 – olloclip® (www.olloclip.com), the creator of
easy-to-use mobile photography tools, announces the all-new 4-IN-1 Photo Lens for iPhone 6 and iPhone 6 Plus. Thisredesign of its patented lens system features three key new innovations:
1. Front and rear-facing camera design — to capture the perfect selfie or any favorite moment in fisheye, wide-angle or 10x & 15x macro.
2. One lens system containing four unique lenses — works with both iPhone 6 (4.7 inch) and the larger iPhone 6 Plus (5.5 inch).
3. Wearable pendant — makes this the first wearable smartphone lens.
The growing popularity of the
selfie
and improved quality on the front-facing camera were the impetus for this product line
renovation
. Continuing its trailblazing efforts in mobile photography, olloclip has not only designed a more versatile photo lens, the company has once again set the bar on creative multimedia possibilities that can be achieved using a smartphone.
Like its predecessors, the all-new 4-IN-1 Photo Lens delivers a wealth of creative options, including the ability to capture and share creative angles not possible with the native phone lens. It features four quick-change photo lenses (fisheye, wide-angle and 10x and 15x macros) in one compact design that weighs in at less than an ounce. Though similar to those available with larger DSLR cameras, these lenses are sized small enough to fit in a pocket, purse or hand. And because of olloclip's patented design, the lens system clips on and off your device in seconds with no extra mounting plate or case needed – allowing the lens system to also be shared with friends on like devices.
The all-new 4-IN-1 Photo Lens has been updated to utilize not only the high-quality, rear-facing camera, but also front-facing FaceTime camera that is optimized for selfie photography. The fisheye and wide-angle lenses offer a larger field of view, perfect for the "Ellen shot" made famous during last year's Academy Awards for a more expansive selfie with a group of people or a scenic background.
For enhanced portability, this new photo lens is now wearable through an included customizable pendant (package includes three colored pendants) and can be clipped to a backpack, lanyard, key ring or just about anything. Easily accessible, your olloclip is always ready when that incredible photographic moment arises.
olloclip lens systems are made of precision ground multi-element coated glass optics and work with all photo and video apps. To match your style, the 4-in-1 Photo Lens is available in colors that complement the new iPhone 6 line.
"We're always looking for ways to push the limits of what's possible in mobile photography," said Patrick O'Neill, olloclip CEO and founder. "Our latest photo lens adds exciting new dimensions to ease-of-use, creativity and the sheer enjoyment of taking pictures with a smartphone."
The olloclip 4-in-1 Photo Lens for iPhone 6 and iPhone 6 Plus is priced at $79.99 USD and is available for pre-order at http://www.olloclip.com. It will be available late-November 2014 through olloclip and major retailers including Apple and Best Buy.
Sign up to be notified for iPhone 6 lens updates and for more information at http://www.olloclip.com/iphone6/
About olloclip
The olloclip® brand is synonymous with creativity in one's pocket. With olloclip products, amateur and professional photographers alike can capture and share life experiences, more easily, spontaneously and artistically than ever before. A person's mobile phone becomes a window to the world — and mobile photography and videography enter a whole new realm of possibility. For more information, visit olloclip.com.

olloclip® is a registered trademark of Premier Systems USA, Inc. ©2014 OLLOCLIP® All rights reserved.