RICOH continues Tradition of Innovation with the Introduction of a New RICOH THETA Model Complete with 360-degree Spherical Video Capabilities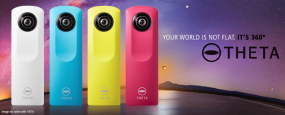 In Addition RICOH invites tech enthusiasts and photo passionate people to create their own THETA App with the release of API's and Software Development Kit (SDK)
Denver, Colorado October 28, 2014—RICOH IMAGING AMERICAS CORPORATION, renowned for creating the original THETA, the world's first fully 360-degree, spherical imaging device*1 which allows users to capture everything around them in the ultimate "selfie", has just released the newest THETA complete with video capability and amazing new body colors to capture the imagination.  The new THETA is an innovative leap towards changing the world of digital imaging and creating new ways to share the magic of photography with family and friends.
The RICOH THETA pioneered a whole new world of imaging possibilities allowing users to shoot amazing spherical images, capturing themselves along with the world around them.  With the new model, RICOH has introduced ground-breaking video capture technology with the ability to capture spherical video footage with clips up to 3 minutes in length*2. The THETA's lightweight and easy-to-carry design along with impressive spherical image capturing technologies make it the ultimate device for on-the-go fun.
"When we look at the world of imaging technology we have really only scratched the surface of what we can achieve," said Jim Malcolm, President of Ricoh Imaging Americas Corporation. "At RICOH, dreaming up new ways to capture the magic of photography is all we think about and the new THETA is a perfect example of our passion to innovate"
This new model is available in four eye-catching colors: blue, yellow, white, and pink engineered to the highest standards. The new RICOH THETA will not only open up a world of imaging magic and unlimited possibilities, but serve as the ultimate fashion statement with the bold new colors.
In keeping with the spirit of innovation, RICOH will open up their API (Application Programming Interface) and provide a SDK (Software Development Kit) available on theta360.com coinciding with the release of the new RICOH THETA. Developers can now create original THETA apps with a variety of settings to perform various operations using the THETA. By developing these apps, end users will be benefit from new and exciting capabilities added to their RICOH THETA, helping RICOH co-engineer the future of photography.
Pricing and Availability: The RICOH THETA will be available at retailers nationwide and at www.ricohimaging.com in November 2014 for a suggested retail price of $299.95
(1)…The first consumer product that allows the entire area around the user to be captured in one shot, instead of simply taking horizontal panoramas or semi-spherical shots. (As of October 2013.Ricoh research)
(2)…Upload to sharing sites is up to 5MB ? 6 seconds (1280 x 720)
About Ricoh Imaging Americas Corporation|
Ricoh Imaging Americas Corporation is a subsidiary of Ricoh Company Ltd., a global technology company specializing in office imaging equipment, production print solutions, document management systems and IT services.  Headquartered in Tokyo, Ricoh Group operates in about 200 countries and regions.
The company now known as Ricoh Imaging Americas Corporation was originally founded in 1919, under the name Asahi Optical Joint Stock Co. and launched its first SLR camera in the 1950s under the PENTAX name. Today, Ricoh Imaging Americas Corporation continues to produce the heritage-rich, award-winning line of PENTAX DSLR cameras, lenses and sport optics equipment as well as Ricoh's offering of stylish and compact digital cameras, known for their wide-ranging, rich set of features.
For further information, please visit www.ricohimaging.com
###
© 2014 Ricoh Imaging Americas Corporation. All rights reserved. All referenced product names are the trademarks of their respective companies.
Contact:
Sarah Schachterle
Public Relations Manager
(303) 728-0320
Sarah.schachterle@us.ricoh-imaging.com
RICOH IMAGING AMERICAS CORPORATION www.ricohimaging.com
633 17th Street I Suite 2600 I Denver, CO 80202 I Phone: 303-799-8000
Main Features
1.      Spherical stills
It allows users to capture the area all around them in one shot. Images are then transferred to a smartphone via WiFi where the user can change the size, shape and composition with simple fingertip operations using a free dedicated app. Users can also change the RICOH THETA shooting setup using a smartphone which is connected through WiFi. Images can be uploaded to the theta360.com dedicated website, and can also be shared on social media sites such as Facebook, Twitter and Tumblr, as well as Microsoft®'s Photosynth®. Spherical images can also be posted to GoogleTM Maps and Google+TM.
2. Spherical videos
By adopting new parts and utilizing a video control program, spherical videos up to 3 minutes in length can be shot. After shooting, spherical videos that have no stitch lines can be enjoyed by processing with the video creation tool*3 in the dedicated application. The image size, shape and composition can be changed using simple fingertip operations.  Videos can be uploaded to the theta360.com dedicated website, and can also be shared on social media sites such as Facebook, Twitter and Tumblr. (Up to 5MB).
(3)…RICOH THETA for Windows/Mac (https://theta360.com/en/support/download/) *In order to view the videos, RICOH THETA for Windows/Mac is required to convert the videos that are shot separately. *Video conversion performance varies depending on your computer environment (OpenGL technology).
See theta360.com for details.
3. Increased communication speed
WiFi transfer speeds have been increased up to 2x. Users can enjoy smooth shooting image transmission.
4. Color variations
In addition to the previous white color, RICOH THETA is now available in pink, yellow and blue.
5. API/SDK (beta version)
API/SDK will be available for users to develop their own original apps on theta360.com site. You can now create your own RICOH THETA apps, arranging function settings and operation. API/SDK will be released on 14th November and applicable to the conventional model also.
<Options>
Attachment for Strap (Color: Silver, Grey, Green, Blue, and Orange)…By attaching on the tripod socket hole on the bottom, a strap can be set.
Wi-Fi is a registered trademark of the Wi-Fi Alliance.
Microsoft and Photosynth are either registered trademarks or trademarks of Microsoft Corp. in the United States and/or other countries.
Facebook is a registered trademark of Facebook, Inc.
Twitter is a registered trademark of Twitter, Inc.
Tumblr is a registered trademark of Tumblr, Inc.
Google Map and Google+ are registered trademark of Google Inc.
All other trademarks are the property of their respective owners.
Note: Designs and specifications are subject to change without notice.