Memoto Selected as Finalist for SXSW Accelerator Competition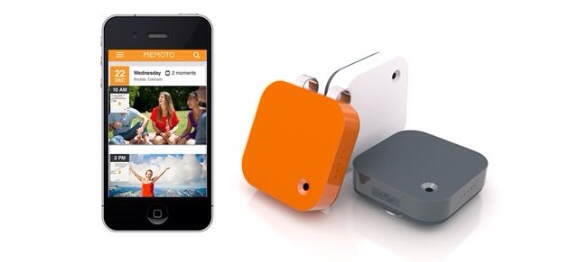 March 5, 2013 (Stockholm, Sweden) — Memoto, the Swedish startup behind the world's smallest lifelogging camera, was selected as a finalist in the Innovative Web Technologies category for the 5th annual SXSW Accelerator competition, where startups showcase some of the most impressive new technology innovations to a panel of hand-picked judges and a live audience. More than five hundred companies submitted to present at SXSW Accelerator, where Memoto was selected out of 56 finalists in seven different categories.

The three-day event will be held Monday, March 11th – Wednesday, March 13th. On March 12th, judges will announce a selected winner in each of the categories presented, which will be revealed on March 13th at 6pm at the Austin Convention Center in Room 10A/B. Memoto will present in the Accelerator competition alongside seven other companies in the Innovative Web Technologies at 3.30 on the fourth floor of the Downtown Austin Hilton.
"Memoto is still in pre-launch phase, but we are proud to be able to present a highly innovative product and actual revenues." said Memoto's founder and CEO Martin Källström. "We are thrilled that SXSW has recognized this and selected Memoto as one of the exclusive finalists"
Starting out as a Kickstarter project in 2012, raising over $550,000 in pledged fundings, Memoto has grown in to a viable company with 15 employees. The Memoto Lifelogging Camera, the tiny device that Memoto is expecting will transform how we remember our lives, is nearing its final edition and is expected to ship in April. Over 3000 customers are waiting eagerly to lay their hands on their pre-ordered unit.
"Some truly ground-breaking and disruptive companies once stood where this year's 56 SXSW Accelerator finalists will pitch to venture capitalists, entrepreneurs and press," said SXSW Accelerator Event Producer, Chris Valentine. "The bar has been set quite high – 47 percent of previous finalists have received funding, and 10 percent have been acquired. I am confident that this year's SXSW Accelerator finalists will bring equally exceptional and unique products and services to the table, with high potential to impact their respective industries."
For more information about SXSW Accelerator and to view the complete list of finalists, visit the following site: http://sxsw.com/interactive/startupvillage/acceleratorfor Interactive.
About Memoto
Memoto is a Swedish startup with a vision of giving everyone a true photographic memory. As an innovator in the field of lifelogging, Memoto develops products and technologies that offer its users a way to capture and share every special moment of their lives.
About SXSW Interactive
The 20th annual SXSW Interactive Festival will take place March 8-12, 2013 in Austin, Texas. An incubator of cutting-edge technologies and digital creativity, the event features five days of compelling presentations from the brightest minds in emerging technology, scores of exciting networking events hosted by industry leaders and an unbeatable line-up of special programs showcasing the best new websites, video games and startup ideas the community has to offer. From hands-on training to big-picture analysis of the future, SXSW Interactive has become the place to experience a preview of what is unfolding in the world of technology. Join us March 2013 for the sessions, the networking, the parties, the 16th Annual SXSW Interactive Awards, SXSW Startup Village, the SXSW Gaming Expo, the SXSW Trade Show and, of course, the inspirational experience that only SXSW can deliver. SXSW Interactive 2013 is sponsored by Miller Lite, Monster Energy, Esurance, IFC, Yahoo!, American Express, PepsiCo, Pepsi, Freecreditscore.com, Chevrolet, American Airlines, Oreo, AT&T and The Austin Chronicle.
#memoto #sxsw #lifeloggingcamera #imaginginsider