First Hasselblad Camera used in Space sold for $275,000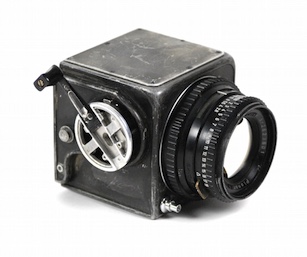 BOSTON, MA – (November 13, 14) The first Hasselblad camera body and Zeiss lens carried into orbit onboard Mercury-Atlas 8, and again on Mercury-Atlas 9 missions sold for $275,000 on Thursday according to Massachusetts-based RR Auction.
Wally Schirra reportedly purchased the Hasselblad 500c camera at a Houston photo supply shop in 1962, and brought it back to NASA for mission use preparation.

The modifications that were made by the United States Air Force camera laboratory in conjunction with Wally Schirra and fellow astronaut Gordon Cooper included the installation of a 100-exposure film container, an aiming device mounted on the side, and modification of the camera surface, plus the original metal facing was repainted black to minimize reflections.

Following the camera's initial success with Schirra on MA-8, Gordon Cooper used a Hasselblad —along with the same Zeiss lens on the next Mercury mission, MA-9.

"In terms of photograph quality the Hasselblad camera at the time, was in a league of its own—and it was this camera that would forever change our view of Earth," said Bobby Livingston, Executive VP at RR Auction.

The single lot auction took place on November 13, 2014 at 3:00 pm ET, at RR Auction's Boston Gallery.

After the sale, a weeklong Space and Aviation Autograph and Artifact Auction was launched, among the historic museum quality pieces to be featured:

An original Gemini Boilerplate Capsule­—that stands approximately 9.5 feet tall and weighs in at an impressive 4500 pounds.

Command Module Block II Translation Controller – The hand controller would have been mounted on the left armrest of the commander's couch. Its primary function was to provide 3-axis manual control of spacecraft velocity changes.

Apollo Command Module Rotation Control, also referred to as an attitude controller or rotation hand control, this was used for controlling the spacecraft attitude.

Fully-loaded 'Strizh' space suit made for the defunct Russian Buran space project.

Apollo Block I simulator-used Command Module Flight Director Attitude Indicator (FDAI). The red, black, and white '8 ball' was used to define the relative position of the spacecraft in three-dimensional space.

Rare test-fired command module rocket engine; Rocketdyne model number SE-8 measures approximately 14″ tall, weighs almost 9.5 pounds.

In addition, the online offering will feature a unique blend of signed material and flight-flown objects—a dazzling array of 600 items – from maps and patches, to autographed photos, documentation, and even full space suits.

The Space and Aviation Autograph and Artifact Auction, will run from November 13 and close on November 20.For information, visit the RR Auction web site at www.rrauction.com.