Pilgrimage To Photokina 14: Shrine To Photography
 by Elmo Sapwater, Editor-in-Chief of Imaging Insider and Photo Imaging News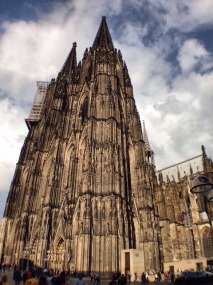 Every two years in September imaging enthusiasts and photographers trek to Cologne, Germany (www.cologne.de) for a special gathering. This event is "photokina" (www.photokina.com) and is considered by many the Holy Grail of everything photography. This year alone some 185,000 enthusiasts representing over 180 countries filled the Halls of Koelnmesse Trade Fair Center (www.koelnmesse.de). Pilgrims were given the opportunity to view the latest and greatest imaging products. For those so inclined to go the extra mile there were often unannounced products in the prototype stage nestled in out of way places.
The staff of Koelnmesse deserves to be commended for the way the 2014 event was organized. To us the show certainly appeared to be logically laid out as best as possible according to specific areas of interest making better use of precious time. Attendee traffic flowed nicely even when it was an elbow-to-elbow kind of way. Floor shrinkage appeared held to a minimum unlike that of the previous two shows, which had been reduced due to economic conditions, as well as shrinkage of traditional-based companies no longer around.
And, with this, "Let the show begin" — "Und die Show beginnt."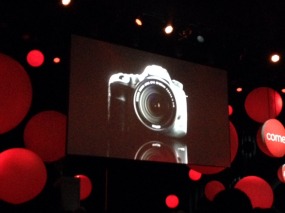 Canon (www.canon.com) introduced the 7D Mark II and the Powershot G7X cameras. During the presentation of the 7DMKII the photographer on stage said that it was "almost a perfect camera." That struck us as an odd statement. Perhaps it was the fact that Canon potentially misstepped in this glaring omission by not providing 4K video capabilities with either camera. OK, before people begin howling that 4K adoptions are still very low in devices such as Ultra HD televisions note that prices of such devices are already dropping crazily. Adoption of 4K is surpassing that of 2K HD televisions. One Canon representative stated that it could be a year before 4K would be included. Well, that being the case I think I would just wait if Canon built my camera system.
For us, the 20.2 MP G7X had more appeal. It's aimed right at Sony's (www.sony.com) popular 20.2-megapixel RX100 II point and shoot.
Comparing the two new Canons to older models has provided, shall we say, "improvements". The G7X improvements include a slightly wider zoom lens, touchscreen, and higher extended ISO all at the cost of what some have already said shorter battery life. This Powershot can be purchased now for $699.
Regarding the 7D Mark II DSLR you will also find a 20.2 MP CMOS sensor. People seemed to really love the Dual Pixel AutoFocus for Live View, which, Canon says, is like shooting video on a camcorder. Photographers can lock the focus on a moving subject and track it in real time. This feature along with 10 fps shooting and 65-point All Cross-Type AF will truly appeal to sports or racetrack photographers where motion is quick and fast. This camera will ship, body only, for around $1,800, but expect it to be in short supply for quite a while.
Considering their long association with sports, Canon didn't fall short with a new video and promo. At first glance, we saw six half-naked tattooed men waving a flag and following a drummer dressed as though he had been snatched from a Shakespearean play at the Globe theatre. Or, perhaps to others, these characters appeared to have recently escaped from a penal system located on a remote island. However, video and photo promos showed them to be playing something like Medieval football. We later learned that they were playing Calico Storio, which, according to Wikipedia (en.wikipedia.org/wiki/Calcio_Fiorentino) is a sport that originated in the 15th century.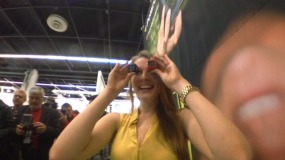 Will the new itty-bitty Polaroid Cube action camera revive the Polaroid brand (www.polaroidcube.com)? This 35mm (1.4") square cube has quite a few features and is priced to sell, in red, blue or black, at a mere $99. It offers OK video capture at 1920×1080 or 1280×720 as well as still capture utilizing a 6MP sensor looking through a lens with 124° field-of-view. The Cube can record up to 90 minutes of video in one continuous clip. (The internal rechargeable battery has an estimated 90-minute charge.) But, the number of total videos depends upon the size of the installed and removable storage. The Cube supports a Micro SD card up to 32GB. (For resolution settings, battery recharge port and memory access a small cover must be removed.)
Inside is a built-in microphone, which we didn't hear but we assume is sufficient for the task. Other features include a water resistant and shockproof body with a rubberized exterior. The one feature we really liked, albeit small, is the inclusion of magnets that allow the Cube to be placed on any metallic material. For someone wanting to take a quiet neighborhood drive in a car this could be a nice feature, but don't expect it to remain on an automobile driving down a bumpy road. Consequently, several action camera accessories include a variety of mounts as well as a waterproof case that lets the Cube go underwater down to a maximum of 33 feet.
Again, will the Cube revive the Polaroid name? Sometimes it is the small things that matter. Think multiple Cubes ready for dirt biking or for drones. While it's never going to compete directly with GoPro the Cube could become a fun product, particularly if the company concentrates on higher resolution, better video bitrate and inclusion of Wi-Fi features.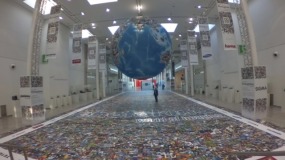 To be continued in our next issue