Phase One Releases Capture One Pro 8.2 – Update adds most advanced color grading options of any RAW converter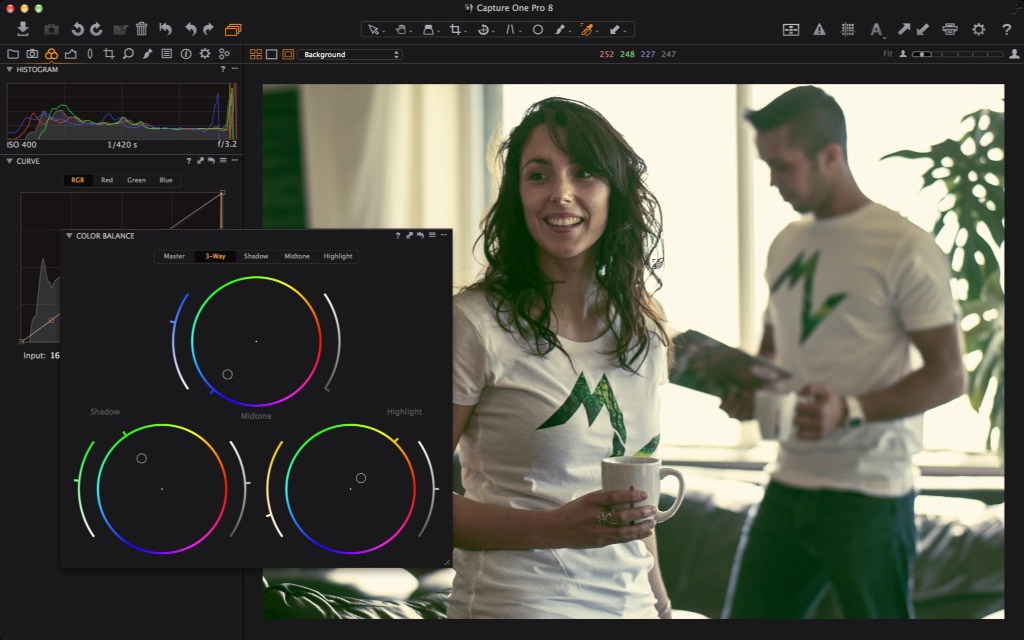 Photo by Pete Webb
COPENHAGEN, March 24, 2015 – Phase One today released Capture One Pro 8.2 with more tools to deliver a competitive edge for professional photographers. Capture One Pro is renowned for its optimal raw file conversion and intuitive image editing for more productive workflows. Customers are professionals working under tight deadlines, who demand the highest-quality imaging from their raw files, artists seeking to distinguish their work from the mainstream, and enthusiasts who just want the best.

"Capture One Pro 8.2 marks the next step in Phase One's continuous effort in delivering high quality tools for professional photographers," said Jeppe Skjerning, Product Manager, Phase One. "The market needs are always evolving, and this release meets the increasing demand for creating beautiful images easier; delivering files faster and utilizing hardware better."
New Color Balance Tool offers the most advanced color grading solutions of any RAW converter. With the new 3-Way Color Balance, no knowledge of color blending or third party plug-ins are required to create beautifully color graded images. Color tone changes can be made in the shadows, the highlights or the mid-tones, giving the user a quick and powerful way to create beautiful images.
Instead of manipulating RGB channels of Levels and Curves, the new Color Balance Tool offers an equally powerful solution with a much simpler process. Brightness values are better preserved in the shadows and highlights by using this method. And with Capture One Pro's uniquely customizable workspace, this new tool can be pulled out of the tool bar and enlarged to suit a user's requirements for precision and flexibility.
Dynamic Locations supercharge workflow flexibility. Now the location of processed images — or the location of imported images — can be dynamically modified, simply by using a new set of Tokens. For example, files could be sorted automatically based on a star rating, color tag, variant position and many other user-specified criteria. This feature fully streamlines the input and output process on busy shoots.
Maximize viewing on advanced single and dual monitor setups. To take advantage of newer, higher resolution 4k monitors, the maximum resolution of image previews has increased from 2880 to 5120 pixels. High quality previews are available immediately as images are added to a Capture One Catalog or Session, to facilitate fast browsing and scrolling through thumbnails.
Added Camera Support:
Nikon D5500 (both file and tethered support)
Olympus OM-D E-M5 II
Samsung NX1
Fujifilm X-A2
Added Lens Support:
Nikon AF-S DX Zoom-NIKKOR 18-70mm f/3.5-4.5G IF-ED
Zeiss Distagon T* 3.5/18mm ZF.2
Zeiss Distagon T* 2.8/21mm ZF.2
Zeiss Distagon T* 2.8/15mm ZF.2
Zeiss Distagon T* 2/28mm ZF.2
Zeiss Distagon T* 3.5/18mm ZF.2
Zeiss Distagon T* 3.5/18mm ZF.2
Zeiss Distagon T* 2.8/25mm ZF.2
Zeiss Distagon T* 2/25mm ZF.2
Zeiss Distagon T* 2.8/25mm ZF.2
Sigma 8-16mm F4.5-5.6 DC HSM
For a complete list of all supported cameras and lenses, as well as system requirements and installation guides, and full release notes for Capture One Pro 8.2 please download release notes here: http://www.phaseone.com/Apsis/Capture-One-8-2-Release-Notes.pdf
Pricing and Availability
Capture One Pro 8.2 is a free update to existing Capture One Pro 8 customers; owners of previous versions of Capture One Pro may upgrade for 99 USD or 69 EUR. Owners of Capture One Express for Sony can upgrade to Capture One Pro for 30 USD or 23 EUR. For more information, please go to http://www.phaseone.com/sony
New customers can purchase Capture One Pro 8.2 for 299 USD or 229 EUR. Subscriptions to Capture One Pro 8 are also available. A single-user subscription is available for 10 USD / 8 EUR per month for a 12 month plan. Other subscription options are available at www.phaseone.com/store
About Phase One
Phase One is the world's leader in open-platform, high-end camera systems and solutions. Phase One cameras, digital backs and lenses are designed to deliver superior quality image capture and investment value. Phase One's Capture One Pro and Media Pro software help streamline capture and post-production processes for both medium format and DSLR cameras. Phase One products are known for their quality, flexibility and speed enabling pro photographers shooting in a wide range of formats to achieve their creative visions without compromise.
Phase One is based in Copenhagen with offices in New York, London, Tokyo, Cologne, Hong Kong, Shanghai, Sydney, and Tel Aviv. Phase One and Capture One are registered trademarks of Phase One A/S. All other brand or product names are trademarks or registered trademarks of their respective holders.
Learn more here:
Phase One at http://www.phaseone.com
Twitter at http://www.twitter.com/phaseonephoto
Facebook at: http://www.facebook.com/pages/phaseonephoto
Google+ at https://plus.google.com/+phaseone/posts
Linked In at https://www.linkedin.com/company/phase-one