New Matter Begins Shipping The MOD-t And Is Awarded Best In Show For 3D Printing at CE Week In New York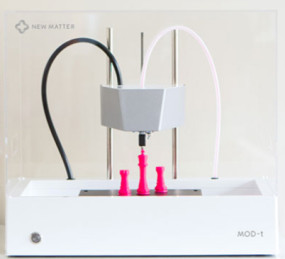 Showcasing The First Production Units of the MOD-T, New Matter Opens Up Orders and Beta Access to its Online 3D Design Store
 Pasadena, Calif. AND NEW YORK — June 24, 2015 ─ New Matter  (www.newmatter.com), is excited to unveil its production MOD-t 3D printers at CE Week in New York. In addition, The MOD-t was awarded the Best In Show Award In 3D Printing by CE Week.  The MOD-t was selected as a winner based on several criteria, including usability, design, innovation, important features and overall user value.
The MOD-t is a Wi-Fi connected consumer 3D printer, co-designed by globally recognized product design firm, frog, and made for the home. The MOD-t's innovative design increases the reliability of the printer, by significantly reducing part count and featuring an ingeniously simple way to move the print bed.
"We are honored to be recognized by CE Week. Our goal was to create the first truly easy-to-use at-home 3D printing experience at an affordable price," says Steve Schell, CEO and co-founder of New Matter. "The combination of the MOD-t and the New Matter Online Store create a complete ecosystem to make 3D printing accessible to anyone."
Beta testing of the production MOD-t and New Matter Store have already begun.  The store currently has dozens of free designs for new users to begin printing with ease. These designs have been handpicked and fully tested on the MOD-t, so they print the way the designer intended.
New Matter is in New York, showcasing the MOD-t at CE Week June 24-25, 2015 at the Metropolitan Pavilion in New York City. New Matter will be giving demonstrations of the MOD-t at booth #304.
·      MOD-t Retail Price: $ 399
●      Plug-and-play operable
●      Built-in Wi-Fi for easy connection to the New Matter Store
●      Prints with safe, environmentally-friendly Polylactic Acid (PLA) plastic
●      Print speeds of 80mm per second
●      Layer resolution selectable at 0.1, 0.2, 0.3, and 0.4mm
●      Maximum object size of 6 x 4 x 5 inches
●      Perfect for DIY makers, families, educators, and many others
New Matter's MOD-t is now available for sale at www.newmatter.com
For more information  about New Matter, please visit the website or follow us onFacebook, Twitter and Instagram.
About New Matter
New Matter (www.newmatter.com) was founded in 2014 with a mission to bring 3D printing to every home, school, and office. Led by its flagship products, the MOD-t 3D printer and the New Matter Store, New Matter is poised to revolutionize the consumer 3D printing market by providing the first and only affordable, fully integrated, end-to-end consumer 3D printing experience. The company is backed by leading venture capital firms and is an operating company of Idealab, a creator and operator of technology companies that has started more than 125 companies since 1996, resulting in more than 40 IPOs and acquisitions. Stay connected with New Matter through Facebook, Twitter and Instagram.
New Matter and MOD-t are trademarks of New Matter, Inc. All other trademarks and registered trademarks are the property of their respective owners. ©2015 All rights reserved.