Panono Announces the Panono Explorer Edition/First Version of Its Throwable Panoramic Ball Camera Shipping Starting in September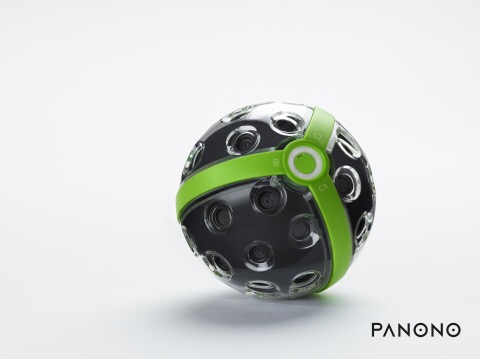 The Panono Explorer Edition will be delivered to crowdfunding backers, and an additional 1,000 cameras being offered for purchase to tech and photography enthusiasts.
BERLIN–(BUSINESS WIRE)–Berlin-based technology company Panono has announced its plan to release the first edition of its highly anticipated Panono Camera, the first consumer camera to exceed 100 megapixels and instantly deliver high-resolution, 360° X 360° full-spherical panoramic images. The Panono Explorer Edition will be delivered to initial crowdfunding backers with shipping starting in September. Additionally, 1,000 cameras will be offered for purchase.
"After four years of development and receiving overwhelmingly positive feedback from initial test users, we're eager to get the Panono Camera into the hands of our generous early-adopter tech and photography enthusiasts who've supported us from the beginning," said Jonas Pfeil, founder and CEO of Panono. "We're confident that once they experience the level of quality, detail and creative possibilities in our panoramic images and see how easy and fun it is to capture and share them with a Panono, there'll be no turning back: People are going to want to add Panono 360° X 360° panoramic images to every one of their photo-worthy experiences."
Early versions of the Panono Explorer have been in trial use for months by the marketing teams at several consumer companies including BMW and Lufthansa, and at organizations such as the German section of the World Wide Fund For Nature (WWF Germany). The Global BMW Communication Management Products and Brands department used the Panono Camera for the company's show at the Auto China 2014 in Beijing. For the WWF Germany Panono brings their project documentation to a new level. "With the Panono Camera, we found an innovative way to show people our worldwide activities," said Sönke Kranz, Director Internet of WWF Germany. "The camera can give authentic insights to places you would normally never get to see."
THE PANONO EXPLORER EDITION AND PANONO APP
The 108-megapixel Panono Camera is a small, grapefruit-sized, ball-shaped camera with 36 individual camera modules embedded all around it that fire simultaneously to capture everything in every direction. The camera can easily be operated with a selfie-stick. It can also be triggered to shoot by using a mobile device as a remote control when the camera is mounted on a tripod. Uniquely, the 36 camera modules will trigger automatically when the camera is tossed into the air and reaches its apex where it is still for a moment before descending.
Panono's high-resolution panoramic images can be previewed instantly in the free Panono mobile app before being sent to the Panono Cloud for finishing and delivery back to the app, the photographer's account on the Panono website, or can be shared on social media sites. Viewing Panono panoramas in the Panono App is a fully immersive experience in which the viewer seemingly moves inside the image by tilting their mobile device up and down, left and right, and all around, and pinching or spreading the image to view it from other perspectives.
People can also explore Panono panoramas in a web browser using the cursor to move around in all directions inside the image, as demonstrated in a Panono panorama taken recently of Panono executives with German Chancellor Angela Merkel and the Queen of England on the occasion of the 50th Anniversary of the "Queen's Lecture" at the Technical University of Berlin (see above). The Panono Camera was one of only two technology projects demonstrated at the event.
PANONO EXPLORER EDITION – PRODUCT SPECIFICATIONS
Diameter: 4.33 inches (11 cm)
Weight: 1.06 pounds (~ 480 gr)
Camera body: tough clear plastic
Cameras: 36 fixed-focus cameras
Connection: WiFi, USB cable
Total resolution: 108 megapixels
Mobile App: for iOS7+ and Android4.2+
Storage Capacity: 16 GB (~600 panoramas)
PRICING AND AVAILABILITY
The Panono Explorer Edition will start shipping in September. It is available for 1,499 USD at www.panono.com/shop. When the Panono Camera goes into increased production, the retail price is expected to be 599 USD. The Panono consumer version will have all of the features and capabilities present in the exclusive Explorer Edition, but with an advanced fall protection capability that will protect the camera in the event it is dropped on a hard surface when being operated by tossing it into the air.
PANONO HISTORY
The development of the Panono Camera began as part of Panono founder and CEO Jonas Pfeil's master's thesis in computer engineering at Technical University of Berlin. In 2011, to much acclaim, he presented a prototype of his throwable panoramic ball camera at the prestigious SIGGRAPH ASIA technical conference, and in 2012, co-founded Panono with fellow TU Berlin graduates Björn Bollensdorff and Qian Qin to refine the camera and bring it to market. In 2014, the company completed a highly successful crowdfunding campaign, launching the new design, announcing the camera's name, and raising $1.2 million. Later that year, Panono conducted a crowdinvesting campaign on Companisto, where it raised another €1.6 million.
ABOUT PANONO GMBH
Panono GmbH develops and produces trend-setting digital cameras along with mobile applications. Its first product is the Panono Camera. Equipped with 36 individual cameras, the ball-shaped Panono captures high-resolution panoramas with full 360° fields of view in both horizontal and vertical directions. An international patent for the Panono Camera is pending. The Panono Camera Explorer Edition will start shipping in September 2015. Panono GmbH was founded in 2012 by Jonas Pfeil, Björn Bollensdorff and Qian Qin and is based in Berlin, Germany.
For further information please visit www.panono.com.