Picture This: BiteMyApple.co Launches the Trygger for iPhone 5, a Polarizing Filter Camera Clip for Sharper, More Vibrant Images

LITTLE ROCK- March 20, 2013- BiteMyApple, a web store specializing exclusively in successful Kickstarter products for Apple accessories, launches the Trygger for iPhone 5. With this easy-to-use camera clip, everyone can become a professional iPhoneographer by snapping clear, vibrant photos anytime, anywhere. The Trygger's attachable polarizing filter cuts out glare from glass, water, metal, and hazy skies resulting in richer colors and sharper images.

"This accessory really caught my attention when it first hit Kickstarter because it solves a problem I've personally encountered many times," says Chris Johnson, Founder of BiteMyApple. "We take our iPhones with us everywhere, and it's the best way to capture all of life's really cool moments. The photos taken with Trygger are the next best thing to actually seeing something with your own eyes. It eliminates the glares that can often distort our photos."
Inspired by professional camera equipment, the Trygger uses a polarizing filter to cut out noisy light. The hand-made filter is created by placing a color neutral polarizing film between two layers of scratch resistant, high-grade optical glass. The end result? Less glare and more vibrant colors! The image below demonstrates the same photo taken with the Trygger (right) and without the Trygger (left).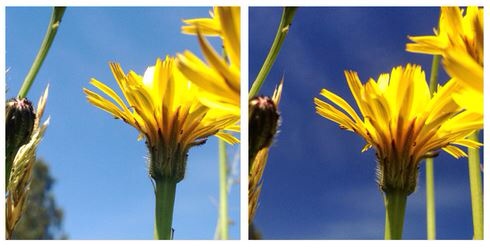 The Trygger easily attaches to the iPhone 5 for a snug, sturdy fit. The perfectly designed and fitted camera clip boasts a 4-sided pressure grip which ensures that no extraneous light leaks through to the lens which could distort the image. Simply remove and store the camera clip when the photo session is complete.
To put this in perspective- there are many apps, like Instagram, out there which allows the user to put cool filters on photos post-production. The Trygger, on the other hand, utilizes the natural light to take a perfect picture at the time of the shoot. Additionally, the filter is adjustable so you can control how much light comes through.
The Trygger for iPhone 5 retails at $39.99. It is available in black or white atwww.bitemyapple.co.

About BiteMyApple.co
BiteMyApple.co was developed as a one-stop shop for successful projects from Kickstarter, a crowdfunding site that serves as a platform for innovators and entrepreneurs. Kickstarter designers often tell their stories and showcase their devices through video stories, and supporters pledge a donation or preorder the product. Once a project reaches its funding goal- the entrepreneurs deliver rewards to backers from all over the world. BiteMyApple.co participates with these projects and the Kickstarter community. The products found on BiteMyApple.co are some of the most successful Kickstarter projects to date with dozens of accessories for Apple products like the iPhone, iPad and iMac.

#trygger #bitemyapple #imaginginsider