PICFARI™ MAKES TAKING TRAVEL PHOTOS EASY AND PICTURE-PERFECT FUN FOR PHOTOGRAPHERS OF ALL ABILITIES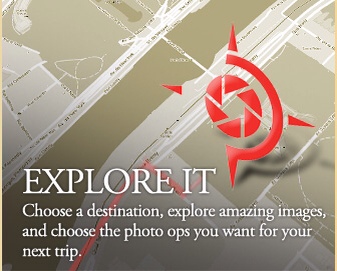 Innovative New Mobile Website and App Makes Capturing Can't-Miss Photo Opportunities a Snap – in Popular Destinations Worldwide!
NEWPORT BEACH, Calif. – In a perfect world, we'd be guaranteed to get fantastic photos of our travels quickly, easily, with no guesswork and without having to drag our friends and families around for that just-right shot of a landmark. With the launch of Picfari™ in late March 2013, this picture-perfect world becomes a reality, with a new website (www.Picfari.com) and free mobile app that will appeal to anyone who loves to travel and take photos.
"For most of us, taking great, high-quality photos of our vacations is just as important a journey as the trip itself," says Picfari visionary and Co-Founder Scott Herr. "But the process of planning and taking well-composed, memorable snapshots also can be the most frustrating part of traveling. Picfari puts the fun back into travel photography with an engaging, easy-to-use mobile app and website that lets you research, explore, plan, map and create amazing vacation photos – and memories."
Envisioned and founded by Herr and his wife, Jackie – both avid globetrotters and former medical industry executives – Picfari is a killer app mash-up of travel and photography that allows photographers of all abilities to capture can't-miss photo opportunities in popular destinations worldwide.
"Picfari is an exciting new way to pre-plan your trip, or to dream about your next destination, all from a photographic perspective," says Picfari Co-Founder Jackie Herr. "With Picfari, you can view a collection of photo possibilities online, and then decide on the photo ops you want to take advantage of on your trip."
With more than 15,000 photos of top sights and iconic landmarks in 350 top tourist spots around the globe, Picfari delivers exciting, no-guesswork photo ideas for amateur to professional photographers, who can choose to get those photos, or use them to spark new, creative photographic concepts.
In addition to providing an appealing way to armchair travel, browse destinations, plan photographic tours, and enjoy beautiful photos, each Picfari shot is coded with accurate GPS/mapping technology so that users can easily locate and find the "just right" photo locations featured. Further, every Picfari photo selection also provides specific instructions (shutter speed, filters, etc.) to help users fine-tune their snapshots. And, the Picfari website will be constantly updated with new Picfaris and new photos in new places around the globe.
Once a traveler has selected a destination, Picfari leads her through a simple, step-by-step process and an intuitive interface to customize a photo-driven tour (a "Picfari") of the chosen destination based on the amount of time she will spend in that destination, which sights she wants to see, and what types of photos she wants to take. No time to create a custom Picfari? No problem! Users can simply select from one of hundreds of Picfarisdesigned by the company's expert Picfari Scouts and other members of the Picfari community. After a user selects or designs a custom Picfari, he can either print and bring his Picfari tour map on the trip, or pull it up on his smart phone upon arrival.
The Picfari fun doesn't end after the trip! When travelers return home, they can upload their photos to create new Picfaris or tag on to existing Picfaris to share with friends and the Picfari community. They also can enjoy sharing their Picfari shots via social media with a seamless, integrated interface. In addition to sharing their photos with fellow "Picfarians," they also can include details on each shot – not just time of day or special camera settings, but also providing other "local color" details that enrich the travel experience. Maybe it's a great café they discovered near their Eiffel Tower PicStop – or a scenic hike they took to get a spectacular shot in Zion.
"If you like to travel and take photos, Picfari is for you," say the founders. "Whether you take photos with your iPhone, point-and-shoot camera, or advanced DSLR; whether you're an avid photographer or just an occasional shutterbug; and whether photography is the main focus of your travels – or simply a means to capture the memories of your journey – you're bound to love Picfari!"
Based in Newport Beach, California, Picfari™ is a product of Picfari, LLC and its visionary Founders, Scott and Jackie Herr. The Picfari mobile app and website were brought to life by Irvine, California-based Square 1 Partners, LLC. For more information on Picfari and to download the free mobile app, please visit www.Picfari.com.
#picfari #imaginginsider