LensPen® DSLR Pro Kit –Everything You Need to Clean DSLR Optics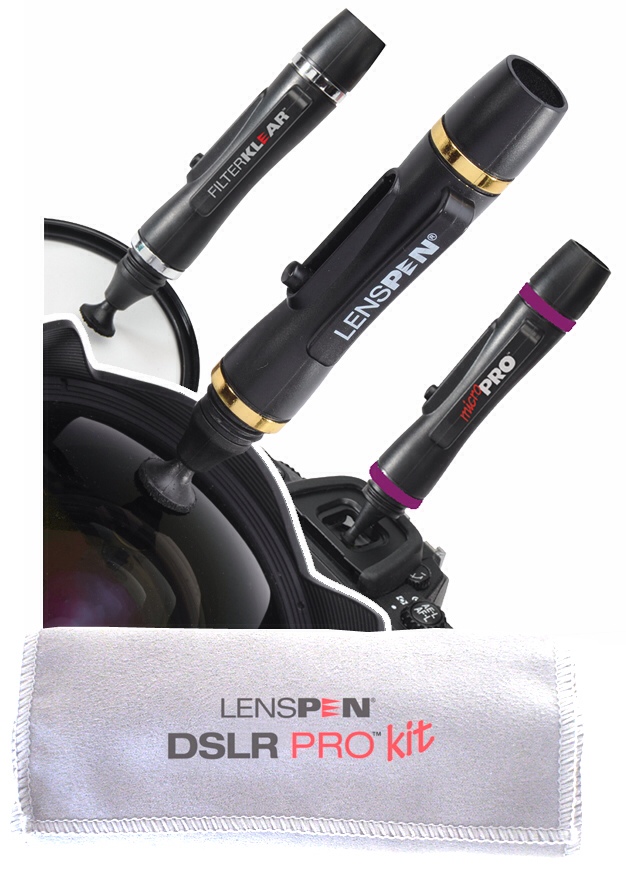 Dust and fingerprints can appear all over your camera. On the lens, on the filter, on the eyepiece – anywhere. There's a LensPen® for all of them, of course, and now they're all packaged together in the LensPen DSLR Pro Kit.
The DSLR Pro Kit includes everything you need to clean the optics on your DSLR: the Original LensPen for lenses, FilterKlear™ to clean filters and MicroPro™ for eyepieces. All three feature two working ends: a retractable natural brush for removing loose dust and a carbon-impregnated cleaning pad for removing fingerprints from the optics surface. The carbon compound used in LensPen products is similar to the one found in printer's ink – which is why newspapers have remained a popular method for cleaning windows and glass for generations.
Also included in the DSLR Pro Kit is a microfiber pouch that holds all three pens and can also be used as a cloth for other cleaning applications.
LensPen products are available at Amazon, Best Buy and other fine optics retailers. For more information on LensPen, go to www.lenspen.com.
#dslrcleaner #dslrprokit #lenspen #imaginginsider