MetaRaw Extends the Functionality of Adobe Camera Raw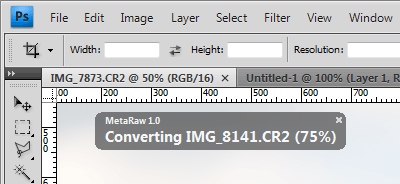 The Plugin Site (www.ThePluginSite.com) is pleased to announce MetaRaw, which extends the functionality of the Adobe Camera Raw plugin in Photoshop and Photoshop Elements. It lets you open camera raw files with Adobe Camera Raw, which are normally not supported by it, and allows applying Adobe Camera Raw as a filter to image layers. In Photoshop Elements MetaRaw provides automatic lens correction and chromatic aberration removal features for Adobe Camera Raw. Additionally MetaRaw includes its own raw converter, which has several advantages over Adobe Camera Raw.

Product Mission
With MetaRaw you do not have to upgrade to the latest version of Photoshop or Photoshop Elements if you only need support for a new camera raw file type or want to apply Adobe Camera Raw as a filter to image layers.
Harald Heim, head of The Plugin Site, explains: "Before MetaRaw became available, Photoshop users had to upgrade to the latest version of Photoshop if they wanted to open a new kind of raw file. For users of Photoshop Elements 9, 10 and 11 the situation was even worse. There are no Adobe Camera Raw updates available for them, so they basically had to wait up to 12 months for the next major release of Elements. Some may argue that these users could use an external raw converter instead. If you investigate such workarounds, you will notice that they cost time, break your workflow, require additional image processing steps and may result in decreased image quality."
Harald Heim continues: "MetaRaw solves this dilemma by empowering users to open the latest variety of raw files with Adobe Camera Raw, even if they use such old applications as Photoshop CS1 and Photoshop Elements 3. Furthermore, MetaRaw applies the Camera Raw effects to image layers. This provides users of older Photoshop versions and Photoshop Elements with a similar functionality as the new Camera Raw filter in Photoshop CC."
Three Raw Converters in One
MetaRaw seamlessly runs three different raw converters directly within Photoshop and Photoshop Elements: Adobe Camera Raw, Adobe DNG Converter and MetaRaw's built-in raw converter. If one of them does not support a certain raw file, one of the others is automatically used. No matter which raw converter you choose, its output can be processed with Adobe Camera Raw.
The built-in MetaRaw Converter produces images that are up to 0.3 megapixel larger than those of Adobe Camera Raw. It is able to open camera raw files from unknown future cameras and supports 50 more camera models and 13 more raw file extensions than the latest version of Adobe Camera Raw. The output of the MetaRaw Converter looks quite similar to Adobe Camera Raw and can be further processed with Adobe Camera Raw. MetaRaw Converter preserves more shadow and highlight details at default settings than Adobe Camera Raw and produces a more natural look for certain raw files.
Other Features
In Photoshop Elements the Adobe Camera Raw window offers a limited number of controls. MetaRaw provides two additional features in Photoshop Elements 10 and 11: automatic lens correction and chromatic aberration removal. This avoid two additional image processing steps, which otherwise have to be done manually.
MetaRaw lets you open raw images without displaying the Camera Raw dialog, which can be handy at times. You can also choose to open a raw file as smart object for readjusting the Camera Raw settings without reopening the raw file again. For archival purposes MetaRaw is able to automatically save a DNG or TIFF file while opening a raw file.
Availability & System Requirements
MetaRaw requires Adobe Photoshop or Adobe Photoshop Elements for Windows. A version for MacOS X is planned. The MetaRaw UI is available in English and German language. MetaRaw costs USD 39.95 (Academic/educational license: USD 24.95). A 14-day-trial version can be downloaded at http://thepluginsite.com/products/metaraw/
Company Info
The Plugin Site is located in Nuremberg, Germany, and mainly develops image processing software. We created the FilterHub, ElementsXXL, ColorWasher, FocalBlade, LightMachine, B/W Styler, ContrastMaster, NoiseControl, ColorStyler, PhotoFreebies, Plugin Galaxy, Plugin Commander and HyperTyle products. In the past we co-produced Alpha Magic with Pinnacle Systems and co-developed FilterMeister with AFH Systems.
#photoshop #metaraw #thepluginsite #imaginginsider