The Great Kat JUILLIARD GRAD VIOLIN VIRTUOSO turned SHRED GUITAR GODDESS "TOP 10 FASTEST SHREDDERS OF ALL TIME" (Guitar One Magazine)!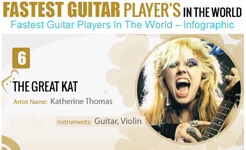 ABOUT THE GREAT KAT:
The Great Kat http://www.greatkat.com, recently honored by Spin Magazine with a Star in the "GUITAR HERO GALAXY," is the phenomenal Juilliard graduate Violin Virtuoso/Carnegie Recital Hall Violin Soloist who performed for NYC Mayor Ed Koch at Gracie Mansion as a Prodigy Violin Soloist. The Great Kat Shred Guitar Goddess is the Top 10 "Fastest Guitar Players In The World" – Graphs.net, "Top 10 Fastest Shredders of All Time" – Guitar One Magazine/"20 Of The Fastest Guitarists In The World Today" – MusicRadar.com/"Top 8 Female Electric Guitarists Of All Time" – NME. The Great Kat was recently voted #1 "Favourite Celebrity of Multiple Nationalities" in Rankopedia. The Great Kat's phenomenal high-speed shred guitar AND violin virtuosity are displayed on the blistering new "BEETHOVEN SHREDS" CD, which showcases The Great Kat's amazing shred versions of Classical masterpieces, including "The Flight Of The Bumble-Bee" (at 300 BPM!), Beethoven's "5th Symphony," Paganini's "Caprice #24", Bach's "Brandenburg Concerto #3" and more. "Beethoven Shreds" CD is now featured in the new exhibit "AMERICA'S BEETHOVEN EXHIBIT" at The Ira F. Brilliant Center For Beethoven Studies. Distributed internationally by Music Video Distributors (MVD), "Beethoven Shreds" CD is priced at $7.95 SRP and available worldwide and on Amazon http://www.amazon.com/Beethoven-Shreds-Great-Kat/dp/B0055V0G9E/ref=sr_1_1?s=music&ie=UTF8&qid=1308161101&sr=1-1.
Links:
The Great Kat Web Site http://www.greatkat.com
GREAT KAT SONGS on iTUNES: http://itunes.apple.com/us/artist/great-kat/id384709526
GREAT KAT VIDEOS on iTUNES: http://itunes.apple.com/us/artist/the-great-kat/id368743108
Amazon "Beethoven Shreds" CD: http://www.amazon.com/Beethoven-Shreds-Great-Kat/dp/B0055V0G9E/ref=sr_1_1?s=music&ie=UTF8&qid=1308161101&sr=1-1
FACEBOOK: http://www.facebook.com/greatkatguitarshredder
TWITTER at http://twitter.com/greatkatguitar
YOUTUBE http://www.youtube.com/user/KthomasPR
YOUTUBE'S "GREAT KAT" CHANNEL at http://www.youtube.com/channel/HCuJG9jO1nSCE/featured
#thegreatkat #greatkat #guitarplayermagazine #imaginginsider