Control the Power and Lose the Weight with the Photoflex®FlexFlash™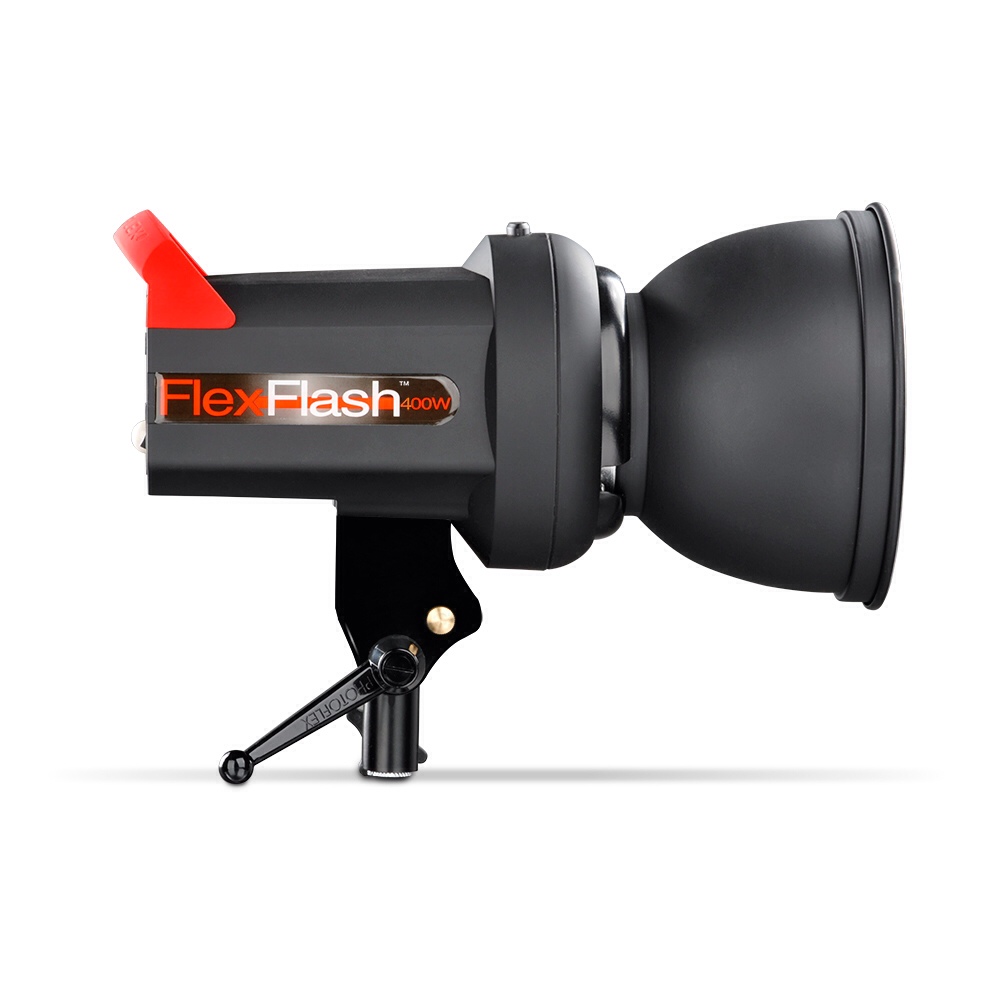 Watsonville, CA – PhotoFlex announces the release of FlexFlash, a quantum leap in monobloc strobe lighting. FlexFlash is light and compact yet substantial in feel. The digital display allows a photographer to dial-in with spot-on accuracy the exposures. Fast recycle, push button quick lock accessory attachment design and weighing in at 5 pounds, this strobe is the perfect solution for studio photographers of all levels. As always with the Photoflex products,Flexflash is designed smart for today's photographers needs and built to last.
Features
•​Available in 200WS & 400WS USA or European models (only difference being modeling light & cable)
•​Full featured oversized LCD display with bold power level indicator
•​Wide display viewing angle easy to read when positioned high on stands
•​Auto power dumping
•​5V 1/8" / 3.5mm sync socket safe for digital cameras
•​Sync speed wired or radio remote 250th sec.
•​Sync speed using optical sensor 320th sec.
•​Pre-flash auto detection system allows synchronization with speedlights.
•​Automatic cooling / ventilation system
•​Auto voltage detection 90 – 260V (modeling excluded) for use worldwide
•​Auto power save function activates when inactive for approx. 20 minutes awakens with external flash
•​Audible ready / recycle confirmation
•​Proportional modeling light adjustment follows the power setting
•​Free option allows independent adjustment of modeling light
•​Switchable power output display options
​a.​Decimal display for 1/10th step adjustments 2.0 – 6.0
​b.​Fractional display for 2/10 step adjustments 1/64 – 1/1
•​Universal "S Type" bayonet accessory mount suitable for all size softboxes including OctoDome 7'/ 203cm
• Universal umbrella receiver allows use with 8mm USA or smaller 7mm European shaft sizes
• Plug in flash tube allows user replacement
ABOUT PHOTOFLEX, INC.
Photoflex®, Inc. has been a world-leading manufacturer and innovator of lighting enhancement equipment for photography, film, video and HD video since 1985. Photoflex, Inc. is located at 97 Hangar Way, Watsonville, CA 95076. Information about Photoflex can be found at www.photoflex.com. For ongoing news, please go to
http://www.photoflex/about/press-releases.
###
Photoflex and the Photoflex logo are trademarks or registered trademarks of Photoflex and/or its affiliates in the U.S. and other countries.
#photoflex #flexflash #imaginginsider