REVIEW :: PhotoSpring Digital Photo Frame
by Camille Gibeau, Technology Editor
PHOTOSPRING
(www.photospring.com)

We have to admit we were taken a bit back at CES 2018 when we came across PhotoSpring and its Photo Digital Photo Frame. Looking back over the past couple of years we just weren't seeing many of them. Smart devices and tablets had become so popular that it we had to ask if there was a real need for these things any more. We merely assumed that the popularity of the digital photo frame had come and gone. Even though we're still in the throes of testing one of the 10.1" HD Color touchscreen products we have to admit that we have been pleasantly caught off guard. 
PhotoSpring's Digital Photo Frames have Wifi for connecting to Android and iOS devices through apps or via web browsers. While they charge through an included base the frames can be removed to become portable. A rechargeable built-in battery gives it standalone power for up to 4 hours of portable use.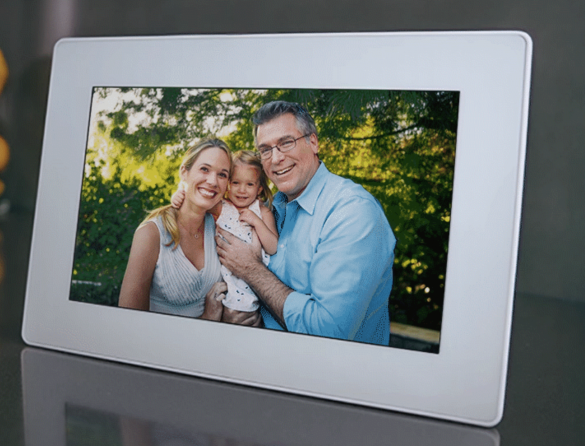 When you first power up the frame there's a short registration process that requires a 6-digit process. Every frame has a unique code. Once completed you can send email invitations for others to join your PhotoSpring community. In each sent email is a registration link that goes to the PhotoSpring website. Here's where that unique 6-digit code is inserted so that they are connected to your photo frame. Next, download the PhotoSpring app for Android, iOS or your Mac and you're ready to upload images and videos to your friend's frame. 
In reality how does it work? Well, we have the frame setup in New York State. We have successfully connected to individuals here in the States as well as to people living in Belgium and Ethiopia. Before we realized it photos were streaming in and stored on the PhotoSpring Digital Photo Frame. Everyone involved got caught up in and kept texting or emailing us to find out if their images had really been uploaded.
Who is the PhotoSpring frame meant for? For anyone who wants to stay connected. These are ideal for older people who have family scattered all over the world this is a no-brainer. Imagine getting images or, video clips every day of grandchildren growing up or vacations? The images just appear!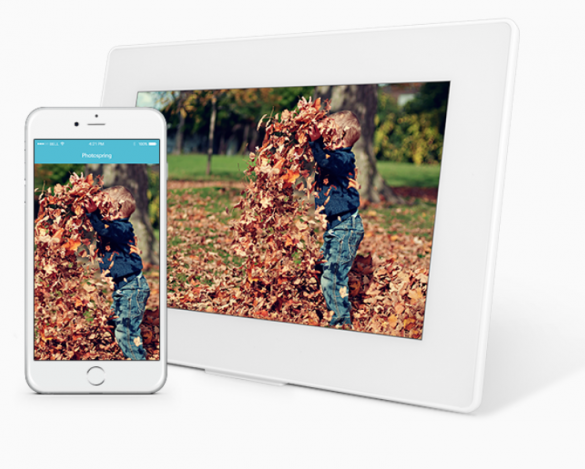 These PhotoSpring products have already found their way into hotels who use them for menu displays. Real estate agents are using them for their listings. Photographers love showing images they have captured while they work a wedding. On the flipside, funeral directors have begun integrating them as a way of displaying images of the deceased. 
Frames can be customized to work they way you want them to in terms of display time, volume control for the built-in stereo speakers, as well as who can upload, and so on. Sharing is a breeze. So, yes, there continues to be a market for digital photo frames, particularly those offered by PhotoSpring.
RATING :: 4/5
More Info: 
Frame Color: Black or White
Pricing: 16GB (15,000 images) $149
32GB (30,000 images) $169
30 day money back guarantee
1 year warranty