miggo Returns to Kickstarter and Goes Pro with the New Pictar Pro, the World's Most Advanced Camera Grip for iPhones and Androids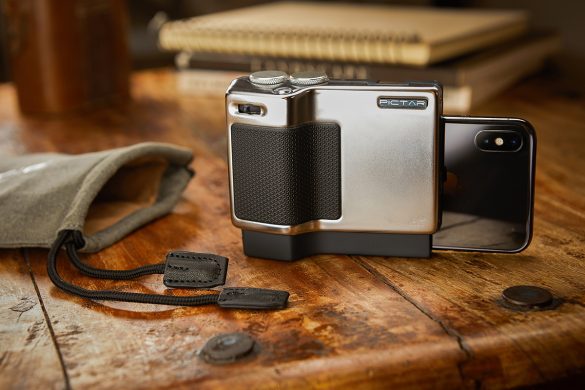 Pictar Pro unlocks possibilities on the smartphone camera to take control and get the best quality video and photography
Offers 12 incredible camera features to create a highly capable DSLR camera and mobile studio with advanced video features
Jerusalem, Israel – October 2nd, 2018 – miggo is further enhancing the mobile photography and video experience with the introduction of Pictar Pro exclusively on Kickstarter ‑ the same community-driven platform that helped launch its original breakthrough smartphone camera grip concept worldwide a year and a half ago.  Pictar Pro unlocks smartphone possibilities (for both iPhones and Androids) to enjoy remarkable camera control and creativity not possible with the smartphone camera by itself.  Starting August 28, 2018,  anyone can back the development of Pictar Pro on Kickstarter at
Smartphone cameras' potential aren't fully realized.   Despite the fact that Apple and Android smartphone makers invest tens of millions of dollars yearly in optical lens development, most users don't take full advantage of their smartphone's photography tools.  And controlling the smartphone's camera is done through menus, which isn't very convenient.
"Photography is about capturing the moment, not digging around menus to figure out the best way to capture the moment," said Guy Sprukt of miggo.   "Pictar Pro helps take control of your photography along with the best-quality video not possible with the smartphone camera alone."
Feels like a Real Camera and Shoots like a Real Camera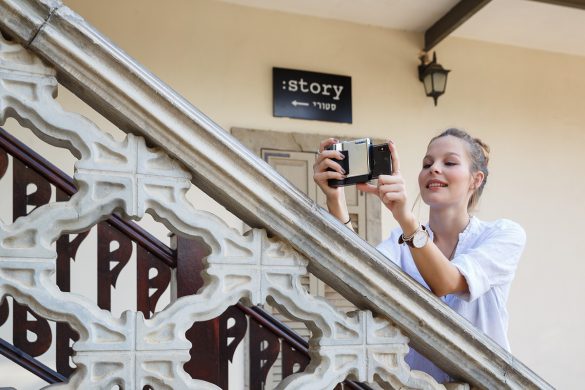 Pictar Pro takes all the exciting features that made Pictar One a world-class success, and upgrades them further, offering unmatched control over the phone's camera with four improved external camera control buttons, a 'shark-skin' ergonomic grip, Qi wireless charging to keep the smartphone charged for continuous shooting, a unique viewfinder for shooting on bright days, advanced video capabilities and more.   And the new Pro version is designed to be more like a Leica camera with a classic solid satin-finish brass body used in traditional cameras to offer a more substantial feel.
The heart of the system and the engine that drives Pictar Pro is Pictar App, a powerful advanced photo application for iPhones and Androids with pro-level features and user-friendly interface – which allows unmatched control over a variety of photo options.
A lot of intelligence is built inside, from recognizing which device is being used (i.e.: iPhone vs Samsung Galaxy, vs Sony) to intelligently adjusting the camera for macro shots to uniquely connecting the viewfinder that automatically shrinks the image down on the phone to the size of the viewfinder via proprietary technology.  And the Pictar Pro is simple as plug and play.  Simply slide the phone in and start using it with the Pictar App.  No need to attach anything or rely on connecting to Bluetooth nor the lightening port.
Turn your smartphone into a powerful video camera.   Whether recording a family event or vlogging on YouTube, Pictar Pro offers advanced video capabilities and allows for professional accessories to be connected such as a tripod, microphone, LED lighting and external lenses.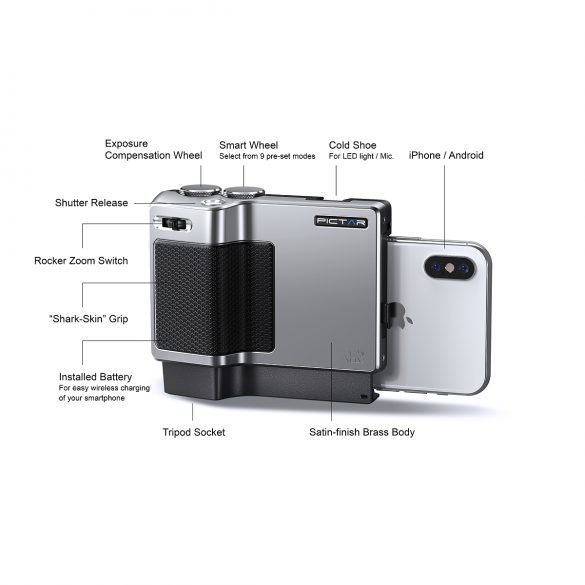 12 Incredible Camera features not available with smartphones by itself – but only with Pictar Pro. These include:
1. New classic satin-finish brass body with sturdy camera grip that provides the feeling of a real camera and allows for one-handed shooting.
2. Four external larger control wheels and buttons for easy one hand and one-touch use with

 

better control over the camera's features for sharper pictures.
Exposure compensation wheel for superior control over the exposure and darkness or brightness of the image.

   

Multi-state Shutter Release button offers two modes: a half-press to lock the focus and exposure, and a full click to shoot.
Rocker Zoom Switch for ease of use and continuous smooth motion of the zoom, even in video shooting. And depress it to change from front-to-back camera for fun selfies.
Smart Wheel – Rotate the wheel left and right to switch between 9 different shooting modes: Auto, Shutter Priority, ISO Priority, Manual, Macro, Video, Selfie, Sport and Filters.Press the wheel to switch between the different flash modes.

 

The button can be easily programmed to change its function via the application.
3. Viewfinder, which easily connects to see the smartphone's screen even on a very bright day.

 

4. Qi wireless charging via an internal battery to keep smartphone going to never miss a great shot.
5. Shutter speed control for "freezing" or blurring the image.
6. ISO control for "cleaner" pictures.
7. Larger zoom range over iPhone to get even closer to the object.
8. Advanced image formats: jpeg / tiff / raw for larger and more detailed files.
9. Multi-featured camera app (free) for better performance and many more options.
10. Tripod attachment great for night photography, long exposures and family selfies.
11. "Cold shoe" connector designed for a microphone or lighting accessories for adding light to any dark scene.

 

Designated side-window allows cord connection
12. Breakthrough wireless connectivity to connect to Pictar Pro to the Pictar App, transferring commands from the various buttons using patented technology of high frequency sound waves.
Pictar Pro fits all sizes of iPhones (from 6 to X, including all Plus models), and a wide range of selected Android and is future proofed for new iPhone models that will be launched soon. Included are a hand strap and neck strap made from a stylish parachute cord with real leather elements, and a premium quality fabric pouch for keeping the Pro when not in use.
Rewards 
miggo has four successful crowdfunding campaigns under its belt with all products delivered to its backers.   miggo chose to bring back Pictar Pro to its loyal Kickstarter community and will be providing special offers including an early-bird price starting at $119 (limited availability).  Rewards will be range from $129 to $189.     Pictar Pro is estimated to retail for $245, which includes the Pictar Pro unit, carrying case, neck strap, wrist strap, viewfinder, charging cable, and Pictar app.  It is now available for pre-order on http://crwd.ly/pictar_pro1.   Delivery estimates of the Pictar Pro are for the beginning of 2019.
About miggo
miggo was established five years ago to bring photography lovers innovative and fun products that make the photography experience more enjoyable and successful.  With decades of experience in product development in the field of photography, miggo develops and markets breakthrough products for smartphones, DSLR cameras, drones and action cameras.  The company headquarters are located in Israel and its development center is located in the UK.
Website: mymiggo.com