New Photoshop Plugin Cuts Post Production Time in Half for Busy Wedding Photographers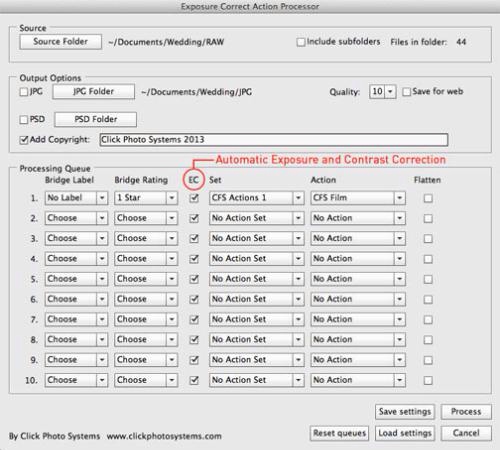 Exposure Correct Action Processor by Click Photo Systems significantly reduces the amount of time spent editing large quantities of images
QUEENSLAND, Australia, Oct. 3, 2013 /PRNewswire/ — Click Photo Systems has announced the release of Exposure Correct Action Processor (ECAP), available now at http://www.clickphotosystems.com for $149. Using shortcut keys to apply Photoshop actions to images, automatic exposure correction, and batch processing, the plugin dramatically speeds up the process of editing hundreds of images.
Using Adobe Bridge, Lightroom, or Photo Mechanic, the user can apply up to 10 user defined actions using star ratings and labels, which are assigned to images using number keys. The ECAP image processor is then configured in Photoshop to apply actions by reading the star rating or label of each image in a batch process.
Simon Ives, Founder of Click Photo Systems says, "Photographers can use the actions they are familiar with, while saving hours of work. It takes seconds to assign an action to an image, and by labeling shortcut keys with action names, the process becomes very intuitive."
The advanced automatic exposure correction feature prepares images for action processing, and removes the need for time consuming manual editing of each image. It corrects exposure, contrast, and saturation, reduces vignetting, and fills shadows, with accurate and consistent results surpassing alternate auto correction methods. This process ensures every image is ready to have the assigned action applied to it, without the results being too dark or washed out.
The ECAP batch image processor can be run overnight on large quantities of images, saving busy photographers valuable time, without sacrificing their signature post-production style.
ECAP is compatible with Adobe Bridge, Lightroom, or Photo Mechanic, and requires Photoshop CS5, CS6, or CC, on either Mac or Windows.
For more information, visit http://www.clickphotosystems.com.
About Click Photo Systems
Click Photo Systems creates cutting edge photographic workflow solutions designed to meet the needs of busy advanced amateur and professional photographers. Formed in 2013, the company is located on the beautiful East Coast of Australia.
#clickphotosystems #photoshop #epac #imaginginsider