Don't Hold Your iPad, Wear It; Margolin Development Announces New Steady Snake Neck-Pod™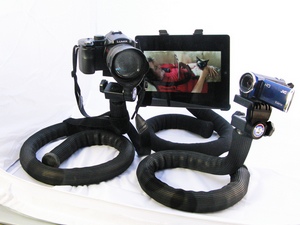 Shake-Free Hands-Free Support for iPad, iPhone, Digital Cameras and Camcorders; Ideal Accessory for Better Videography, Still Photography, Web Browsing and eBook Reading

NEWPORT BEACH, CA – October 14, 2013 –Margolin Development, LLC, an established developer of technology products for Hollywood's high-level photographic and motion picture applications, today announced the release of its flexible SteadySnake Neck-Pod™ that carries and provides virtually hands-free operation of an iPad®, iPhone®, or virtually any camcorder or digital camera that weighs three pounds or less. It comfortably rests on both the user's shoulders and is supported behind the neck to hold your iPad, camera or smart device securely and steadily.
The SteadySnake is more stable than any existing Shoulder Mounts where one hand must always be used to support and steady the camera. The SteadySnake Neck-Pod holds your device securely, providing virtually hands-free camera support so your hands are used for setting, aiming and shooting.
The SteadySnake Neck-Pod can also be used to read eBooks, view websites and apps, or watch movies on your iPad, all virtually hands-free. The SteadySnake can easily change shape to become a monopod for videography over the heads of crowds or used as a low rider to video subjects close to the ground without bending over.
"If you are already using the wonderful video and photographic abilities of the iPad, you know how awkward it can be to use, since it requires both hands to hold steady, and another hand to start and stop the recordings," said George Margolin, president of, Margolin Development. "The SteadySnake Neck-Pod is comfortable to wear, can be used by anyone, and keeps the device steady, so you can easily shoot great photos and videos without jitter."
The, SteadySnake Neck-Pod™ features a built-in 360 degree tripod head and quick release camera attachment, is priced at only $79.95 for all point and shoot, DSLRS, and video cameras that weigh less than three pounds, and can be ordered from BandH Photo and Video here. The iPad SteadySnake with its iPad adapter bundle is priced at $94.94 directly from here.
An Apple mini iPad adapter and SteadySnake are not bundled together, but the adapter can be ordered from BandH separately $19.99 here.
A video demonstration of the SteadySnake can be seen here.
For more details, go to www.steadysnake.com.

About Margolin Development, LLC.
Based in Newport Beach, California, Margolin Development, LLC is a custom product development house for technology products and accessories used in business or consumer applications. The company holds 27 patents for products such as the First Folding Keyboard in the world, now used by tens of millions of portable devices and The Front Projection Background System used in motion pictures such as "2001: A Space Odyssey," many "James Bond" films, and Disney films, among others.
MIT honored Margolin in 1990 as their "Inventor of the Week." http://web.mit.edu/invent/iow/margolin.html. Previous winners of this honor include Thomas Edison and Nikola Tesla, among others.
The company can be made available to organizations seeking to develop new products from conception and design to development and manufacturing by contacting us at HTTP://RENTANINVENTOR.COM or go to www.MARGOLIN-DEVELOPMENT.COM.
ImagingInsider.com
#margolindevelopment #steadysnake #imaginginsider