Nikon announces two new products: Nikon D5300 D-SLR and AF-S NIKKOR 58mm f/1.4G len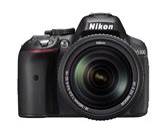 Nikon has announced two new products, the first being the Nikon D5300 D-SLR, which features an enhanced 24.2 megapixel CMOS sensor and is Nikon's first D-SLR with built-in Wi-Fi and GPS. Additionally, Nikon announced a new prime lens, the AF-S NIKKOR 58mm f/1.4G lens.
· Nikon's first D-SLR with built-in Wi-Fi and GPS
o Provides instant photo sharing to smartphones or tablets
o Offers the option of geotagging images captures
· Cutting-edge 24.2 MP DX-format CMOS sensor produces crisp and lifelike images
· Extremely compact, lightweight with an ergonomically design
· Sports a 3.2-inch swiveling Vari-angle LCD display to help frame fun and creative shooting perspectives
· 39-point AF system with 9 cross-type sensors is able to capture moving subjects with ease
· Fast continuous shooting at 5 frames-per-second (fps)
· Full 1080p HD Video with built-in stereo microphone for fleeting moments

· Intuitive Scene Recognition System selects precise and accurate settings for every shot
· Features a variety of Image Effects and In-camera editing tools
· Available in October 2013 in Black, Red and Gray for $1,399.95 SRP (alongside the AF-S NIKKOR 18-140mm f/3.5-5.6G ED VR lens) or $799.95 SRP (body only)
· Versatile, professional level prime lens for FX and DX format shooters in a classic focal length
· Optimized for elite performance in low-light shooting scenarios
· Unique 58mm focal length ideal for portraits, landscapes and street photography
· Integrated core NIKKOR technologies
· Pays homage to the original Noct NIKKOR 58mm f/1.2 lens
· Available in late October 2013 for $1,699.95 SRP
Please scroll down to view the full press release and visit the links below for additional information as well as a full library of high-resolution images.
· Nikon D5300 Press Release: http://www.nikonusa.com/en/About-Nikon/Press-Room/Press-Release/hms211qr/Capture%2C-Create%2C-Connect%3A-The-Nikon-D5300-D-SLR-Lets-Photographers-Do-It-All-with-Confidence.html
· Nikon D5300 Image Gallery: http://www.nikonusa.com/en/About-Nikon/Press-Room/Photo-Gallery/Photos/hms21023/D5300.html
· AF-S NIKKOR 58mm f/1.4G Press Release: http://www.nikonusa.com/en/About-Nikon/Press-Room/Press-Release/hms211rf/The-New-AF-S-NIKKOR-58mm-f%252F1.4G-Lens-Unleashes-Low-Light-Shooting-Potential-for-FX-and-DX-Format-Shooters.html
· AF-S NIKKOR 58mm f/1.4G Image Gallery: http://www.nikonusa.com/en/About-Nikon/Press-Room/Photo-Gallery/Photos/hms20zlf/AF-S-NIKKOR-58mm-f%252F1.4G.html
ImagingInsider.com
#nikon #dslr #d5300 #nikkorlenses #imaginginsider