Professional Photography Proofing iPad App Improves Client Interaction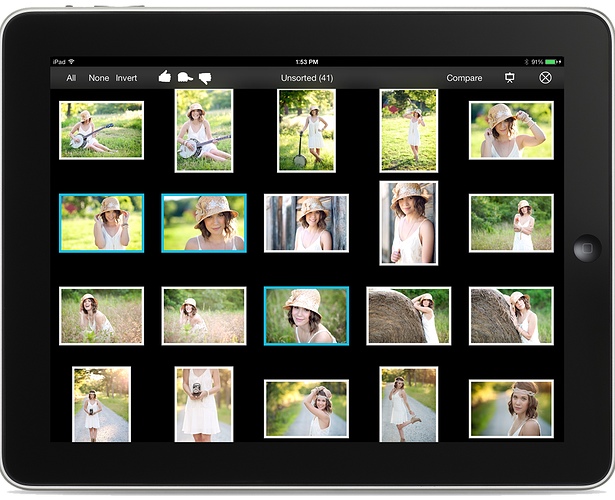 (TULSA, Okla) — YouProof, an iPad app created for in-person proofing for portrait photographers received approval and is now available for download in the Apple App Store. This iPad application improves on the laborious process of photo selection when working with clients.
"YouProof makes in-person proofing easier, more portable and more affordable," said Ann Bennett, creator of YouProof. "Photographers no longer have to waste money on printed proofs or expensive proofing software programs which tie everyone to a desk."
Using the vivid display and sleek design of an iPad, photographers can present beautiful and professional proofs to their clients for a fraction of the cost and time.
Based on photographer's input from around the world, YouProof has all the features a photographer needs to proof photos with their clients. A single step imports the gallery from iPhoto. Opening the virtual stack of unsorted images allows viewers to start a slideshow or go straight to sorting. Clients can choose to move images into "yes" "maybe" and "no" folders, speeding the decision making process. Images can be sorted from a full screen preview, during a slideshow, or from the thumbnails. Users can also compare multiple images and sort within the compare screen.
From the "yes" folder, orders notes can be made using the order icon. Select the image, click the order icon, and choose your quantity and size.
"YouProof is simple and easy to learn due to the simplified user interface. If you can use an iPad, you can use YouProof," says Ann Bennett, portrait photographer and creator of YouProof. "It works both in-studio and obviously when mobile. You can take the proofing session to your client for an added personal touch."
Ann Bennett, owner of Ann Bennett Photography, L.L.C., created YouProof to fill a gaping hole in the industry. "Photographers needed a proofing app and have for many years now," says Bennett, "I knew someone had to create one and figured it might as well be me." Bennett came up with the idea for the app and partnered with Architactile, an app developing company, to develop the idea. At this time, YouProof is priced at $29.99 through the end of the year. On January 1, 2014, YouProof goes to it's full retail price of $34.99.
ImagingInsider.com
#youproof #annbennett #annbennettphotography #portraitphotographers #photoproof #photoapp #imaginginsider