Never Before Published Images of The Beatles: 50 Years Going Strong Beatlemania Continues To Steal Hearts and Captivate an Audience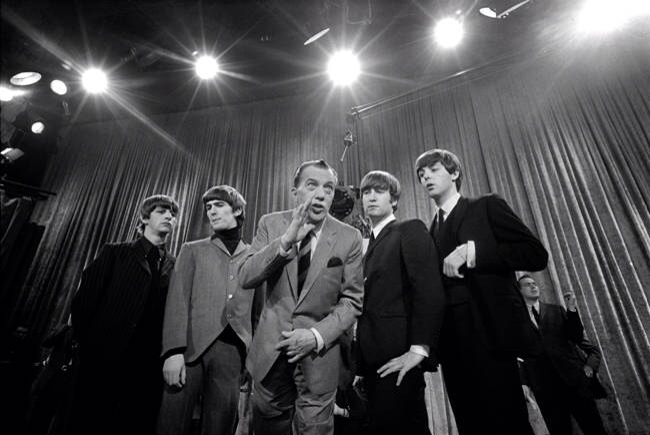 (The Beatles & Ed Sullivan in New York City on February 9, 1964 from the AP Collection. Image courtesy of Rock Paper Photo.)
To celebrate fifty years since The Beatles swept the hearts of audiences around the world, Rock Paper Photo, the definitive fine art photography online gallery featuring rare and never- before- seen images of music and pop culture legends, will release images of the 'Fab Four' that have never been published.
Only select and trusted photographers were let into the private worlds of John, Paul, George and Ringo to capture iconic moments in time.
One of the most unforgettable nights in pop culture happened the evening on February 9, 1964 at The Ed Sullivan Show, when they took stage and opened with their hit, "All My Loving," and created a mass hysteria.
It is a moment comparable to the question, "Where were you when Kennedy was shot? Or Man's first step on the Moon." Rock Paper Photo will now let browsers re-live vintage Beatles through the lenses of those photographers that were let into their private lives as well as the first night they took stage in America.

About Rock Paper Photo
Rock Paper Photo lies at the intersection of sophisticated fine art and accessible collectability. The carefully curated site specializes in beautifully produced, hand-signed limited edition and largely unpublished prints of iconic moments of musicians and pop culture legends captured by renowned photographers. Offering an extensive inventory of photographs, the online gallery is the destination for passionate fans and serious collectors to discover, browse and purchase museum-quality pop culture photography. A certificate of authenticity accompanies each hand-signed print. For more information visit www.RockPaperPhoto.com
ImagingInsider.com
#beatles #rockpaperphoto #imaginginsider