POLAROID FOTOBAR SET TO BRING FUN MEMORIES TO LIFE ON THE LAS VEGAS STRIP
The flagship Las Vegas location is its fifth retail store, with more planned throughout 2014.

Las Vegas, Nevada – Feb. 19, 2014 — Polaroid Fotobar is excited to announce the spring opening of its innovative flagship location in the heart of the Las Vegas Strip. The 8,500-square-foot space will debut within The LINQ, Las Vegas newest outdoor shopping mecca. Located between the iconic Flamingo resort and the recently rebranded The Quad, Polaroid Fotobar will provide visitors with the luxury of liberating their coveted vacation snapshots – creating instant and innovative photo products that arent soon to be forgotten or lost in the digital quicksand of their smartphones.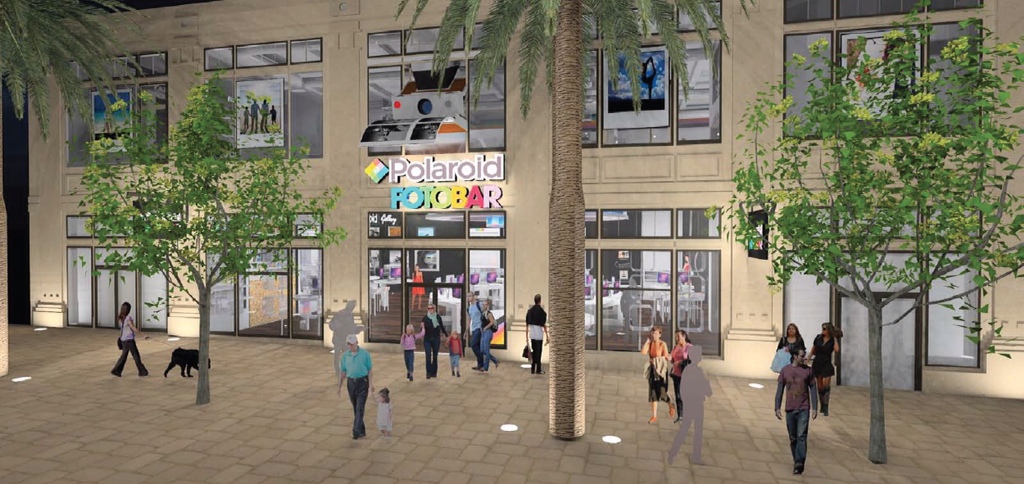 (Caption:
The new 8,500-square-foot Polaroid Fotobar and The Polaroid Museum will open this spring at The LINQ, Las Vegas newest outdoor shopping mecca in the heart of the Strip.)
This one-of-a-kind, fun and experiential retail destination allows visitors to generate living memories instantly by printing their photos in minutes featuring the exclusive Polaroid Classic Border Logo format and accessorizing them with innovative framing and display options. The customization doesnt stop there, however. Guests can also produce an extensive array of unique, personalized photo products made from fashionable materials like metal, stone, bamboo, canvas and more, all of which ship within three days. "Fototenders" offer friendly, expert and hands-on support to guests as they turn their best photos into lasting memories.
In addition to this exciting retail environment, the newest Polaroid Fotobar will feature The Polaroid Museum. This exciting, interactive and educational experience will occupy 4,500 square feet on the stores second level. The museum will showcase the history of Polaroid, as well as how it revolutionized the photo-taking industry and became the iconic brand weve all come to know and love. It will also delve into the story of Polaroids founder, Edwin Land, and the many ways he impacted not just the business of imaging, but the course of social media as we know it through his cutting-edge approach to instant printing and social sharing. The display will include a 20×24 camera, one of the largest Polaroid cameras in the world. Only five of these working cameras remain in existence, and Las Vegas was fortunate enough to nab one of them!
The centerpiece of The Polaroid Museum will be the new, electrifying exhibit, "Capturing Celebrity," presented by The Andy Warhol Museum. This homage to Andy Warhol and his decades-long love affair with the Polaroid camera will transport guests behind his lens. They will be greeted by 50 of the pop art icons most famous Polaroid snapshots, displaying each subject in the exact state that Warhol chose to capture them. Dennis Hopper, Truman Capote, John Lennon, Yoko Ono, Mick Jagger, Dolly Parton, Farrah Fawcett, Debbie Harry, Giorgio Armani, Arnold Schwarzenegger, Keith Richards and Muhammad Ali are just a few of the famous faces visitors can expect to see in classic Polaroid form. Guests can also sneak a peek at two of Warhols personal Polaroid cameras, with more artists and exhibits to be announced in the coming weeks.
These exhibits will be rounded out by an extensive collection of rare artifacts, art and advertising from the Polaroid Historical Collection at MIT. The museum space will be available for corporate events and private functions for up to 300 people.
The Polaroid Museum and Polaroid Fotobar are ecstatic to join the 32 other trend-setting tenants – along with the High Roller, the worlds largest observation wheel – at The LINQ. The streets of this pedestrian-friendly shopping, dining and entertainment district will redefine the Las Vegas visitor experience right in the middle of the Strip. This newest flagship store will join Polaroid Fotobars existing locations in Miami, Orlando, Boca Raton and Delray Beach in the companys home state of Florida.
###
About Polaroid Fotobar
Founded in 2012, Polaroid Fotobar is the first of its kind, fun and experiential retail destination that is changing the paradigm of how people "liberate" their photos and turn them into innovative and memorable products. Each location offers the ability to instantly print your pictures — wherever they may reside — utilizing the exclusive Polaroid Classic Border Logo picture format in five different sizes. In addition, customers can turn their favorite photos into an extensive selection of custom and unique photo products from a variety of materials including canvas, stone, metal, bamboo and more. Polaroid Fotobar locations also offer an array of Polaroid branded products and feature "Fototenders," available to offer friendly, expert and hands-on support to assist in instantly turning customers best photos into lasting memories. Additionally, many Polaroid Fotobar products are available on the web atwww.polaroidfotobar.com.
About The Polaroid Brand
Polaroid is one of the worlds most trusted, well-respected and recognizable brands. It features a rich, 75-year history that began with Polaroid instant film. Our range of products include instant and digital still cameras, high-definition and mountable sports video cameras, tablets and flat-screen TVs that deliver the fun, instant gratification and value that the brand has long stood for. Today, the Polaroid Classic Border Logo, rooted in our beginnings of instant photo sharing, serves to designate genuine Polaroid-branded products. For more information, visit http://www.Polaroid.com.

#polaroid #fotobar