Jigabot to Demo AIMe at 2014 NAB Show: Robotic Auto-Framing System for Camera and Smartphones Expected to Be Another Showstopper at NAB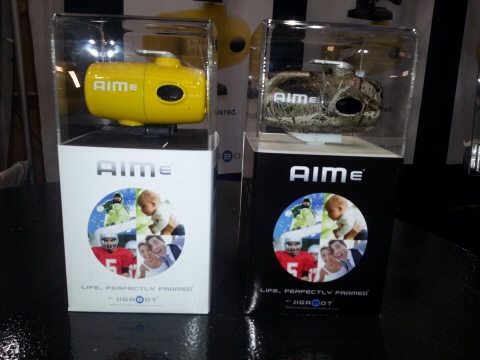 AIMe's Easy-to-Use, Hands-Free System Automatically Tracks and Perfectly Frames Subjects While Aiming Video Camera
LAS VEGAS–Jigabot, LLC., a lifestyle robotics developer, today announced that it will be demonstrating AIMe®, its robotic auto-framing system for smartphones and cameras, at the 2014 National Association of Broadcasters Show® (NAB) in Las Vegas. AIMe is expected to be another showstopper at NAB, just as it was in January at the 2014 International CES® and the 2014 Winter Outdoor Retailer shows.

"Jigabot was founded by professional filmmakers and broadcasters with a passion for art and technology and we are honored to be demonstrating AIMe at the NAB Show to our peers," said Donna Root, Co-Founder and President of Jigabot. "Attendees who experience a demo will find AIMe to be the ultimate video framing and tracking tool for use in the media and the entertainment industries."(Visit Booth #C10940 at the NAB Show to experience a demo of AIMe.)
Compatible with any smartphone or camera, the AIMe mount and tracking system is a robot that provides a hands-free way of keeping a subject perfectly framed while aiming a mounted camera during shooting. Brilliant for professionals and consumers alike, it can be used for broadcast interviews, gathering b-roll, recreation, extreme sports, weddings and other home-life activities.
Using Jigabot's patent-pending technology, AIMe automatically tracks, pans, and tilts a camera (e.g. GoPro® or other camera under 12 oz.) or smartphone (e.g. iPhone®, Android®, Windows®), in response to a subject's movements—all in real time. To ensure shooting accuracy and the smoothest possible operation, AIMe syncs with EmIT®, a wearable and mountable sensor that attaches to any subject, to create a perfectly framed shot.
"It is a perfect tool for getting difficult shots with ease, and for running multiple cameras from unique angles," said Rick Stout, CEO and Co-founder. "And filmmakers, actors, and broadcast journalists can hide EmIT beneath their wardrobe and AIMe will still track, enabling video recording, and auto-framing, as action develops," continued Stout.
"AIMe's quick-release upper and lower mounts can mate with industry-standard mounts, including tripods, GoPro® mounts, and smartphone accessories," said Root. "Thus lights and microphones and other broadcasting & filmmaking tools can be attached to an AIMe. The custom, high-speed servos use medical grade gears which provide high resolution and remove noise during filming," continued Root. "A limitless number of AIMe devices, equipped with cameras, lights, and microphones, can all follow one EmIT—or several—which have been set to the same mode or pulse pattern. This makes AIMe a must-have tool in the box of every camera operator and audio engineer in the broadcast media and film world."
With 90,000 plus attendees from 156 countries, the NAB Show is the world's largest electronic media show covering filmed entertainment and the development, management and delivery of content across all mediums. The show is home to solutions that transcend traditional broadcasting and embrace content delivery to new devices in new ways. And, Jigabot's AIMe is expected to be one of the most innovative technologies that NAB participants and industry leaders will be implementing in 2014.
Jigabot and AIMe stole the show at 2014 International CES® and Outdoor Retail® Winter Market 2014, received many recognitions and awards, including these: "Most Innovative Product at CES" – Videomaker®
Best In Show and Best Gear in 2014 – Gear Junkie®
"Best Tech of CES 2014" – "One of the top 15 coolest, smartest and wildest robots you must have in your home." –Mashable®
"One of the top five robots announced at CES" – Fast Company®
"AIMe could revolutionize the way action sports are shot…It's the ultimate dream of every GoPro-wielding skier, mountain biker, and sky diver: a video camera so smart it can follow you through the shot, keeping you at the center of every frame, unassisted by human hands." – Men's Journal
Additionally, at the Sundance Film Festival® in January, institute and festival co-founder Sterling Van Wagenen said this about Jigabot's AIMe: "She's the star of the show."
"At the Oscars® in February, dozens of celebrities, producers and filmmakers—including nominees and Oscar winners—couldn't have been more excited about AIMe," said Root. "Jigabot and AIMe are receiving great interest at every show we attend and everywhere we go," continued Root.
Pricing and Availability
AIME, packaged with an EmIT sensor, will be available for $299 in June 2014 at www.jigabot.com.
About Jigabot
Jigabot, LLC, develops software-driven robotic devices for home, work and play. Jigabot's flagship product, AIMe, is a robotic camera auto-framing system for smartphones and cameras that automatically tracks a moving subject in real time. Founded in 2012, Jigabot is headquartered in Highland, Utah. For more information, visit www.Jigabot.com.