SaveDrives – Car Dashboard iPhone Video Camera & Help In Auto Accident Launches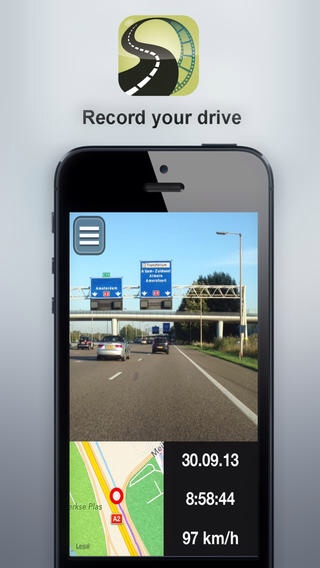 SaveDrives – Car Dashboard Video Camera & Help In Auto Accident from SellanApp is a must-have app that features four powerful functions to help drivers stay safe in the event of an accident, as well as optimize their overall driving habits to save time and money. If you want the peace of mind that only comes with having accurate Dashboard Video, plus the ability to automatically call for help if you're injured due to a car accident, then this app is exactly what you're looking for.
Cupertino, California – Drivers who want to help reduce potential damage to their health and finances in the event of an accident, should download the innovative new no-cost app SaveDrives – Car Dashboard Video Camera & Help In Auto Accident from SellanApp.
Designed as a must-have app that should be standard equipment for all drivers – whether they spend hours on the road per day or just a few minutes per week – SaveDrives features four powerful functions: record, map, browse, and call.
1. Record: Users can turn their iPhone into a dashboard video camera that records everything – from accidents to unusual road situations. This footage can be reviewed later and broken down into 10-30 second clips, which can be sent to police, insurance companies, employers, attorneys and any other desired party.
2. Map: Much like a GPS device, users can view their current position and route on a map while they're driving/recording.
3. Browse: Users can browse through all of their driving trips to see their routes, distances and average speeds.
4. Call: The app automatically detects serious accidents and has a built-in "SOS" function that sends the last 30 seconds of recorded video along with location information to pre-programmed email addresses and Twitter feeds, as well as emergency services (112 in Europe, 911 in US/Canada).
"As the old saying goes, when it comes to driving, people should hope for the best – but plan for the worst," commented a spokesperson from SellanApp. "And that's why SaveDrives is so invaluable. It not only helps drivers provide police with essential evidence and give insurance companies footage to prevent fraudulent or inflated claims, but even more importantly, the app's built-in SOS function can literally be life saving; especially when drivers are on more secluded roads and help isn't close at hand."
Added the spokesperson from SellanApp: "And on a less ominous note, but still an important one, users can take advantage of SaveDrives' great browsing feature to check their driving habits and calculate optimal routes, which will help them save time and money."
Device Requirements:
* iPhone, iPad, and iPod touch
* Requires iOS 6.0 or later
* 4.5 MB
Pricing and Availability:
Pet Tricks 1.0 is Free, the must-have new app for all drivers, and available worldwide exclusively through the App Store in the Navigation category. The app was crowdfunded by several enthusiastic backers on SellanApp.
SellanApp: http://www.sellanapp.com/
SaveDrives 1.1:https://sellanapp.com/idea/save-drives/pitch
Download from iTunes:https://itunes.apple.com/app/savedrives-car-dashboard-video/id633398173
Screenshot 1:http://a5.mzstatic.com/us/r30/Purple4/v4/c4/08/72/c4087216-54d7-e853-1e72-ecfeff1613b9/screen568x568.jpeg
Screenshot 2:http://a1.mzstatic.com/us/r30/Purple6/v4/a6/e6/00/a6e6008b-f35d-ef56-59a4-4e77f3caa661/screen568x568.jpeg
SellanApp is an Online App Publisher. The company offers an integrated solution for the design, (crowd)funding, development, publishing and promotion of iOS apps. All Material and Software (C) Copyright 2014 SellanApp. All Rights Reserved. Apple, the Apple logo, iPhone, iPod and iPad are registered trademarks of Apple Inc. in the U.S. and/or other countries. Other trademarks and registered trademarks may be the property of their respective owners.