ELMO WEARABLE QBiC MS-1CAMERA NOW AVAILABLE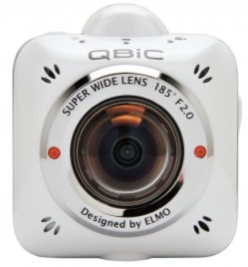 ELMO Company Announces Amazon as First Retail Partner For Its QBiC MS-1
PLAINVIEW, NY, April 23, 2014 – ELMO USA, long a leading maker of imaging products for
schools and businesses, has begun shipping its first wearable camera, the QBiC MS-1. Drawing
on more than 90 years experience in imaging technology and optics, the small, lightweight QBiC
shoots and records video in full HD 1080p format, takes hi-resolution still images and offers
unique features not found on other wearable cameras. The QBiC MS-1 is currently available through Amazon, as the company looks to expand its retail footprint. It is priced at $259.99.
"The wearable camera category continues to offer tremendous potential for growth," said Matt
Takekoshi, ELMO USA president. "We see tremendous opportunity in many areas of mainstream
consumer and business use. And QBiC's size and features make it well positioned to capitalize on
these opportunities."
According to Takekoshi, the QBiC offers many unique features not found on other competing
cameras, "Which makes it a terrific all-purpose performer for capturing and sharing all life's precious
moments."
The 3.35-ounce QBiC MS-1 fits easily in the palm of your hand (2.14"w x 2.4"h x 1.57"d), and
features a 5-megapixel camera equipped with an ELMO "short throw" wide-angle lens with selectable
viewing fields of 185 degrees, 165 degrees, and 135 degrees. For still-photos, the QBiC provides a
self-timer, time-lapse settings, and a burst mode that shoots up to 10 hi-res frames per second.
The QBiC also allows macro capabilities with crisp images at a focal distance of less than an inch. WiFi is built in for real-time video streaming to a phone or tablet, and the SD memory card storage supports SD, SDHC, SDXC, and microSD memory cards for video file storage. Micro HDMI and USB connections are also included.
In video mode, the MS-1 gives a choice of resolutions: 1080p, 720p, and 480p (WVGA), and a built-in
stereo microphone captures ambient audio. The QBiC's ability to shoot video at up to 240 frames
per second allows it to offer the unique feature of high-speed photography. This enables videos to be
taken of things in motion – even high-speed images – and delivering the images in breathtaking slow
motion.
A lithium-ion battery delivers just under two hours of continuous recording time. With ELMO's free downloadable app for iOS and Android, users can connect a phone or tablet to the camera via WiFi to view live video or to download stored files, which could then be posted to social media or other web sites.
According to Takekoshi, a range of ELMO accessories will also be available for the QBiC, including a
variety of mounting attachments and a water resistant "Armor" housing for use in wet environments.
(The armor housing is rated to 15ft.). The camera's mounting shoe is also compatible with mounting
accessories already on the market from other major companies, he said.
For more information on the Elmo QBiC MS-1, please contact Shannon Villanueva at Synnex Corporation (864-349-4243 or shannonv@synnex.com), or contact ELMO customer service directly at
www.elmousa.com or 1–800-947-3566.
About Elmo USA
ELMO USA has been a leader in education technology for more than 90 years. The company's cutting-edge innovations are shaping the future of visual communications. Foremost among these innovations are teaching tools for dynamic classroom presentations.
ELMO's groundbreaking document cameras and visual presenters benefit students by enabling instructors to incorporate stimulating high-resolution visuals into their lesson plans. These value-priced, full-featured teaching tools offer a level of interactivity and spontaneity that static transparencies or "one-dimensional, pre-planned" laptop and desktop computer lessons simply do not. For more information about ELMO's educational products, visit www.elmousa.com or call 1.800.947.ELMO.