Gadgets :: April 10, 2019
by Gregg Ellman
(@greggellman)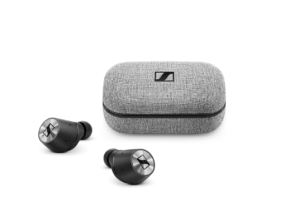 True wireless earbuds get better and better with each I try. But it's gonna be tough for others to top Sennheiser's Momentum true wireless earbuds.
In my opinion, Sennheiser is on top of the game for overall sound quality and with the true wireless debut, the Momentum carries on that tradition and does not disappoint.
Like any other true wireless earbuds, you get a pair of cordless headphones, which work together to pick up auto from your device via Bluetooth. One of my fears when true wireless earbuds starting rolling out was losing one or both but that fear is long gone.
Momentums are Bluetooth 5.0 compliant and fit securely with comfort. They include four different sized silicone ear adapters (XS/S/M/L) to ensure the right fit for the ergonomically designed and well-built earbuds.
For the most part, you purchase headphones for the sound quality and these deliver as good as any, probably the best I've heard in this category.
Clarity, highs, lows — everything is crystal clear. Even head banging boom boom music my neighbors grandson got me listening to sounded great, although if it's not on my preferred playlist. Each ear has an Audiophile 7mm dynamic driver.
Controlling true wireless earbuds takes a little getting used to but like anything else in the technology world, do it a few times and it becomes natural. Controls for the Momentums are built into the earbuds and of course an app.
Sennheiser's companion app (iOS and Android) helps you through the setup, customization  and sound control. The right side headphone controls music choices and the left is used for handsfree calls. Mic holes are in each ear and voice assistants can easily be accessed.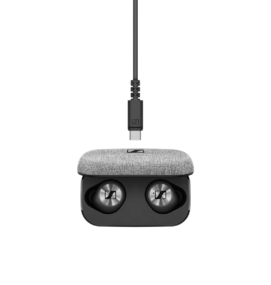 Along with top of the line audio, Sennheiser always gives a lot of attention to looks and fashion. These have a premium black housing, gold-plated charging pins and polished metallic spin ring, which access the touch controls.
 The smart pause feature is really handy; just remove one earbud and they both stop the sound. Put it back in and the music resumes.
An attractive cloth-covered USB-C storage/charging case is included for two additional charges, which can give you up to 12 hours total. An LED light is on the side of the case so you know how much power is left.
Each earbud has a fitted slot in the case, so once it's dropped in, the charging starts. The earbuds are IPX4, splash resistant.
https://en-us.sennheiser.com $299.95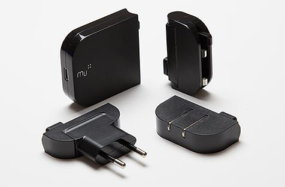 Slow charging, big and bulky is how I would describe many of today's laptop chargers.
Fast charging and pocket sized is how I would describe Navitas Semiconductor's Mu GaNFast chargers.
Measuring about 3.5-by-2.25-by-.5-inches tells you its portable and also has AC prongs, which fold ouy when you need to plug it into a standard wall outlet or just fold them in when it's not in use.
As for power and speed, the GaNFast has a single USB-C connection (maximum 45 watt)  to deliver charging and power up to 2.5x faster than other chargers. The USB-C connection is perfect for any laptop, tablet, notebook or smartphone using that for power.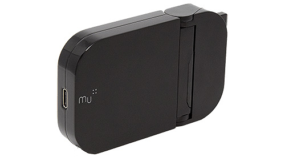 The charger's interchangeable plug head system allows it to easily slide into two pieces, to convert it for international charging with the included three charging heads.
Websites refer to the charger as the world's first, thinnest, fastest charger of its type. I haven't seen every charger in the world, so I can't back up that statement. What I can  say is it's fast, reliable and portable, which is all you need.
Other variations of the fast charger are available with multiple ports and different wattage.
www.navitassemi.com $78.00