Gadgets :: May 22, 2019
by Gregg Ellman
(@greggellman)
We all have our pet peeves and one of mine is bugs. I hate 'em.  I can have the best company with the best music playing on the world's best Bluetooth speaker, but when those bugs invade, I'm done.
So when I got an invite to try a selection of Sawyer insect repellents I thought even though it's not a gadget I typically cover in this space, it can help the effectiveness of the electronic devices we all enjoy.
The Sawyer line comes in bottles, sprays and lotions to protect us from the most basic flying and annoying insects along with those carrying lyme disease, west nile virus and yellow fever among others.
I'm not a camper but I did use it lakeside, which can always generate insects such as mosquitoes, ticks, and flies, especially with all the recent rain. Each product I tried, I'm happy to report, had a direct effect on keeping the music playing. Each one was pretty much odorless and after application did not have a greasy feel.

The 12-hour picaridin spray uses compressed air rather than aerosol so it can be spayed safely while holding it in any direction. It's also labeled to not harm gear and equipment, but I'd always use caution when spraying electronics or anything with a power source. The picaridin is also available in individual lotion packets.
The premium insect repellent is available in an aerosol or trigger spray for clothing and gear and is advertised to be effective for up to 6 weeks.
I can't medically endorse this or any other product will refer to this statement on the Sawyer site, "Sawyer's Entire Line of Insect Repellents has been tested against and are effective on the Aedes Aegypti species which transmits the Zika Virus, Yellow Fever, and Dengue Fever as well as ticks that can transmit Lyme Disease.  Sawyer 20% Picaridin Topical Insect Repellent gear safe and is safe for use on kids as young as six months of age."
If you were ever going to get excited about a gadget for wireless smartphone charging, Moshi's Symbus Q compact USB-C dock with wireless charging is it.
I'm a fan of multifunctional devices for both the usefulness and functionality and the amount of cords and space it saves by combing multiple devices into one.
One goal of the .57-by-2.83-by-1.26-inch dock is to give your laptop a desktop feel with all the ports and connection you'll need. Any USB-C laptop can easily be connected to an HDMI monitor through the HDMI port, which supports 4K video and digital surround sound output to supported displays.
A pair of standard USB-A ports can connect most any computer accessory or your charging cable for non-wireless charging devices. Speeds with rates up to 5 Gbps, depending on the device plugged in.
The gigabit ethernet port lets you plug in a wired data cable to transfer up to 1000 Mbps.
The top of the Symbus Q dock is equipped for Qi enabled wireless charging, even with smartphone cases up to 5 mm thick, the wireless charging will work.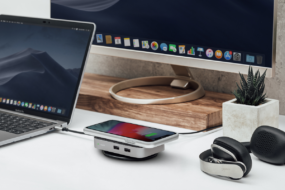 Everything I connected worked plug-n-play without software or even glancing at the instructions. A status LED glows while using Qi wireless charging.
Apple's 7.5 W and Samsung's 9 W fast charging is supported, according to the Symbus Q specs on the Moshi site. Fast charging is also supported for USB-C laptops (up to 60 W).
Plus, it looks great with its aluminum casing, topped with a cushioned, non-slip surface for safe charging. A power cord is included.
www.moshi.com $164.95