Gadgets :: September 11, 2019
by Gregg Ellman
(@greggellman)
Often I get to review gadgets that I can't write about until the parent company lifts the announcement embargo with the official release. And often it's frustrating simply because I'm testing something that is so good that I want to tell people about it right then and there, but I can't.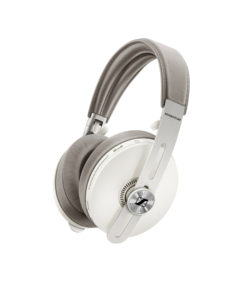 That's the case with just announced Sennheiser MOMENTUM wireless (Bluetooth 5) headphones from Sennheiser. After using the headphones, I'd have to flip a coin to decide what's better, the sound or the built-in technology. Both are off-the-charts great.
Sennheiser is one of those companies who I can say in my experience doesn't seem to miss when it comes to impressive audio solutions. I had the press release for this latest one a few days before my review unit arrived and a feature I loved before I tried em' out is the auto on/off, which are a great feature in true wireless earbuds.
Just unfold the headphones to get em' on (fold them up to shut off) but what makes this feature so cool is the auto on/off feature, so that when you put the headphones on the music plays, when you take them off it pauses. Go back and forth all you want, it works. Trust me, I tried to go fast or slow and stump it. The MOMENTUM's won that game by far.
The MOMENTUM has stunning looks with genuine sheep leather, features an adjustable soft padded leather headband, padded earcups and gets my overall "wow"  factor in looks before a tune was played.
As I said, Sennheiser doesn't miss and they kept to my opinion with this third generation of the MOMENTUM line in what's most important, the sound.
As is usual for my testing, I tried the headphones, which have 42mm drivers, in a steel tube at 34,000-feet but instead of Apple music, I was watching the Elton John movie biography Rocketman. While the movie itself didn't impress me, listening to the audio in high volume on the new MOMENTUM's was outstanding. After the movie I did troll around with steaming music and with any genre playlist, the sound at head-banging levels or low level and had incredible clarity at any volume.
Another feature I loved and worked to perfection is the active noise cancellation and a transparent hearing function, which I had turned on to block out the airplane engine noise. If your walking city blocks you might want to have it turned on (a great option) so you're more aware of what's around you, such as oncoming traffic while crossing a street.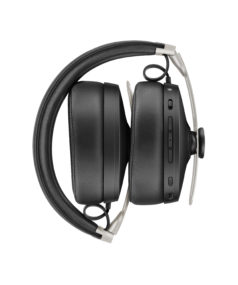 Controlling volume, tracks, and answering calls are all done with easy-to-access buttons on the outside of the earcups. The headphones also feature access to voice assistants Google Assistant and Siri, with Amazon Alexa integration coming soon. Test results with the headphones for handsfree calls were heard crystal clear on my end and I'm happy to say my mom heard me crystal clear on her end.
With Sennheiser's Smart Control app (iOS and Android)  it takes seconds to customize features and sound in the headphones including an equalizer and a choice of three noise cancellation modes. 
Like any other gadget, headphones are easy to lose but Sennheiser has put a significant piece of technology in this latest edition of the MOMENTUM's with the Tile Tracker. Along with the app, it talks with the integrated Bluetooth Tile Tracker to help locate them within range.
Audio 3.5 mm and USB-C charging cables are included along with a travel case for the fold-up headphones.
If you couldn't tell already, I'm a fan of the MOMENTUM. Get them for yourself, or maybe first on the list for the upcoming holidays.
https://en-us.sennheiser.com $399.95, available in black now with a sandy white model available in November