Gadgets :: September 18, 2019
by Gregg Ellman
(@greggellman)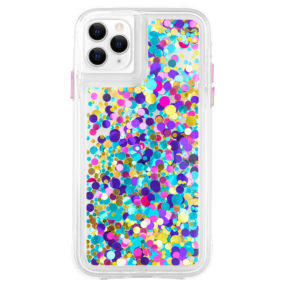 With the recent launch of the Apple iPhone 11, many accessories for its predecessor in the iPhone X line still fit and do their job on the new stylish hardware. But with something new, many do not want to dress it up in used clothing, not when third-party companies are rolling out all kinds of cool things to get.
Case-Mates press kit with a sampling of new cases arrived a few days before Apple told us about the new smartphone. The boxes referred the soon-to-be device as the "New 2019 iPhone 5.8-inch."
With just a quick glance you knew Case-Mate made the stylish cases to make sure you look good. They features genuine materials, glittering crystals and 10-foot drop protection. 
The Confetti Waterfall ($39.99) easily caught my attention since the design changes every time the case moves, creating the dynamic, flowing, glitter effect.  Sealed inside is a bunch of color confetti dots with certified safe mineral oil to create the effect.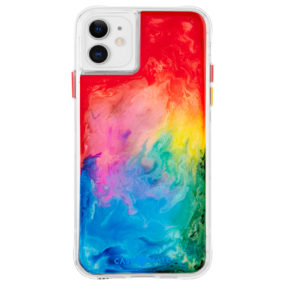 In addition to the looks and design, the case is compatible with wireless charging, has anti-scratch technology, and refined metallic buttons
Another of the many new attractive choices is the Tough Watercolor, with rainbow realness made with Individual droplets of ink on the case, which are suspended in resin to create a true masterpiece of colors. This results in a vivid saturated ink forms a rainbow swirl and each case is one-of-a-kind.
Case-Mate's new collections for the Apple iPhone 11, 11 Pro and 11 Pro Max range from $19.99 to $59.99.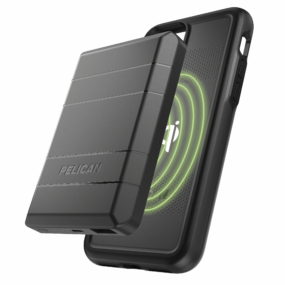 Pelican's new iPhone case lineup has the durability you would expect from Pelican, a company known for making some of the best and most durable storable solutions for most anything needing protection from the elements.
Among the new choices is the Pelican Traveler Phone Case ($50), a  lightweight case featuring reinforced three-layer construction and a critical flexible interior bumper, which will absorb any force of impact. It's constructed with fortified polycarbonate, so the material shell provides the upmost protection to your iPhone. 
The Pelican Protector EMS (Easy Mount System) is a phone case system ($80). It leads off with the Pelican's rugged protector case with an impact-resistant outer shell combined with a shock-absorbing rubber lining (created and reserved for first responders and extreme-enthusiasts) and works with Qi wireless chargers.
What makes it unique is the integrated Easy Mount System, which includes detachable magnetic battery for power on-the-go for 38-51percent additional power.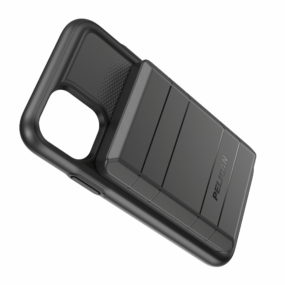 Another choice is the Pelican Protector EMS Vent Mount featuring  the top-selling Protector design with integrated EMS steel plate and integrated EMS vent mount. Installation is simple and can be set up in both portrait and landscape angles. The mount can also be used as a handy media viewing kickstand.
They are all backed by Pelican's legendary lifetime guarantee and drop-tested to military specs
www.Pelican.com prices for the new cases range from $30 to $80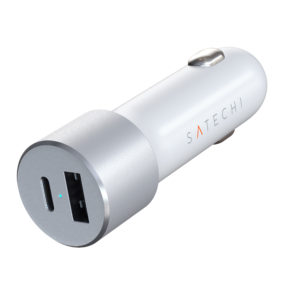 Satechi has a new charging solution with Power Deliver technology for charging a pair of devices simultaneously.
The 72W Type-C PD car charger ($29.99) and the 6-foot USB-C to Lightning cable (Apple MFI certified) cable are a perfect combination and snap in and out quick and easy, but remain secure when connected. The new cable ($24.99) also supports data transfer up to 480 Mbps. 
You get both a USB-C and standard USB-A port on the car charger, which fits into a standard cigarette lighter port in any vehicle. With the C port, charging is up to 60W for a fast and safe charge, which the USB-A delivers up to 12W.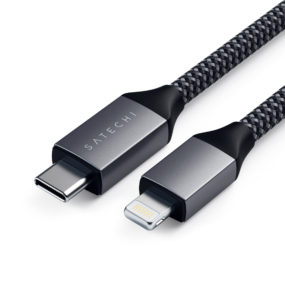 To ensure safe charging, The charger is built with short circuit and over temperature protection.
The braided nylon cable ($24.99) is built to not bend or tangle, so it works when  you need it.