Gadgets :: October 2, 2019
by Gregg Ellman
(@greggellman)
You can flip a coin for what's worse to lose or misplace, your wallet or smartphone. Either can easily set you off into panic mode. Both are valuable and in most cases have irreplaceable content. 
Phones can be tracked and even disabled remotely but what about your wallet? For the most part you depend on finding it wedged in a car sear or hopefully an honest person would contact you after finding it.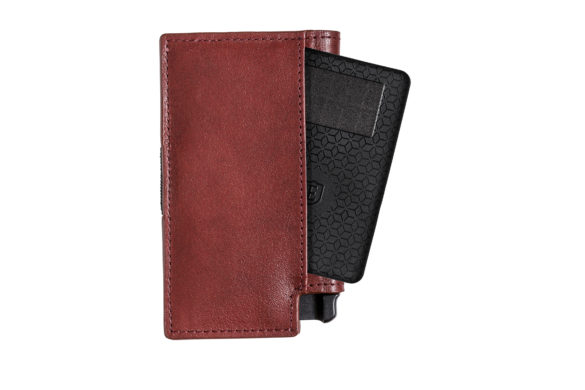 Now we welcome to the world the Parliament Wallet ($79) from Ekster, which among other things lets your valuable contents be tracked worldwide. 
Ekster earlier this year called it the "first voice-activated smart wallet to date" in a press release, which I can only speak for myself as it's the first I've seen. In a nutshell I can say it's a really cool product and I was an instant fan of the performance and the looks.
If it is indeed the first, they did a great job in creating an innovative product for the crowded smart-device category. 
Along with the smart technology features, first and foremost it has to function as a wallet, which it does well. Measuring 0.4-by-4.1-by-2.5-inches with a top-grain leather exterior (available in seven color choices) and sold construction.
It features a credit card holder that can hold up to six non-embossed cards, or a combination of 4 – 5 embossed/non-embossed cards (depending on the thickness of each card according to Ekster.) There's also room for ID and other cards that do not need the security protection.
Built into the credit card storage area is RFID (radio frequency identification) technology. This protects your credit cards, which now have chips built inside to make using them more secure.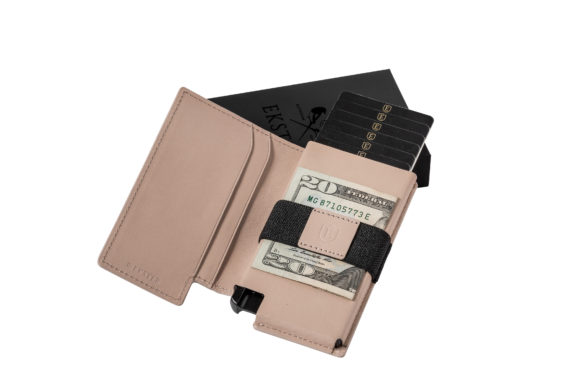 But credit card fraud also is more advanced and your secure information and data can be lifted right from your wallet without taking the credit cards out via RFID skimming. With the RFID, top grade aluminum is built into the wallet as a wall to protect your information by blocking RFID scans,  
The wallet also features an optional credit card sized GPS tracker ($49), which is loaded with features and is stored in the outside pocket of the wallet. With an app, it connects with the Worldwide Chipolo Lost and Found network, a global lost-and-found community. This allows you to have the app ring it, hopefully showing you the wallet is close but if not, its location will be displayed on a map.
Another nice feature: each wallet GPS tracker has a unique QR code that anyone can scan, triggering an instant notification message to you showing its whereabouts. The tracker is solar powered, so with a minimum amount of light, a three-hour charge can give you up to two months of use.
At least in my case, and I hope I'm not putting a jinx on myself, my wallet is only misplaced, not lost. Typically it's left in my car but a step to locate it faster than you can look around for it, from your smartphone just ask voice assistants Alexa, Siri or Google Assistant where your wallet is and a map will come up showing you where its located. Now if you misplaced both your wallet and your smartphone, well your on your own.
A push thumb lever is built into a corner of the wallet to access your contents and there's also a strap to secure cash, for those who still carry that.
Check the Ekster site, theres a bunch of different models, colors and accessories to choose from.