GADGETS :: May 6, 2020
by Gregg Ellman
(@greggellman)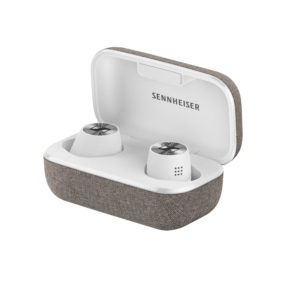 True, those incredibly popular true wireless white earbuds are great, but are they the best? If I was going to give another pair, which gives them a run for the money, the nod goes to Sennheiser and the new Momentum True Wireless 2 earbuds.
And before I get into details, the Momentum True Wireless 2 earbuds are available in black and now in white.
I've said in this space many times, Sennheiser doesn't miss on headphones, earbuds or anything with sound quality. And add the Momentum True Wireless 2 earbuds to the list; they delivered and exceeded any expectations I had for the compact, portable sound machines.
The second generation of Sennheiser's Momentum true wireless series produces crystal clear audio from 7 mm dynamic drivers. For days I left the sound as is right out of the box since it seemed perfect. 
Then with the built-in equalizer and Sennheiser's smart control App (iOS and Android), I tuned the sound for a more personalization to my ears for the variety of my playlists. The personalized sound gives each user an option to make it what works best for them and goes so far as choosing which ear you tap to answer a call (microphones on both ears).
With Active Noise Cancellation technology on, much of the outside noise is blocked so you hear what you want. Specifically, Sennheiser describes it as when greater situational awareness is needed, the Transparent Hearing feature lets you blend in outside ambient sound at a touch, so you can have natural conversations in comfort without needing to remove the earbuds.
The new true wireless earbuds are designed with comfort for all-day use and have improved ergonomics, 2 mm smaller size than the previous model. Wearing them all day was no problem for me; I finally took them out after 7 hours of playback time to give the built in Lithium-Ion rechargeable batteries a charge in the portable USB-C charging case. 
With the case, you'll get a total of about 28 (7 from the earbuds, 21 more from the case) hours of on the go power to keep them playing. One and a half hours of charging will give you a full charge or if your need something faster, 10 minutes of charging will get you and hour and a half of playback. 
Touch controls on both earbuds are customizable to control handsfree calls, music selections, pausing and volume. Voice assistants have a one touch access. On the outside of the slick looking earbuds, with a high-quality metallic finish, is the iconic Sennheiser spin design. On the bottom side are gold-plated charging pins, which make contact with the charging case.
With auto-pause, just take the earbuds out of your ears and the music stops, put them back in and it starts again. 
Four sets of silicone ear adapter sets (XS/S/M/L) are included to ensure the right fit. With an IPX4 rating they are splash resistant.
https://en-us.sennheiser.com $299.95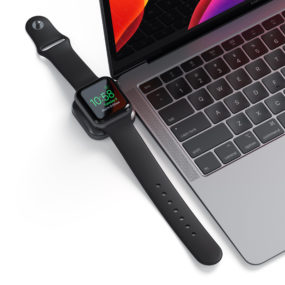 Charging is just a way of life, home, work, play and even hospital bedsides. Different chargers for Apple Watches are one area that has blossomed into a great variety of accessories,  
When I got my hands on Satechi's new USB-C Magnetic Charging Dock for Apple Watch ($44.99), I knew it was a winner.
Not only does it fit the bill for charing, but it fits my favorite category of ready for travel with its small compact size. The 1.73-by-2-by-0.45-inches, 0.31-pounds sized charger features an Apple Watch certified charging plate in squared device with a space gray aluminum finish. 
One side has a USB-C connector, which connects to any USB source providing power. Thats it, there nothing to wind up or tie together.
First and foremost, the charing works perfect.  With its USB-C connection built in, it plugs directly into your computer, USB-C tablets, AC wall plug or with an extension cable like the Satechi USB-C to USB-C extension 9-inch cable ($12.99) to give it a little extra reach.
$44.99