GADGETS :: May 27, 2020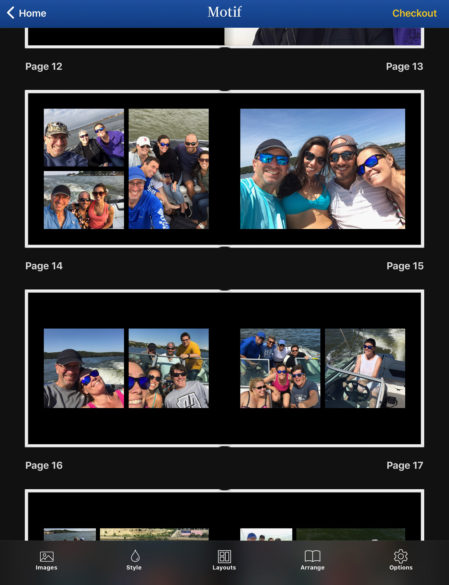 by Gregg Ellman
(@greggellman)
Even with the lockdown starting to lift, our hours at home are more than ever, so what better time to turn some of those great, priceless photos you have stored on your iPhone into a coffee table photo book. Think of vacations, graduations, birthdays, anniversaries or just a selected period of time. Any group of images will work.
Storing photos digitally is the way go compared to the closet full of prints my mom had in shoe boxes.  If you're like me, you have photos taken over the course of time in your iPhone, which when combined would make a great photo book to give the images a permanent, personalized home that's easily accessible.
I recently did just that with a Motif, using the photo roll on my iPad, which is synced with my iPhone to produce a hardcover 24-page 11-by-8.5-inch book.
To start the project, the first thing I did was find all the photos for the subject of my book (I chose my first boat as my theme) and put them in their own folder the iOS photo app. 
Next, I got the Motif iOS for iPhones or iPad or the Motif for macOS app for laptop or desktop. Once downloaded, choose the type of book you want among sizes; hardcover choices are 13-by-10, 11-by-8.5, 10-by-10 and 8-by-8 inches. Softcover sizes are 11-by-8.5, 8-by-6 and 8-by-8 inches.
After creating my account, using the app was easy once I selected my photos for the book.  The app connects to your photo folders, where you choose what you want in the book. Overall it's an easy app to navigate with a user-friendly dashboard and screen shot examples of what all the choices will look like
I let the Motif app organize the images, which took just no time at all. According to Motif, the app uses Its smart technology to select your very best images with optimal focus, clarity, lighting, people, image orientation, panoramas, and more.
In a few steps, the app evaluated image content of my selections and then gave me a screen with all the images and checkmarks for the choices the software thought were best.
I thought the automation gave me a great starting point, but it also allowed for customization so I did change a bunch of things like the order of a few pictures and swapping out a few pictures entirely. The app made it easy to make these changes.

Next was the choice of the book theme; you'll see samples of each image, how many on a page with different layouts and designs. There's no right or wrong here, it's whatever you like and want.
After you choose the book style, it gives you a full layout of the book with the chosen  images.
You can re-crop the images or change them entirely for full customization. Either is simple to do. Other options include adding type or text, background colors, professionally designed themes and patterns to the entire project, all left pages, all right pages or alternating.
The high quality covers can be personalized with a photo and a title on the front and side spine. Overall, I thought the quality of the produce was of high standards including the premium paper and the entire craftsmanship of the album.
A few days later, the book of memories arrived at my doorstep, encased in a protective sleeve.
Motif states on their home page: ''Your Best Memories Just Got Better''. I can absolutely agree after I had my completed book. The only problem is now I have a few more books I need to do, but I have the time.
www.motifphotos.com prices vary based on book sizes