GADGETS :: August 19, 2020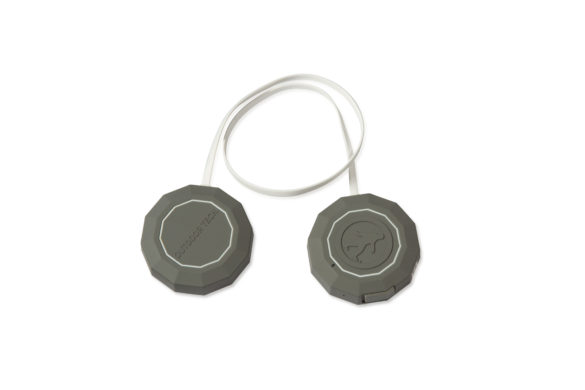 by Gregg Ellman
(@greggellman)
Outdoor Tech's Chip series headphones are perfection for getting audio into the ears of skiers. I'm not a skier so I never researched the feature. After seeing a few sets of the wireless headphones, it's easy to say Outdoor Tech as mastered the technology.
The Chip 2.0 Universal ($142.95) Bluetooth helmet headphones are designed to fit into any helmet that has audio-compatible ear pads, essentially giving you a helmet with built-in audio.
But the first feature I noticed is that they have glove-friendly controls, which totally makes sense. So you guessed it, while its well over 100 degrees today I got out my winter gloves to try Outdoor Tech's patented 2-button controls.
The controls are standard for any wireless earbuds to adjust volume, music choices and pause to answer calls but how about doing it in freezing cold weather? Sure enough, it was simple with my gloves on and to confirm the difference I also tried the controls on everyday earbuds with my gloves, which were impossible to control.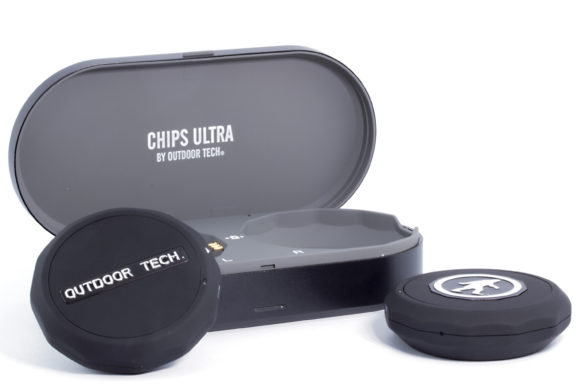 Each earpiece has a 40 mm driver to produce high-quality sound on or off the slopes. The left and right earpieces are like mini hockey pucks, 2-inch round by a half inch thick and are connected to each other with a thin tangle-free cable. For the most part, they are mini speakers stored in the helmet directly again your ears. And unlike earbuds which go in your ears and block outside sounds, with this design the Chips allow in surrounding ambient noise on the slops, which is a great feature.
For audio testing I was able to rig them into my bike helmet with the help of some duct tape and then off for my ride I went. The audio was crystal clear and the controls are perfect. Knowing these are made for ski helmets and designed to rest on your ears, I actually liked it better than the earbuds I regularly use, which probably tone me out from my surroundings too much.
After my unofficial experiment with the headphones I messaged a good friend of mine who lives and skies regularly in Park City, Utah.
He and his wife are users of Outdoor Tech's wired Chips while skiing for music and handsfree calls, so they don't have to dig out a smartphone buried in their ski jacket. 
Late last season they switched to the Bluetooth Chips 2.0 for the same great sound and convenience without dealing with the wire. He confirmed the chips fit in the ear pocket of the ski helmet and produce great sound with the ability to hear ambient sound of the surroundings. 
The Chips 2.0 have a 10 hour battery, and reach a maximum volume of 120 decibels. An IPX4 rating makes them sweat and water resistant. For non-Bluetooth device compatibility use the 3.5 mm audio in jack.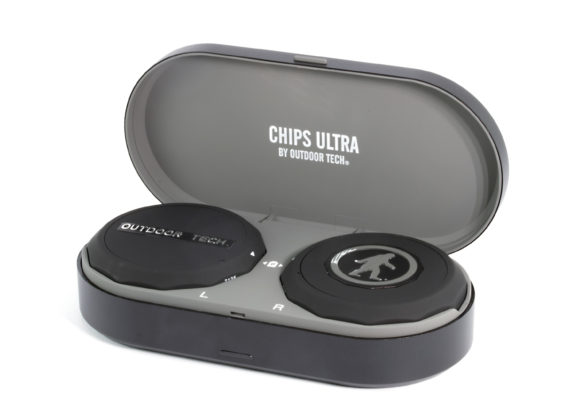 Outdoor Tech takes it a step further with the Chips Ultra ($229.95) true wireless headphones, a totally cable free audio solution. 
Each slick looking Bluetooth 5.0 speaker is just a little smaller than the Chips 2.0, minus the connecting wire and fit into helmets with audio-compatible ear pads. While the sound out of the Chips 2.0 was solid, I thought the Chips Ultra gave me a little more bass.
Each has 40 mm drivers, a built-in microphone for handsfree calls, an IPX4 water resistant rating and are built with the same easy one-touch glove-friendly control on a single oversized button. 
Each has an internal 250 mAh battery, which charges up in the included storage charging case in about two hours. The case itself charges in 2.5-hours. With a full charge, the Ultra's should get about 13 hours of play and talk time, even in weather down to minus 4-degrees Fahrenheit. 
Outdoor Techs Walkie-Talkie ODT Audio app works either set of the Chips for push to talk walkie-talkie direct communication. This can be with a single skiing partner or a whole group. The app runs in the background, even while the phone is locked.
Outdoor Tech lists helmets audio drop-ins: Bern, Giro, Smith, K2, Anon, Pro-Tec, Bolle and Sweet Protection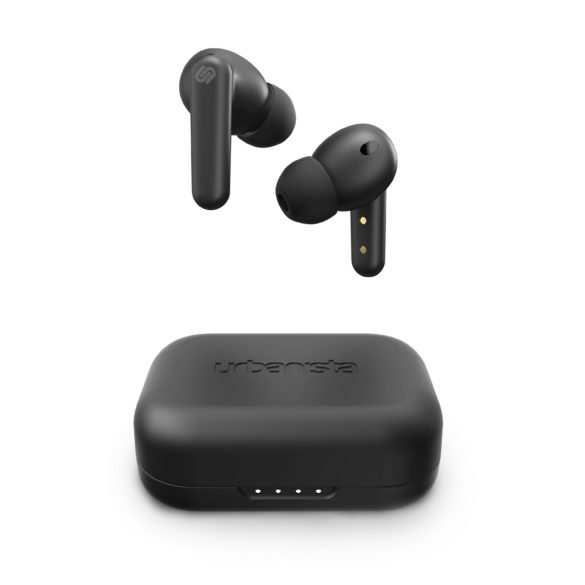 Urbanistas, a Swedish lifestyle audio company, has introduced the London ANC true wireless Bluetooth 5.0 earbuds, designed for every day use.
I'm in the midst of testing a few different sets of earbuds and they all have great features. After using the London earbuds a few times, I was really impressed by the sound, looks and many other features.
As referred to above with the Chips headphones, blocking your surroundings isn't always a good thing. With the London's built-in active noise cancelling feature, sounds of the outside world can be turned on or off with the push of a button.
The in-ear styled earbuds sit comfortably (multiple sized ear tips included) and come with a USB-C wireless charging storage case with indicator lights. You'll get about five hours before needing a charge and then case is good for four additional charges.
While testing them, I played around with a few apps to fine tune the sounds of my eclectic playlist from the 70's, 80's and 90's but always came back to the default settings. That doesn't mean you can't make something a little better, I just liked it right out of the box. All of my decades choices sounded strong and clear, filled with the right amount of bass at any volume level.
Other features include on-ear volume and music control, auto play, access to voice assistants and IPX4 protection. 
www.urbanista.com $149, available in black, pink, white and blue