GADGETS :: September 9, 2020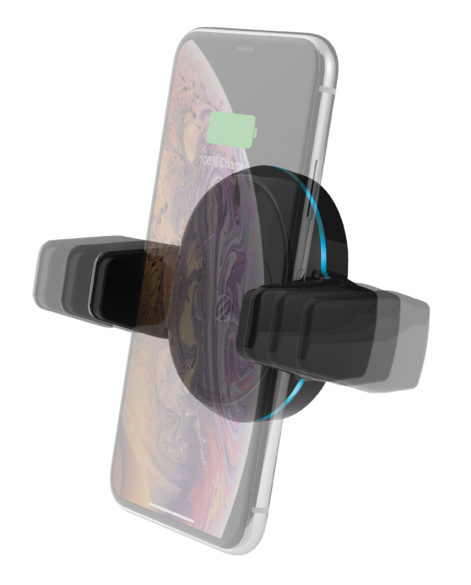 by Gregg Ellman
(@greggellman)
As crazy as it sounds, Scosche found a way to make a smartphone car mount innovative, fun and really cool. The MagicGrip window/dash wireless charging auto-grip mount is a winner.
I tried the MagicGrip with Qi-enabled wireless charging ($69.95). To secure to a dashboard or window, it has Scosche's StickGrip automotive-grade adhesive, which is strong. Just as important, it's removable and reusable if you change the location or vehicle. I know the suction mount is a weakness for many of these types of mounts I've tried; I used it in multiple locations, twice a day for a week. Honestly, the last placement was as strong as the first.
What brings out the coolness of the mount is the auto-grip feature where the side arms, which hold your smartphone in place, automatically close after you put your wireless charging smartphone over the powered up charging pad. As soon as contact is made the motorized side arms close with a secure grip. After it's secured, with full flexibility it can be rotated 360-degrees for viewing at any angle, in portrait or landscape modes or anything in between.
A thermal management channel is built into the charging head for safe charging. The wireless Qi-certified fast charge is compatible with Apple, Samsung and Google devices. A USB-C with a 90-degree angled connector is included along with a USB car adapter and cable management clips.
For even more flexibility and viewing angles, Scosche has the new Extendo range mounts, with a telescoping arm that adjusts from just over 5-inches to just over 8.5-inches with 220-degrees of angle adjustment.
Having the extension arm offers great versatility for vehicles with deeper dashboards, cars, trucks or even a boat's dash. It's even handy on an office desktop, kitchen counter or backsplash with full view at any angle.
There are three versions of the new Extendo mounts; MagicMount Pro Extendo Window/Dash Mount ($29.99) magnetic mounting system with powerful 100-percent device-safe neodymium magnets for a secure hold. With the QuickGrip Extendo Universal Window/Dash Mount ($24.99) it has adjustable arms to hold smartphones up to 3.5-inches wide. And the MagicGrip Auto-Grip Wireless Charging Extendo Window/Dash Mount ($69.99), which has the features of the MagicGrip described above with the motorized closing arms along with the telescoping extension arm.
www.scosche.com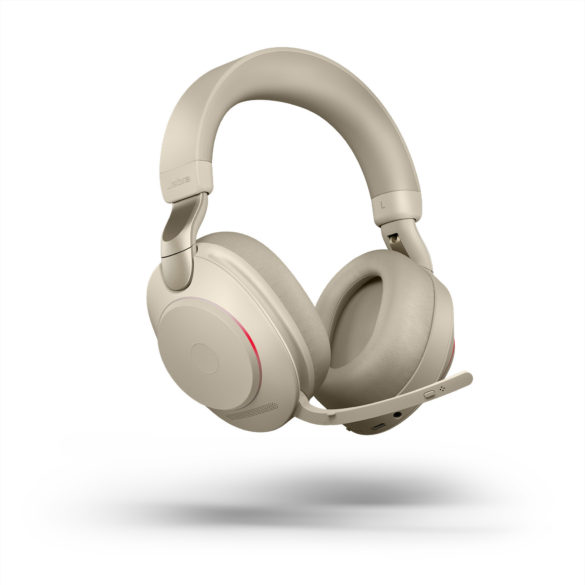 Before I opened Jabra's new Evolve2 active noise cancellation Bluetooth headphones, I noticed the statement printed on the box referring to them as the best headset for concentration and collaboration.
The over-the-head headphones have 40 mm speakers inside soft memory foam cushions for all day comfort. A discrete retractable boom microphone arm can be tucked away inside the right side.
These days, with more and more workers spending work days on conference and video calls, the need for superior output sound is in high demand. All you need is one member of an online call to have bad sound and you'll understand, you just don't want it to be you.
So on a recent Friday night happy hour call with friends on all ends of the country I took my group up a notch, using the Evolve2 instead of my iPad's build-in mic. The looks and questions I got were why was I wearing a headset but instantly shifted to the superior clarity they heard from me. One friend specifically asked me to message him with the model number, so I guess my demo was impressive.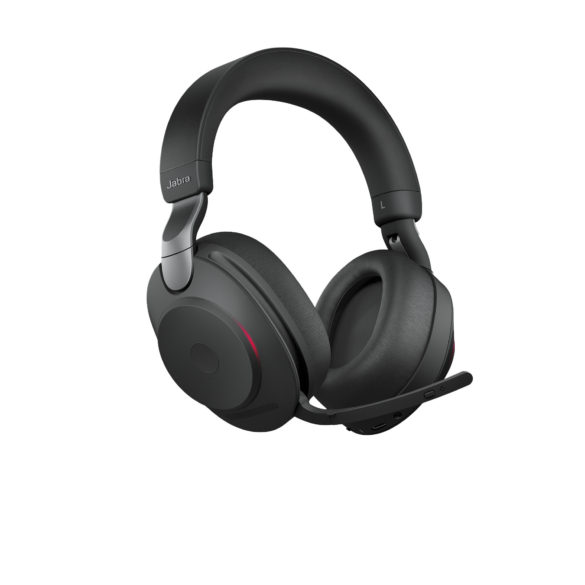 To hear for myself I had someone use the headset and call me so I could gauge the clarity and for sure it was outstanding. Jabra built the Evolve2 with 10 microphones and what they call an advanced digital chipset. There's also less background noise on calls with 54-percent more noise cancellation.
When purchasing, the headphones come with USB-A or USB-C charging ports; a charging stand is available ($50). Also choose them optimized for Microsoft teams or Unified Communication.
Oh, and the battery life since it wouldn't be a great thing for them to need power right in the middle of a call. You'll get 37 hours battery life with a 2.5 hour charge and with a fast 15 minutes of charging will produce 8 hours battery life.
My real world doesn't have many online calls but instead a lot of music and with the powerful speakers along with the latest AAC codec my music sounded clear and clean.
On-ear controls worked great and Bluetooth 5.0 allows pairing with up to eight devices with two simultaneous connections. Charging cables, 3.5 mm audio connections, flight adapter and a hard carrying case are included.
So back to the begging with the Evolve2 being the best for concentration and collaboration, I get it. You have all day comfort, top of the line sound coming in as well as going out.
www.Jabra.com $449 in choices of matte black and beige, with a charging stand $499