GADGETS :: September 16, 2020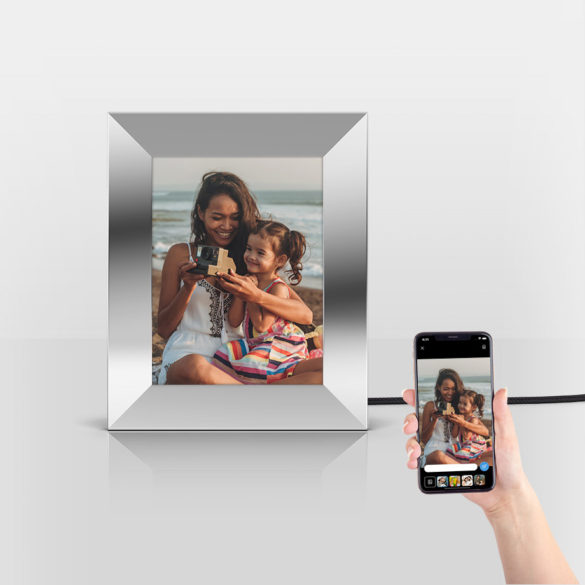 by Gregg Ellman
(@greggellman)
Earlier this year Nixplay came out with an all-new lineup of their industry-leading Wi-Fi  smart photo frames. Now with better resolution, bigger screen sizes, and advanced functionality, they made a great product even better.
If you're not familiar with Nixplay frames, you need to be, especially with the holiday shopping season upon us (hint!) With a private username and password, the modern-looking Nixplay frames have Wi-Fi connectivity, displaying digital images and videos you or anyone can remotely upload  to the frame.
Set up is simple. All you need is Wi-Fi and a secure account login with the Nixplay companion app (iOS and Android). Once the account and frame are set up, it's up to you to share the login information and invite others to stock family memories.
With the app, It's as easy as turning it on, selecting photos, hitting the upload button, choosing the playlist and send. The playlist is just like a music playlist; you can divide it by family, event, or just keep all the images in one. From the app, you have controls to turn the frame on or off, invite friends to share images, view, and delete the playlists.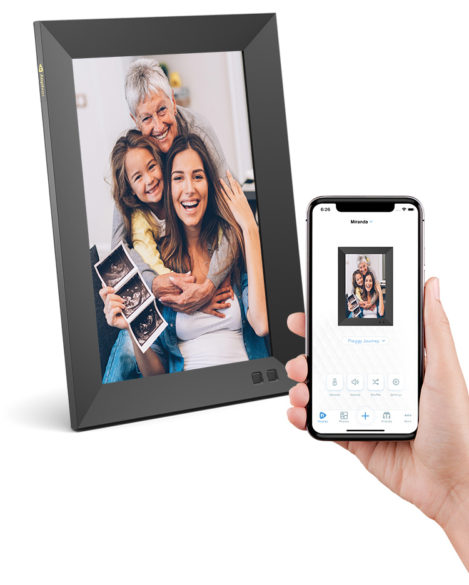 Frame sizes start at 9.7 and go up to 15.6-inches with 10.1 (my review unit) and 13.3 in-between. All the frames have a pair of 2-watt speakers for audio to accompany videos.
Each new frame has Nixplay's patented stand, which is built into the power cord and is now detachable to reveal a hidden wall mount. Now it can be wall-mounted (portrait or landscape) or have it stand on a flat surface.
Inside are 8GB of storage, which is a ton of space for sending cell phone images. The frame is built with an integrated Hu-Motion Sensor so the frame turns on and off automatically when motion is near.
If you want a greater resolution, the new Nixplay 9.7-inch Wi-Fi smart photo frame has a 2K (2048X1536) resolution display with a 4:3 aspect ratio. The 10.1-inch Wi-Fi frame has an HD resolution of 1280X800 with a 16:10 aspect ration. Both the 13.3-inch 15.6-inch have full HD Screen Resolution of 1920X1080 with a 16:9 aspect ratio. There's 8 GB of storage in each except for the 15.6-inch frame with 16 GB.
The Nixplay app also has a tab for the Nixplay print shop to order prints, cards, and even picture smartphone cases. All this can be ordered directly from the images loaded on the frame or from your smartphone's camera roll. Subscriptions are available to Nixplay Plus for up to 80 percent off the products. Yearly membership is $49.99 or month to month for $4.99.
Just as Nixplay says, the frames have gotten smarter, working with Amazon Alexa, Google Assistant, and Google Photos. A magnetic remote is included. Stored social media albums in Dropbox, Facebook, Google Photos, Instagram, and Verizon Cloud can be uploaded to the frame for viewing.
www.Nixplay.com  Smart Photo Frames start at $179.99 to $319.99 (15.6-inch) Wall hardware is included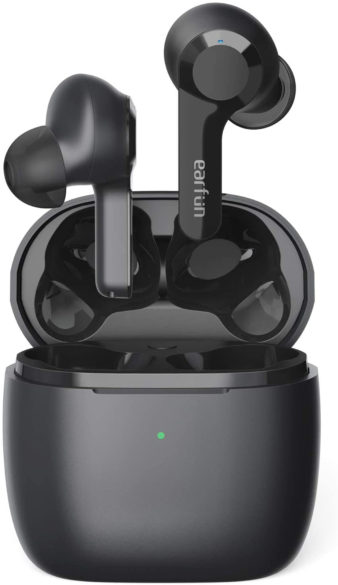 EarFun Air True Wireless Earbuds are another great, affordable choice with great sound and every added feature you'd want.
Instead of testing the sound with music, I used the EarFun Air Trues for a few NFL games. With the pumped in crowd noise constantly coming up down along with the announcers, I felt like they gave me a great audio experience. After the game I switched to my playlist and just as promised, the crystal-clear sound was delivered along with a nice touch of distortion-free bass. Everyt type of music I switched to had sound with great consistency, without needing adjustments.
The ergonomic fit is a big deal, especially since many earbuds I've tried were uncomfortable for long-term use. The EarFun's kept in place for hours comfortably, the feel was perfect. Having a single earbud mode (one of my favorite features) allows for just a single ear to play at a time. When you take both earbuds out the audio will pause and then resume when they are back in place.
With a budget-friendly price of $59.99, I would say these are far from budget headphones. Especially when you look at the complete list of features, which can double the price of many other brands.
Included is Bluetooth 5.0, a 35-hour battery life with the wireless and USB-C charging case. On a full charge, you should get 7 hours of playtime and an additional 28 hours with the case. Fast charging for 10 minutes will produce about two hours of playtime.
Touch-sensitive controls on the outside of the earbuds were responsive for controlling music selections and calls. For the volume, touch and hold the left earbud to lower the volume, and doing the same on the right side increases it. Inside each earbud is EarFun's custom-built composite cellulose drivers, with an IPX7 waterproof rating. A 4-microphone system for crystal clear handsfree calls worked great.
www.myearfun.com $59.99 or $49.99 at Amazon, available in black or white