GADGETS :: October 14, 2020
by Gregg Ellman
(@greggellman)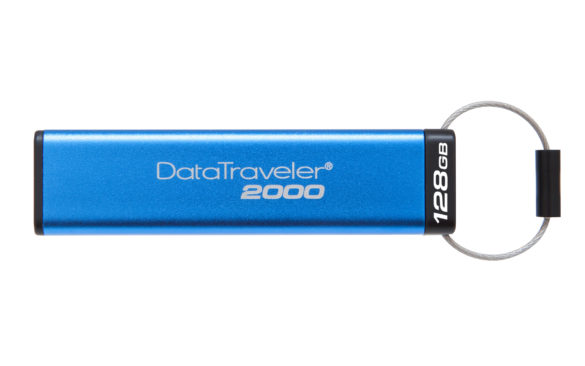 Kingston Technology's DataTraveler 2000 cvUSB 3.0 encrypted keypad flash drive is not your average flash drive. It might be the best and most important flash drive you can own.
It's available in storage sizes up to 128GB ($234), which is great but what makes it so valuable is multiple layers of security keeping data safe and secure starting with a PIN when it's first plugged in. The only thing to put the flash drive out of reach is losing it, but even then the stored data stays hidden since it's password protected.
An easy to use alphanumeric keypad is built on the outside of the flash drive, which comes preloaded with a password and instructions for changing it to anything 7-15 digits in length. With step-by-step instructions, it takes about 30 seconds to complete the change.
From there the only requirement is to remember the password and in the unlikely event it's forgotten, the DT2000 can be reset to the default settings. Kingston Brute Force Hacking Detection technology will permanently delete the flash drives content after the incorrect password is attempted 10 consecutive times.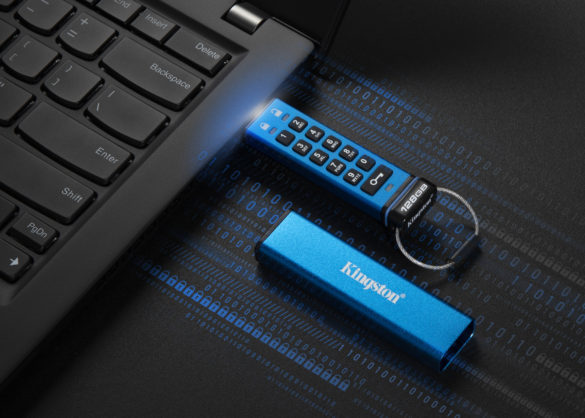 Besides the alphanumeric keypad, there are several other security layers. For one, when working with the flash drive and it's removed from the computer's USB port, it automatically locks. When it's put back in the password is required on the flash drive keypad to unlock it.
According to Kingston, the DT2000 is FIPS 140-2 Level 3 certified, to meet a frequently requested corporate IT requirement. USB 3 speeds are 135MB/s read, 40MB/s write, and with USB 2.0, speeds are 30MB/s read, 20MB/s write.
The owner can set themselves up as an administrator with a PIN and grant access to other users, create read-only or write access, and has a timeout lock mode.
With the included storage sleeve, the DT2000 measures 3.14-by-0.78-by-0.41-inches, offers military-grade 256-bit AES hardware-based encryption, is waterproof and dust-proof (IP57), and has a builtin keyring attachment. Kingston lists compatibility with Windows, macOS, Linux kernel, and Chrome OS Android.
www.kingston.com also available in capacities of 4GB, 8GB, 16GB, 32GB, 64GB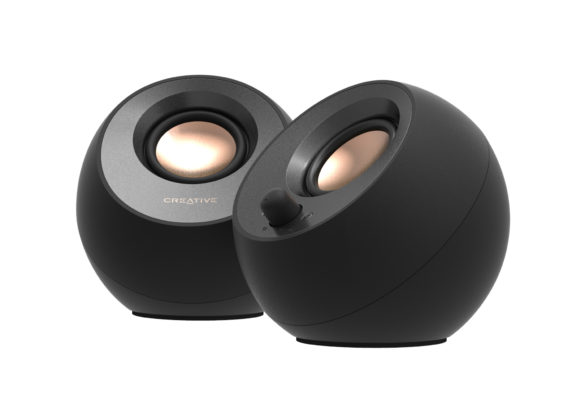 No matter how good the sound is from computers' built-in speakers, external speakers bring it to life.  Creative has a budget-friendly solution with the Pebble V3 desktop speakers, which delivers exactly as advertised; louder, bolder, and more powerful than ever.
The Pebble V3 (4.8-by-4.7-by-4.6-inches) is built with a rounded shape but has a flat spot on the bottom to keep it in place. Even with the rounded design, the audio comes directly to your ears with 2.25-inch speakers angled at 45-degrees.
There are several connection options; Bluetooth 5.0, UBC-C, or a 3.5 mm AUX-in. The USB cable to connect the speakers is 53.1-inches long and then a single 4-foot cable connects to a computer. A USB-C to USB-A converter is included.
Whichever connection you choose, they add a great dimension to a computer system; desktop, laptop, or tablet. Even during these work from home days, the sound is a tremendous addition for zoom meetings, student online classes, and even as the day winds down to just stream music.
Creative has engineered with Clear Dialog audio processing to help achieve the precise clarity out of the speakers. I'm not a heavy volume user, but often have to turn the volume up in computer meetings. In this case, I had my medium volume set and it remained that way.
The sound is adjustable with a built-in automated high gain switch for compatible USB-C devices and a manual switch for USB-A. The switch is on the bottom of the V3's right speaker.
us.creative.com $39.99
Sennheiser is celebrating its 75th anniversary with the MOMENTUM True Wireless 2 Anniversary Edition paying tribute to the company's heritage, and reflects the audio specialist's longstanding commitment to creating unique listening experiences.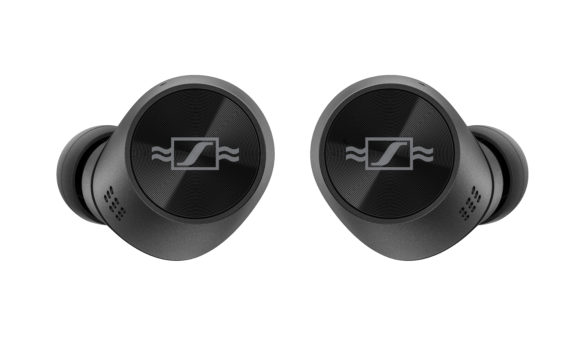 The true wireless earbuds are built with active noise cancellation, have 7mm dynamic drivers with deep bass, natural mids and clear, detailed treble. Audio can be customized to an individual sound with the built-in equalizer and the Sennheiser smart control app.
The ergonomic design lets them fit comfortably with 7-hour battery life. With the included on-the-go charging case, the playtime is extended to up to 28 hours.
https://en-us.sennheiser.com $299.95