Zhiyun's Crane 2S Pro Package: The Best Gimbal, the Perfect Package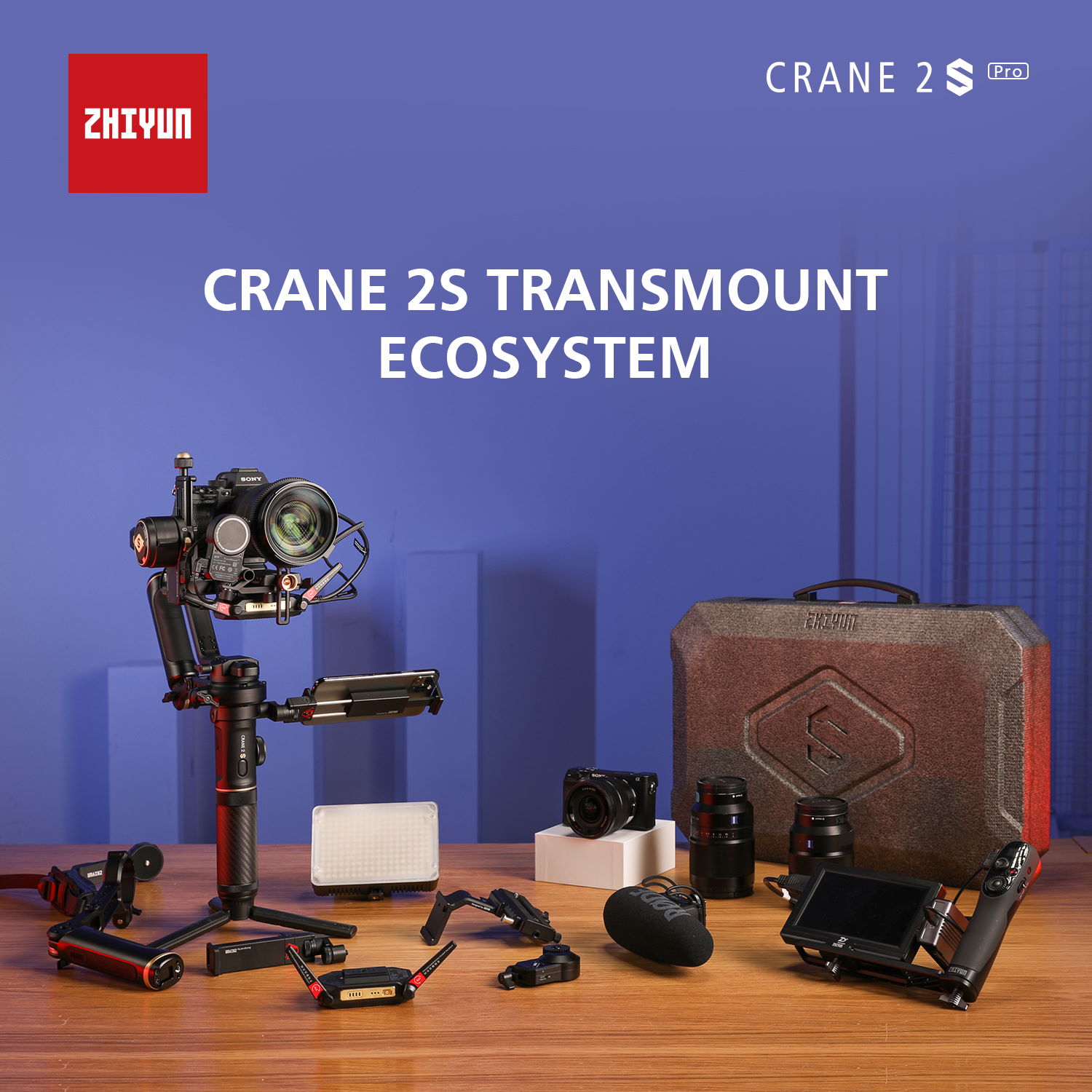 Everything you need, in one package, for next-level content
Shenzhen, China, November 6, 2020 – Zhiyun, the world's leading manufacturer of gimbals for cameras and smartphones, is delighted to announce that the popular CRANE 2S gimbal is now available in the CRANE 2S Pro Package. The Pro Package gives you all the Zhiyun-approved accessories, custom-designed to complement the excellence of the CRANE 2S gimbal. With this one package, you immediately have what you need for professional-level content.
Zhiyun's CRANE 2 series is already renowned worldwide as the ultimate in three-axis handheld gimbals for professional filmmakers. Zhiyun's CRANE 2S is the latest evolution of this successful line. The CRANE 2S provides industry-leading load and size capacity, filming flexibility, and reliable performance, even in the most challenging environments.
PROFESSIONAL GIMBAL ACCESSORIES FOR LARGE CAMERAS
As well as the acclaimed CRANE 2S gimbal itself, the CRANE 2S Pro package also includes: The TransMount Image Transmission Transmitter 2.0, TransMount Follow Focus Motor 2.0, TransMount CRANE 2S Sling Grip Handle, TransMount CRANE 2S DualCam Extension Module, TransMount Phone Holder with Crown Gear, and the TransMount Handheld Mini Tripod. The package also features three 18650-format 2600mAh Li-Ion Batteries, offering a 12-hour runtime for challenging video shooting situations.
With the full set of Zhiyun-approved accessories, videographers have everything they need to get outstanding results in any scenario – outdoor, indoor, action and studio. There's no need to worry about troubling accessory compatibility issues – everything just works with your new Zhiyun CRANE 2S gimbal straight out of the box. With this package, you're ready to start filming immediately.
CRANE 2S ACCESSORY HIGHLIGHTS
The CRANE 2S Pro Package accessories provide so many benefits that we can't list them all here, but here are a few of the advantages this set of professional tools will bring you. First of all, the 2nd generation TransMount Image Transmission System 2.0 realizes a substantial upgrade in both stability and efficiency in signal output, allowing high-res monitoring on multiple devices. Zhiyun's DualCam Filming Solution allows you to get close-up and wide angle shot footage at the same time. The CRANE 2S Exclusive Sling Grip allows effortless switching from upright to sling handheld, plus plenty of thread holes providing easy opportunities to expand your system.
When using a smartphone for shooting, you can hold it safely and firmly with the TransMount Phone Holder (with Crown Gear), which also helps you choose the best angle to monitor your shooting. Whatever your choice of video device, from small to large, the TransMount Mini Dual Grip Lite makes the load easier to carry and makes your life easier.
PRICING AND AVAILABILITY
The ultimate pro-gimbal experience, the Zhiyun CRANE 2S Pro Package is now available at a MSRP of US$849
All packages are available at the Zhiyun official online store from November 6, 2020
Read more information about the Zhiyun CRANE 2S pro accessories, CRANE 2S features and CRANE 2S video at this link: www.zhiyun-tech.com/crane2s/en
ABOUT ZHIYUN
Zhiyun Tech is a pioneer and a world leader in gimbals and stabilizers for both professional filmmakers and personal video creators. Zhiyun's innovative solutions and dedication to delivering products that go beyond customers' expectations strengthen the belief that everyone can be an excellent filmmaker with the right gimbal to equip with their shooting device. Learn more about Zhiyun Tech at www.zhiyun-tech.com or check us out on Facebook: @ZhiyunGlobal or follow us on Instagram: @Zhiyun_Tech .