GADGETS :: December 2, 2020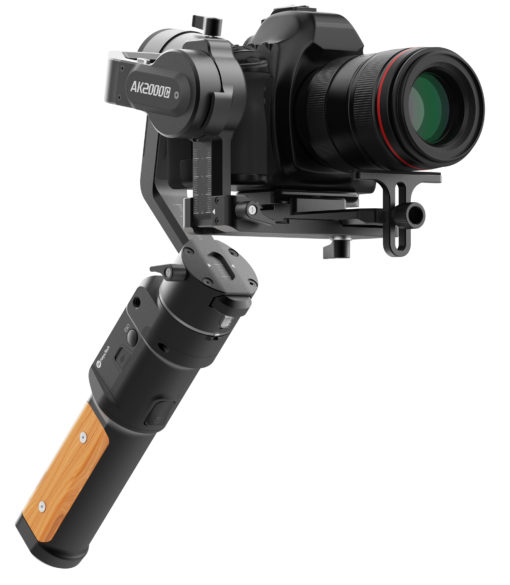 by Gregg Ellman (@greggellman) No one wants to watch a shaky, unstable video unless you are volunteering for a headache. An easy solution is FeiyuTech's new AK2000C handheld gimbal for a pro or beginner videographers.
If you're not familiar with a gimbal, this is a device that attaches to your camera or smartphone. It offers extra stabilization that eliminates jerky video. In a nutshell, a gimbal is an anti-shake tool that will help stabilize and smooth the video while you're  in motion shooting video. You can tilt, pan, run, walk or move in 360-degree circles. Whatever you choose to use a gimbal will help. Even with a built-in stabilization that many cameras have, they can't beat the results of a gimbal.
While they aren't new, gimbals have grown in popularity and in some cases are a necessity to smooth out intentional and unintentional camera movement.
With the FeiyuTech AK2000C, you get a motorized three-axis stabilized handheld gimbal, which is easy to use for instant results and at an affordable price. Do a quick Amazon search for "Gimbal stabilizer for DSLR camera" and you'll find hundreds of choices, including some over $5,000, making the AK2000C $299 even more appealing.
A big feature distinguishing the differences between gimbals is how much weight they can support. The AK2000C is good for up to 5 pounds. This includes the camera, lens, and any other accessory attached, making it ideal for most mirrorless camera setups.
The 2.5-pound AK2000C gimbal is well constructed with aerospace aluminum alloy, and a color customized (carbon fiber texture, navy camouflage, or rosewood pattern) handle. Tripod legs attach and fold out of the bottom, which when folded in, can be used as a monopod.
It's built with a three-axis motor lock and quick-release plate to securely attach to a camera's bottom tripod thread. A 3-inch OLED touchscreen is an app free easy-to-use control center for switching modes instantly. Inside is a rechargeable battery, good for about 7-hours of use.
Using it is easy. Once the camera is attached and balanced, power them both on and hold it at any angle. The camera will remain level and go with the flow. Use it at eye level, holding it up high, at ground level, or turn it on yourself for Vlog selfie filming.
I did a test run up and down my street, doing my best to make it miss and produce unwanted movements and jerkiness but it didn't. Going from a foot off the ground next to my dog walking and then running was more than entertaining. Even doing circles around my neighbor sitting in a lawn chair was smooth.
Whatever I chose, it will worked flawlessly.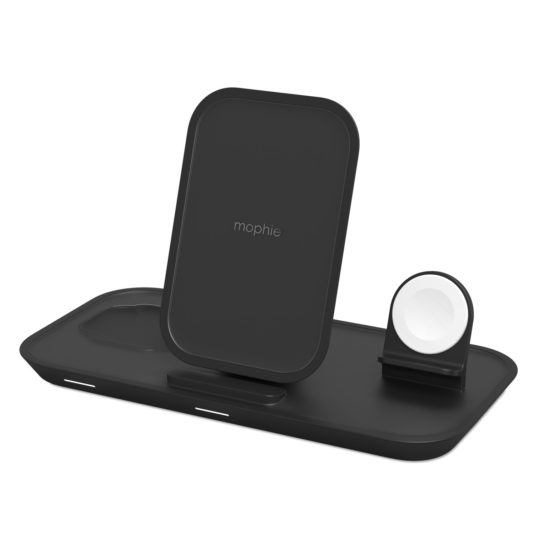 How does charging three different devices from one charger sound? For most, it's a welcome site to clean up a countertop of cable charger clutter. That's exactly what you get with Mophie's new 3-in-1 wireless charging stand.
This will become any household's go-to charging device for three everyday Apple devices at once. It's built with dedicated quick transport on and off spots for an iPhone, Apple Watch, and wireless charging AirPods. 
The modern looking acrylic-finished hub (black or white) measures 8-by-4-by-0.5-inches and provides up to 7.5W of power. Putting it together takes seconds; just click the stands in place for the iPhone and watch charging. The wireless charging cases for AirPods Pro or AirPods have their dedicated charging spot built into the flat hub.
iPhones with cases up to 3mm thick can be placed in portrait or landscape mode on the stand. Apple watches go on the built-in Apple Watch magnetic charger, which is angled for nightstand mode.
An AC adapter is included, which powers all three devices.
www.zagg.com $139.95