GADGETS :: December 9, 2020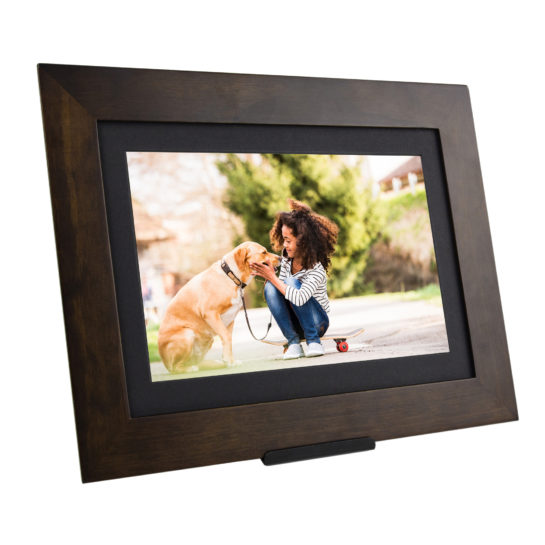 by Gregg Ellman (@greggellman) — First the answer: The Brookstone PhotoShare digital photo frame. That goes with the most common question I get this time of year, "What's a great holiday gift."
Years ago digital photo frames were a hot item, I still have mine. For the most part, you loaded photos onto a memory card and the frame cycled through the images. Now, years later with the ease of instant pictures from smartphones and photo sharing via Wi-Fi, combining this with the digital photo frame makes a great product.
Brookstone's PhotoShare is perfect for your home, or think of how happy an out of town relative will be when priceless family photos show up on the frame unannounced. I sent the frame to my mother-in-law's house for testing; the only complaint any of the family members got from her were on days we didn't send any photos, she was questioning why not?
It takes just minutes to set up the 1080p high-definition touchscreen display with Wi-Fi and a free account with the PhotoShare Frame companion app (Android and iOS). Photos, messages, music, and video can be uploaded from email, the PhotoShare website, social media, and Google Photos. A more direct upload of digital connection can be done with the built-in USB port and SD card reader.
Anyone with the app, username, and password can load photos from the same location or different parts of the world. And there's no pay subscription service, it's for free. Photos can be displayed as a single photo, but there's no fun in that, Instead have it run in the slideshow mode with music, which can include an on-screen calendar and clock.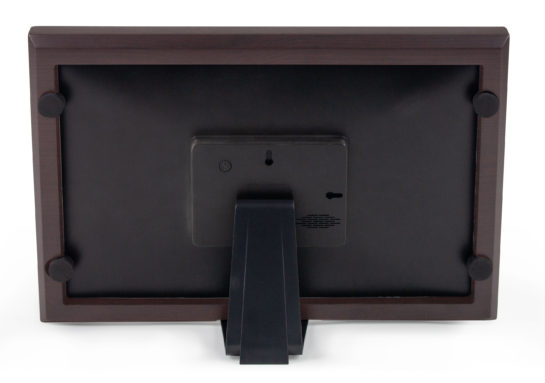 The frames are available in 8-inches ($109.99), 10.1-inch ($129.99), and 14-inch ($189.99) sizes, with choices of black or espresso wood frame finishes. White and black mattes to match different home and office environments are included. 
A desktop stand comes with the frame or it can be wall-mounted. Whatever location you choose, make sure a power outlet is within reach to plug in the included power adapter to run the frame.
The frame is 14.86-by-10.6-by-2.16-inches and has 8GB of storage, which will store over 5,000 photos.
Some other features include Auto-Dim, which has a built-in light sensor to automatically adjust the brightness of the screen based on the ambient light in the room. Accessing the on/off, screen adjustments, and other settings are just a tap away through the touchscreen.
When photos are received, an audio chime alert can be set to play and a screensaver can play cycling through the loaded photos. A built-in timer can totally put it to sleep and wake up at your chosen time in the morning.
By-the-way, while the Brookstone PhotoShare frame is my number one gift choice for the year, and the portable Blendjet2 single servicing, battery-operated blender, which I wrote about last week is a close second.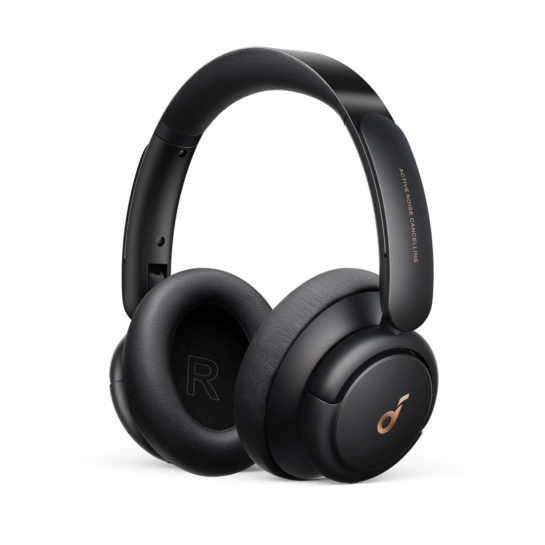 Soundcore's new Life Q30 over the ear headphones produce solid sound, are packed with great features at a budget-friendly price, and even look good. By saying that, you're not getting top of the line headphones for a bargain price, instead look it in the way of getting a whole lot for your money.
Along with Bluetooth 5.0 multi-point connection, the headphones are built with 40MM silk drivers inside ultra-soft protein leather ear cups with memory foam padding. These produce great clarity with a nice amount of bass and take the sound up to 40kHz.
While the sound is the critical feature to any headphones, the comfort is a close second and when you combine the two, these are impressive headphones. The Soundcore app has an equalizer to get the right sound for your taste with customization and 22 presets.
Next in line of importance is the noise canceling and the Life Q30's deliver with mutt-mode noise-canceling and transparency. The headphones use multiple microphones with the hybrid active noise cancellation to cancel out up to 95-percent of engine noise according to Soundcore. 
With the Soundcore app, there are multiple noise cancellation modes to choose from, which each customized to work with blocking different noises. The app also has an equalizer with presets to finding the right sound.
The transparency mode is great for environments such as running or other fitness activities when some outside noise needs to be blocked out while maintaining some aspects of natural surrounds. Choices include blocking out engine noise, wind, traffic, and even people, which was by far my favorite. While testing these, you can tell a difference in each and having the different modes is a great benefit when your change environments.
The USB-C charging headphones with a black finish will last for up to 60 hours in normal mode and up to 40 hours with wireless ANC mode. With the quick charge, 5-minutes of charging will deliver 4-hours of playtime.
On-ear controls let you turn the ANC on or off, answer calls, cycle through listening modes, track selection, volume, and power. Both ear cups swivel around to fit in the included hard travel case.
www.soundcore.com $79.99
Posted by
Admin
at December 8, 2020
Filed in category:
Gadgets
,
Imaging Insider
,
Newsstream
, and tagged with:
BlendJet 2
,
Brookstone
,
Gregg Ellman
,
Life Q30 headphones
,
Photo Frame
,
PhotoShare Frame
,
Soundcore