GADGETS :: December 16, 2021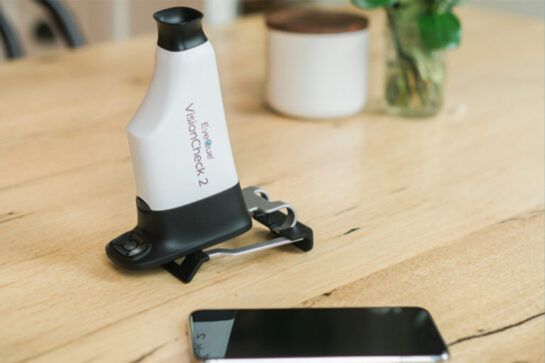 by Gregg Ellman :: EyeQue has announced EyeQue VisionCheck 2, a do-it-yourself smartphone vision test available for purchase on Kickstarter with an expected delivery of May 2021. The company touts it as the fastest, simplest way to order eyeglasses and track vision changes from home.
VisionCheck 2 is a lightweight optical smartphone attachment and mobile app (iOS and Android) with results expressed as EyeGlass Numbers, which is the lens-power needed to correct vision. 
EyeQue's mobile app presents a vision test with two colored lines viewed through an optical smartphone attachment. While using the buttons on the device, move the lines closer together or further apart to converge to a single yellow line. The amount of movement of overlapping of the lines corresponds with the refractive correction needed for each eye. Using proprietary algorithms, the EyeQue app calculates the resulting EGNs into a traditional prescription.
EyeQue states "EyeQue refraction tests do not replace a comprehensive eye exam that evaluates ocular health and binocularity. EyeQue strongly recommends people visit an eye care professional annually to receive a complete eye health exam."
www.eyeque.com $69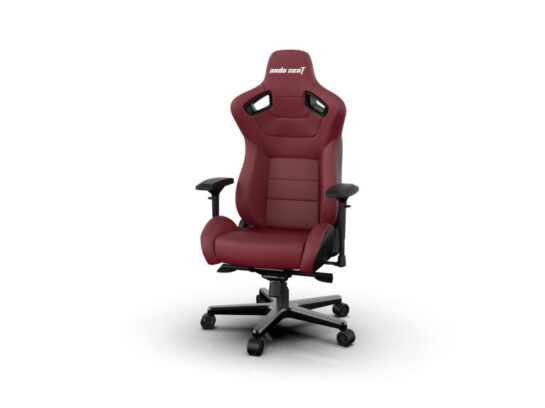 AndaSeat, a professional seating company known for manufacturing race car seats for BMW and Mercedes Benz, is bringing the technology to gamers with the Kaiser 2 ergonomic gaming chair. 
Dark red with BMW leather and padded with 65-70Kg/M3 cold-cured and super high-density foam offers superior ergonomic comfort. Along with the looks, it's designed for sitting for long periods with all-important support for the spine.
The construction consists of high tensile strength carbon and a soft flexible coating with the feel of leather. With the dual ergonomic headrest and lumbar support cushions, it can be adjusted to support the lumbar and cervical spines simultaneously while the cushions conform to body curves.
The AndaSeat has a Z-shape design and the reclining can be locked in angles up to 160-degrees, And with a lumbar cushion giving a wider support range for the lower back it's adjustable to find the sweet spot for comfort.
The form-fitting memory foam headrest cradles the neck and head to ensure endless pain-free gaming sessions. Customizable armrests can be set in a variety of height and width adjustments for perfect mobility.
For safety, there's an SGS certificated Class 4 hydraulic piston and explosion-proof gas spring of international standards. And the high quality 22 mm diameter steel frame is covered by a lifetime warranty. 
www.andaseat.com $479.99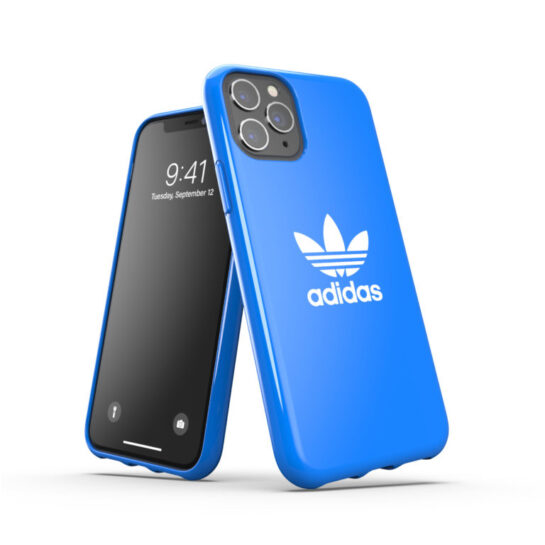 Adidas smartphone cases are now available for the iPhone 12, with the classic Adidas log on the back.
Choices include the Adidas Samba/Samba Rose Range case ($34.95) with a leather-like front and TPU edges with stitched-on stripes. The basic Trefoil Range ($17.95) is a glossy snap case, the AOP Graphic Range ($29.95) is made of ultra-light TPU, and the Handgrip Case ($34.95 ) has a comfortable grip with a back strip functioning as both stand and grip band.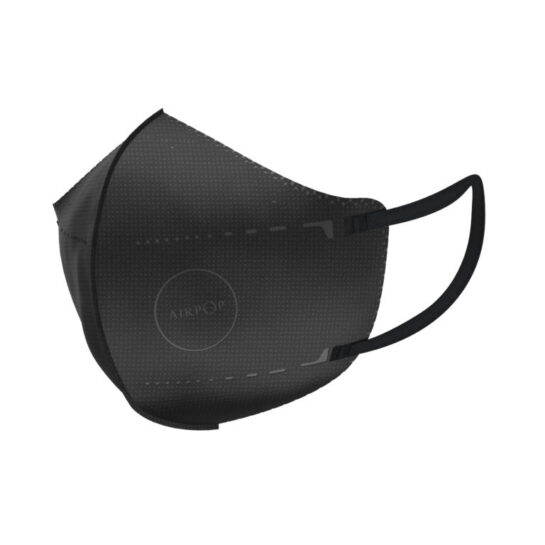 Finding a perfect mask is a daunting task and probably impossible, but I did find AirPop Pocket masks to be safe with minimum discomfort. 
AirPop masks are shaped to fill the hard-to-seal area around the nose bridge, with a cushioned seal. An innovative 3D dome design is engineered for ideal air exchange,  resulting in a comfortable breathing pocket and reduced eyeglass fogging.
They are made in a variety of colors and have an integrated filtration system for protecting from 99.3-percent of particles and 99.9-percent of bacteria.
www.airpophealth.com $24.99 for a 4-pack of adult AirPop Pockets