Announcement for CP+ 2021 ONLINE: A World Premiere Show for Cameras and Photo Imaging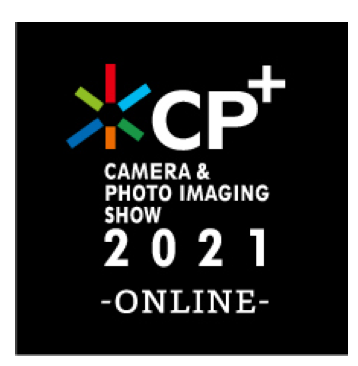 The Camera & Imaging Products Association (CIPA) (president: Masaya Maeda; address: MA Shibaura Bldg. 3-8-10, Shibaura, Minato-ku, Tokyo, Japan) will hold CP+2021 ONLINE, a comprehensive camera and imaging exhibition, from Thursday, February 25 to Sunday, February 28, 2021. The archives will be on public view until Wednesday, March 31.
CP+2021 was shifted to an online-only event but features an abundance of content, such as organizer events, exhibitor events, and various seminars. CP+2021 also has its own official channel for streaming organizer events and the attractive content of exhibitors.
The organizer events include the live streaming of the keynote speech, a panel discussion by top engineers, and a digital camera market seminar by the CIPA, along with the exhibition of the works of the ZOOMS JAPAN 2021 winners (see attachment).
Additionally, CP+2021 ONLINE is newly collaborating with Camera Grand Prix, which is an awards event organized by the Camera Journal Press Club. With this collaboration, CP+ 2021 ONLINE visitors can vote for a Readers Award, picked by general users.
Pre-registration for CP+2021 ONLINE begins on Wednesday, January 20, at 1 p.m., via the CP+ official website (https://www.cpplus.jp/).
CP+2021 ONLINE Event Overview
Event period: Thursday, February 25 to Sunday, February 28, 2021* * Archive will be accessible until March 31 (Wed).
Admission :Free admission for visitors pre-registered via the official website
Organizer: Camera & Imaging Products Association (CIPA)
Sponsor: Japan Photo and Imaging Association
Supporters:Ministry of Economy, Trade and Industry/Japan Tourism Agency/Kanagawa Prefectural Government Prefecture/The Yokohama Chamber of Commerce & Industry/Japan External Trade Organization (JETRO)
Special cooperators:JCII Camera Museum/The Japan Newspaper Museum/Yokohama Museum of Art
Cooperators: Camera Journal Press Club / Japan Advertising Photographers' Association / Japan Camera Industry Institute /Japan Electronics Packaging and Circuits Association / Japan Optomechatronics Association /
Japan Photo Culture Association / Japan Photo Imaging Association / Japan Photo Studio Equipment /
Japan Professional Photographers Society / The Japan Society of Applied Physics /
Japan Telescope Manufacturers Association / The Optical Society of Japan / The Photographic Society of Japan / Professional Photographers of Japan / The Society of Photography and Imaging of Japan /
Tokyo Press Photographers Association / Yokohama Convention & Visitors Bureau (In alphabetical order)
Coordinator:Toppan Printing Co., Ltd.
Number of exhibitors:20companies (as of January 19, 2021)
ATOMOS
Canon Inc./Canon Marketing Japan Inc.
Epson Sales Japan Corp.
FUJIFILM Corporation
KamLan
Kenko Tokina Co., Ltd./SLIK CORPORATION
/Kenko Professional Imaging Co., Ltd. MouseComputer CO.,LTD.
Nextorage Corporation
NIKON CORPORATION/NIKON IMAGING JAPAN INC. /NIKON VISION CO., LTD.
OM Digital Solutions Corporation Panasonic Corporation
RICOH IMAGING COMPANY, LTD. SIGHTRON JAPAN / LAOWA SIGMA CORPORATION
Silence Corner, Inc./CORNER DESIGN CO., LTD Sony Imaging Products & Solutions Inc.
/ Sony Marketing (Japan) Inc.
Tamron Co., Ltd.
THIRDWAVE Co. TourBoxTech Inc. ZONER L.L.C.
Organizer Events
■Keynote Speech
「The Past, Present and Future of Sport Photography」
2/25(木) 13:00~13:45
Over time up to the present day, a close relationship has been established between sports and photography. At a time when sports events are facing unprecedented difficulties, President Maeda speaks on the history of the evolution of cameras and sports journalism, along with the resulting capture of large numbers of epic moments, and he shares his thoughts on the attraction of sports photography and the future of such going forward.
Live
2/25(木) 15:30~17:00
The mirrorless camera industry has become very active, with products from all major manufacturers, some of which already have second- or third-generation bodies. The panelists discuss the present and future changes of cameras, interchangeable lenses, and accessories along with the rise of mirrorless cameras, as well as the roles that photography has played in the COVID-19 pandemic situation, from their respective points of view as engineers.
■Panel Discussion by Top Engineers
「What Mirrorless Brought to the Industry」
Moderator:Yasunori Ichikawa (Japan Camera Industry Institute (JCII))
Panelists (companies in alphabetical order):
Masami Takase,OM Digital Solutions Corporation/Tetsushi Hibi,CANON INC./ Nobuo Seki,Kenko Tokina Co.,Ltd/Yasuhiro Ohsone,SIGMA CORPORATION/ Toshifumi Takaoka,Sony Imaging Products & Solutions Inc. /Minoru Ando,Tamron Satoshi Yamazaki,NIKON CORPORATION/Tetsuya Uno,Panasonic Corporation/ Takashi Ueno,FUJIFILM Corporation/Tetsuya Iwasaki,RICOH COMPANY,LTD.
Live
Manabu Ohta
2/25(木) 14:00~15:00
In putting on hold the opportunity of feeling the excitement of an actual event, this online seminar shares the voices of photography fans, in addition to objective statistics about the market. Don't miss the results of "Integrated Survey of Photo Imaging Market," which is based on user research.
■Digital Camera Market Seminar, by the CIPA Chair of Research & Statistics Working Group, CIPA
Manabu Ohta
Editors' Photo Award ZOOMS JAPAN2021 Winners havebeen selected!
"The Editors' Photo Award ZOOMS JAPAN" was established by CP+ to discover emerging photographers in collaboration with our sister event "Salon de la Photo," which takes place every November in Paris. The works from seven nominees went through final screening by presentation,and the Editors' Award was picked by the reviewers, who are editor-in-chiefs at specialist camera and photography magazines, while the Public Award is decided by general voters via the web. The Japanese and French winning works will be exhibited online. CP+ and Salon de la Photo will continue to organize Franco-Japanese photographic cultural exchange, centering on this project.
「All Living Creatures」
Profile
MUMUKO was working at a video production company, when, in comradeship with various artists, she became driven by a passion for expressing herself and became determined to start a career as an artist. She has traveled to more than 40 countries and is actively networking worldwide while always striving within her own forms of self-expression.
Public Award moneyclipper yoshizawa 「something wrong with my life」
Profile
moneyclipper yoshizawa was born in Kagoshima and is now active as a wedding photographer based in Tokyo. She usually posts her non-business-related photos on SNS. Her photos express the perspectives of her daily life via a minimalist tone, as an extension of drawing, which has been a hobby of hers since childhood.