GADGETS by Gregg Ellman :: January 27, 2021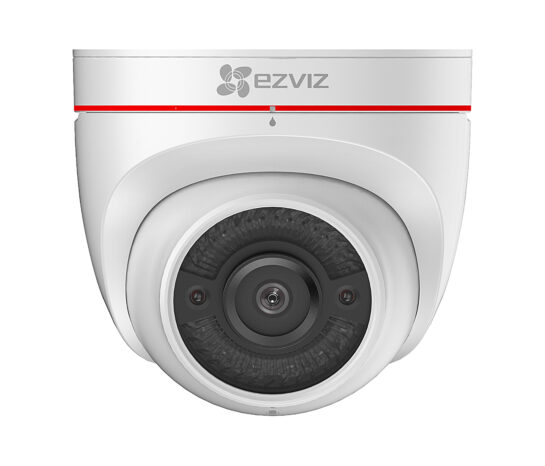 These days installing a home or small business security system is common, but choosing the right one with the necessary features can be cumbersome. The Ezviz C4W is a good value and is loaded with features to achieve the coverage most need.
The smart Wi-Fi camera is perfect for either outdoor or indoor use. It's built with an IP67 rating so it's dust and moisture resistant so it's ideal for outdoor ceilings or walls.
Setup is user-friendly, working with the companion Ezviz app (iOS and Android). It must be connected to AC power (adapter included), so keep that in mind when choosing a location along with the reach of your existing 2.4GHz Wi-Fi. 
The camera has dual antennas for a reliable and stable Wi-Fi connection. A 2.8mm wide angle lens can be controlled with the app for panning, zooming up to 8x, and taking still images. Video recordings are done in 1080p full-HD resolution, which were clear. 
The recordings can be stored on microSD memory cards (not included) up to 256GB. An Ezviz NVR can be used for storage and a paid subscription for encrypted CloudPlay Services is available. Any of the three can be used; it's your choice, or have the data saved to all three for added backup.
For the most part, the app, which can accommodate multiple Ezviz cameras, runs the show during setup and for general settings. Once it's set up, the camera can be viewed and controlled worldwide. This includes live view, two-way audio, controlling the camera's built-in light, setting up alerts, a siren alarm, and viewing recorded content. 
Specific motion detection areas can be set up with the app along with setting sensitivity When someone enters the specific zone, the camera can be set to play sounds and flash the light along with sending a smartphone notification for instant viewing.
For even more customization, you can set up 10-second voice records, which can play from the camera's speaker. This can include warnings to anything within the vision of the camera that they are being watched, or just let out a big scream.
My dogs are typically my test model for security cameras and the C4W caught them consistently, even though they were set up with dog treats. The specific areas worked well and the nighttime alarm with the flashing light and siren stopped them in their tracks.
The night vision, like any camera, shouldn't be positioned directly into light. Using it in a typical backyard with minimal lighting, night vision worked well. A lot depends on the settings chosen with recording zones, alerts, strobe light, and siren. The C4W night vision system is rated to capture images at night up to 98-feet away.
The C4W measures about 4.1-inches wide by 3.75-inches deep and comes with a base, screw kit, waterproof kit, and a quick start guide.
www.ezvizlife.com $79.99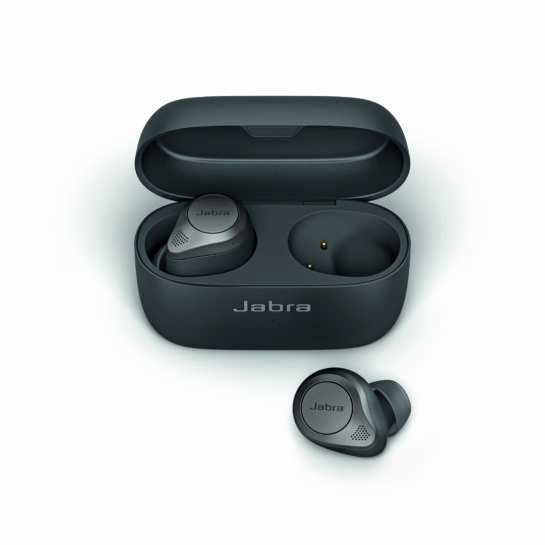 Jabra Elite 85t true wireless earbuds are the company's latest and greatest to put sound in your ears. And by far the best. True, it's easy to say that about the latest product from any company, but Jabra is consistent with great products and making them even better moving forward.
Like anyone else, the earbuds went right from the box into my ears and they sounded amazing. But don't stop there. Jabra has built them to work great from the start but along with Jabra's Sound+ app with MySound and MyControls the customization makes them even better.
The Elite 85t earbuds are built with active noise cancellation, common with many brands. Jabra takes ANC to a new level by building these with six microphones; four cancel the level of noise you don't want to hear.

Without flying or going into crowded malls these days, I put the ANC to test with great success near a loud and annoying construction site. Jabra built the 85t's with 11 levels of sound – from full ANC to full HearThrough, which gives you the choice to block out the right amount of ambient noise from the outside. 
Setting the ANC is easy with the Jabra Sound+ app (iOS and Android), which used adjustable sliders. Once it's set, turning it on or off is done with a touch of a button on the earbud.
Jabra engineered the true wireless earbuds with the 11 levels being 3db apart, with a noticeable change with each level, starting with a maximum ANC level that's one of the best on the market.
From the same noisy location, hands-free calls were met with great clarity on both ends. With the six microphones, you hear own voice, eliminating shouting, and the wind protection algorithms worked great. 
One of the biggest differences I found was how people were able to hear me on calls while on a bike ride. In the past, I had to call back because the caller just couldn't hear me. From my first call with the Elite 85t's I was never questioned about call quality again.
As for the sound, which is outstanding, it comes from 12mm drivers in each ear. Depending on the sound desired, the app is great for adjustments. The Elite 85t's include my favorite true wireless feature; auto-pause. When an earbud is removed the music stops.
Jabra's advanced battery life gives up to 5.5 hours of use with ANC on and a total of 25 hours with the included compact Qi wireless charging case (or a direct USB-C cable charge). You'll get up to 31 hours total with the ANC off. A quick 15 minutes charge gives an hour of playback.
The Elite 85t earbuds are IPX4 rated to withstand dust, dirt, and water splashes. They let you access Siri and Google Assistant voice assistants. With Bluetooth 5.1 two devices can be connected to use simultaneously and up to eight devices total. Three sets of oval silicon earless (small, medium, larger) are included.
www.Jabra.com $199.99
by Gregg Ellman (@greggellman)