Relive the Past & Make New Memories – Even During a Pandemic Helps Family, Class, and Military Reunions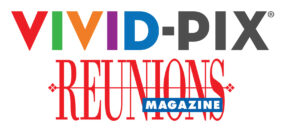 REUNIONS MAGAZINE ANSWERS THE QUESTION: "WHAT SHOULD WE DO FOR OUR REUNION THIS YEAR?"
Savannah, GA, April 15, 2021 – Vivid-Pix www.vivid-pix.com, the leading provider of AI-powered image restoration software and publisher of Reunions magazine, the leading online reunion planning and celebration publication for 30 years, announced today the Reunions magazine inaugural issue since its acquisition by Vivid-Pix. The issue includes new stories and ideas provided by our readers and experts for planning reunions during and after the pandemic.Reunions magazine provides education, resources, event planning and sharing information for family, class, and military reunions.
Who Plans Reunions? 87% of Planners are Female, 92% over the Age of 30, & 54% over the Age of 50
Millions look forward to the joy of reuniting with family and friends every year, even more so now due to the separation caused by the pandemic. "Reunions will take many forms this year," describes Rick Voight, CEO, Vivid-Pix. "To illustrate, I'll quote Merriam-Webster: 'A reunion is 1: an act of coming or bringing together again after being apart. 2: an organized gathering of people who have not been together for some time.' Most people are balancing safety concerns with longing to be together. Some will reunite with close contacts, others will have full gatherings, others will continue with 'Zoom Reunions' and we will see hybrid physical/distance reunions."
Included in the upcoming June issue, Reunions magazine analyzed multiple data source research on who is planning reunions and services needed, including the most used reunions services implemented prior to the pandemic: catering, photography, videography, tours, buses, florists, and professional planners. The study concluded that women over the age of 30 are the main planners of reunions, with 87% of planners female, 92% over the age of 30 and 54% over the age of 50. In addition, the majority of reunions, 59%, had 51-100+ attendees.
How to Make Reunions Safe & Fun
The upcoming issue of Reunions magazine also includes an article by Lisa Alzo, genealogist, lecturer, and author of 11 books and numerous magazine articles, who has been planning her family's reunions (nicknamed "ALAFFFA" after her family's initials) for 50+ years. She delves into safety protocols, activities, and ways to make family reunions held in 2021 unique and fun, including:
What safety protocols are needed: masks, cleaning, and social distancing?
How should technology be used to connect with family members unable to attend in person?
Using gifts and crafts to create a memorable family reunion.
How to handle the food; is it time to go back to buffet style or should other options be considered: potluck, catering, or pizza delivery?
What outdoor activities should be planned (usual games for her family were softball or cornhole)? Should indoor trivia or board games be implemented in case of inclement weather or for those unable to participate in outdoor sports?
What should be done to make sure old traditions are not lost, including having a theme, designating time for family updates, and discussion?
How are the skills of each generation of the family leveraged to make sure 2021 is a memorable experience for all?
What is the appropriate way to remember those who have passed away?
"Family, class, and military reunion planners are eager to return to the task of making their reunions happen. Hugs can only happen in person … not online!" said Edith Wagner, Editor, Reunions magazine. "Reunion planners rely on the knowledge, skill, and expertise of professionals to help answer questions, solve dilemmas, make decisions and plans. They are looking for answers to questions they've not even thought to ask and know they can't do it all without help from experts at convention and visitors or tourism bureaus, hotels, resorts, airlines, cruise lines, ranches, bed and breakfasts, Airbnbs, and inns, t-shirt suppliers, memento makers, caterers, photographers, florists, motor coaches, attractions, entertainment, and more."
About Reunions magazine
Acquired by Vivid-Pix in February 2021, Reunions magazine is the leading reunions resource to assist family, class alumni, and military reunion participants relive the past and make new memories. For 30 years, Reunions magazine has provided easy access to ideas, features, planning, and education for reunions and reunion planners alike. For more information, seehttps://reunionsmag.com/.
About Vivid-Pix Photo Restoration Software & Education to Relive and Share Memories
For 9 years, Vivid-Pix has provided patented image improvement software and helpful genealogy, family history, and gathering education at https://vivid-pix.com/education.html to relive and share cherished memories. Vivid-Pix RESTORE patented AI software automatically restores faded old black and white, sepia, and color photos and documents from a wide variety of image types and provides image organization, editing, and saving.
The U.S. Patent Office has awarded two patents to Vivid-Pix for its image processing techniques to automatically correct images. Vivid-Pix RESTORE is available for Mac and Windows for $49.99 at:https://vivid-pix.com/restore/buy.html with a 10 Free-Fix Trial without credit card at: https://vivid-pix.com/restore/free-trial.html. See Vivid-Pix RESTORE in action at:  https://Vivid-Pix.com/restore. Vivid-Pix was founded by Rick Voight and Randy Fredlund, who have a combined 47 years of experience from Eastman Kodak Co. They brought Kodak's "You Press the Button, We Do the Rest" philosophy to the design of Vivid-Pix RESTORE software.
For more information on Reunions magazine and Vivid-Pix, see www.reunionsmag.com andwww.vivid-pix.com.