GADGETS by Gregg Ellman :: May 5, 2021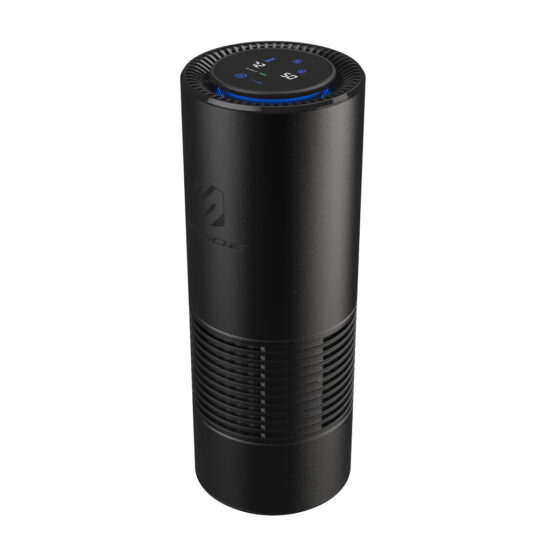 If there was ever a timely gadget to provide some relief for the spring allergy season, the Scosche FrescheAIR portable HEPA air purifier/deodorizer is it.
Measuring 2.6-inches round by 6.9-inches deep and weighing 1.42 pounds, the FrescheAIR is  made with rugged aluminum alloy. It's not only portable to fit in a backpack or such, but also fits perfectly in a vehicle's cupholder for use on the road. Along with helping deodorize pollen and other allergy accelerants, it helps eliminate smoke fumes, food and pet odors, dust and germs.
Inside the FrescheAIR ($99.99) is dual speed fans, which absorb the dirty air from all directions. A three-stage HEPA filter on the bottom third of the cylinder collects 99.5 percent of the PM2.5 pollen and dust. PM2.5 is defined as fine inhalable particles with diameters that are generally 2.5 micrometers or smaller. After the air is filtered in the FrescheAIR, fresh air is released as negative ions and deodorized air.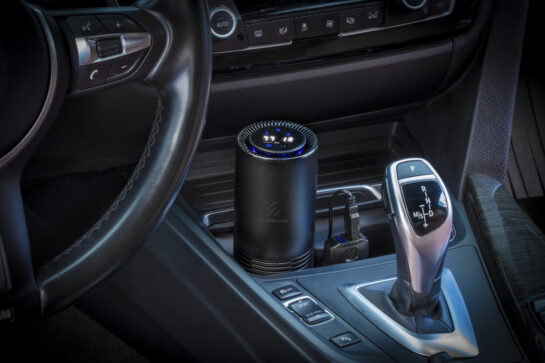 Using it is as easy as waving your hand over the touch-less controls to have it quietly and efficiently eliminate unwanted odors at most any location. A top display shows the current temperature, humidity and air quality.
A four-foot USB power cable is included, which can be used at home or with the included dual 12W USB car charger. An extra replaceable high flow HEPA filter is included. More filters can be purchased for $14.99 each.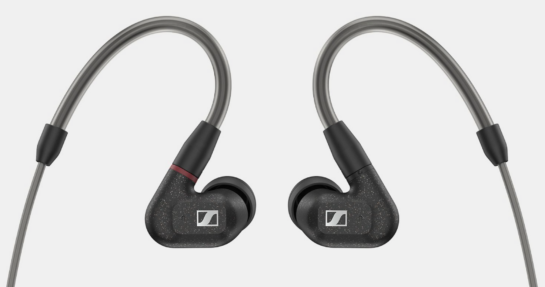 Sennheiser's IE 300 in-ear audiophile wired headphones deliver outstanding pure and detailed hi-fi sound.
The earbuds have German-made 7mm XWB transducer drivers, adjustable ear hooks and a removable 3.5mm cable with gold-plated MMCX connectors. They are built for durability and tear resistance. With the snap-in cable, it's easy to get a comfortable fit without cable twists.
Sennheiser is a world leader when it comes to portable audio, so it's always interesting for enthusiasts to find out a little background on what went into making of a  product. 
With the IE 300's development, Sennheiser stated on their website, "A key element of the IE 300's balanced acoustical performance is the back volume—a miniature room-within-a-room that helps manage the flow of air. The direction and overall volume of air is controlled with precision as it travels through and exits the acoustical system. Further, a frequency absorbing resonator chamber was applied to overcome masking effects that regularly occur in the ear canal, unearthing nuanced audio details previously buried in the source signal.''
Listening to the headphones without the bother of handsfree calls (more about that in a second) was a joy. The hi-fi IE 300's design shields you from ambient noise. Listening for hours was enjoyable on any playlist, including some major league baseball play-by-play.
Several sets of memory foam earbud tips are included to get a perfect and secure fit. A soft shell pocket-sized travel case is included.
As for the handsfree calls, one thing the IE 300s do not have in a great way is built-in microphones or an in-line control for handsfree calls, resulting in true uninterrupted music time.
https://en-de.sennheiser.com $299.95
With a lot of us starting to work from the office again the Moshi Muto gives you the perfect time for a backpack cleaning and converting over to the Moshi Moto.
With dimensions of 11.02-by-3.94-by-16.14-inches and a 29 ounce weight, don't let the compact size be deceiving. Even if you remove less than half of what I found I didn't need to be carrying around in my existing backpack, the Moshi Muto was perfect transition. 
Moshi describes it as a modern-looking backpack, which instantly goes from backpack to crossbody to briefcase to match your commuting needs. The QuikFlip strap gives you access in any position and the Airmesh back ensures all-day comfort along with padded back straps.
It holds a 13-inch laptop and an 11-inch tablet in padded compartments as a backpack or briefcase angles. An intelligent zipper system keeps the contents in place whether opening horizontally or vertically.
The Muto is constructed with a water-repellent and abrasion-resistant exterior in coastal beige or slate gray. A side zippered pocket is built with RFID Shield protection to keep personal items such as credit cards, passports and anything else needing protecting from data skimming.
An external sleeve holds a water bottle and inside hidden compartments are integrated to hold accessories.
www.moshi.com $149.95
by Gregg Ellman
(@greggellman)